With two teams already eliminated from the Stanley Cup Playoffs, two more teams may be hitting the bricks after Sunday's action.
The Tampa Bay Lightning were the first ones to go after getting swept by the Montreal Canadiens. Then came the Detroit Red Wings, who were bounced out by the Boston Bruins on Saturday night.
Both the St. Louis Blues and Dallas Stars teeter on the brink of elimination heading into Sunday. One bad performance, and they're packing their bags.
While the Chicago Blackhawks and Anaheim Ducks look to book their spots in the semifinals, the New York Rangers and Philadelphia Flyers will merely try and grab an advantage in their series, which is tied at 2-2.
Here's a look ahead to today's action.
New York Rangers vs. Philadelphia Flyers (Series Tied 2-2)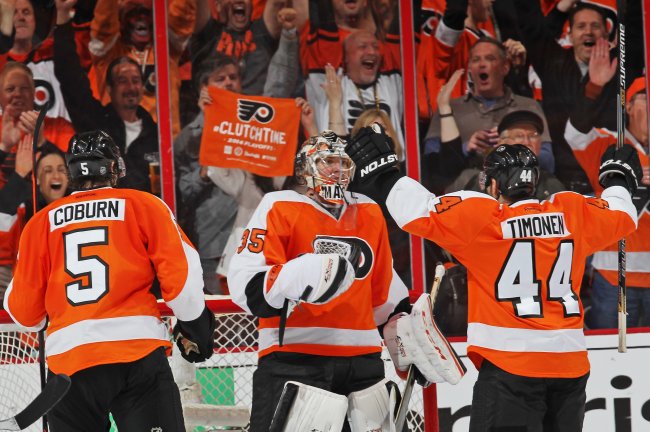 Len Redkoles/Getty Images
Are you gonna bet against Steve Mason right now?
The Philadelphia Flyers netminder was fantastic in his return to the starting lineup in Game 4. Mason made 37 saves in the 2-1 win, none more impressive than his denial of Ryan McDonagh in the dying stages of the second period.
The question is whether such a heavy reliance on Mason is sustainable for the Flyers. The 25-year-old has been impressive this season and boasts a .917 save percentage and 2.50 goals-against average. However, fans can't be expecting Mason to stand on his head like that again.
Anybody who tells you that they saw his Game 4 performance coming is lying:
One game, kind of uneven season, whatever, but I gotta say, I thought Steve Mason was straight-up incapable of anything like this.

— Sean Gentille (@seangentille) April 26, 2014
The Flyers' offense will have to be much more consistent over the duration of the series. In its two losses, Philadelphia scored a goal apiece. In between those two defeats was the 4-2 win in Madison Square Garden, so you know that the Flyers are capable of pulling off the win in NYC.
Among some of the their underperforming stars, Claude Giroux in particular will have to play better than he has so far. The team's second-leading goal scorer and assists leader has only two points in the series.
Spurred on by Mason's Game 4, Philly will get the victory on Sunday night. New York was up 1-0 on Friday night and could've put itself in a position to close out the series at home. Instead, it watched as the Flyers scored twice and grabbed the momentum back.
That has to be a bit of a concern if you're a Rangers fan.
Prediction: Philadelphia 3, New York 2
Chicago Blackhawks vs. St. Louis Blues (Blackhawks lead 3-2)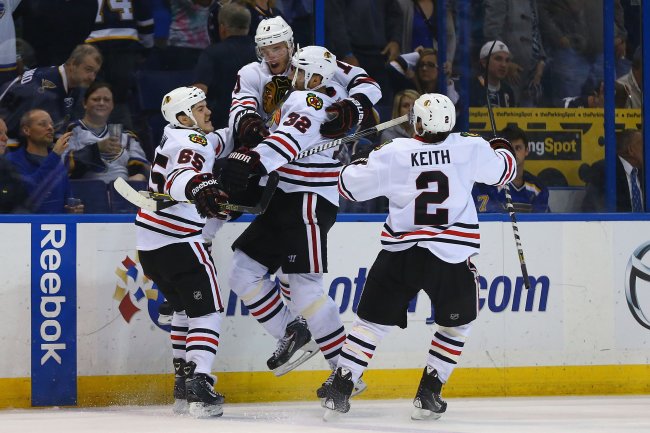 Dilip Vishwanat/Getty Images
Jonathan Toews' overtime goal may have been the death knell for the St. Louis Blues.
Losing two overtime games in a row can be encouraging or discouraging, depending on your perspective. The optimist would point to the fact that St. Louis was so close to winning before, so surely its luck will turn around sooner or later. The pessimist would argue that the Blues have had two great chances to put the Chicago Blackhawks away and missed on each occasion.
No matter which side you fall on, the Blackhawks have taken control in the series. Left winger Bryan Bickell knows that this is Chicago's time to close things out:
Bryan Bickell: To have the momentum is huge. We're amped up, our fans are amped up. [Tomorrow] is the biggest game of the year. #Blackhawks

— Chicago Blackhawks (@NHLBlackhawks) April 26, 2014
You get the feeling that St. Louis may be out of bullets. The Blues have used their best blows over the last two games, and they still weren't able to get the win.
Playing in front of what will be a raucous home crowd, the Blackhawks will prevail on Sunday.
Prediction: Chicago 2, St. Louis 1
Dallas Stars vs. Anaheim Ducks (Ducks lead 3-2)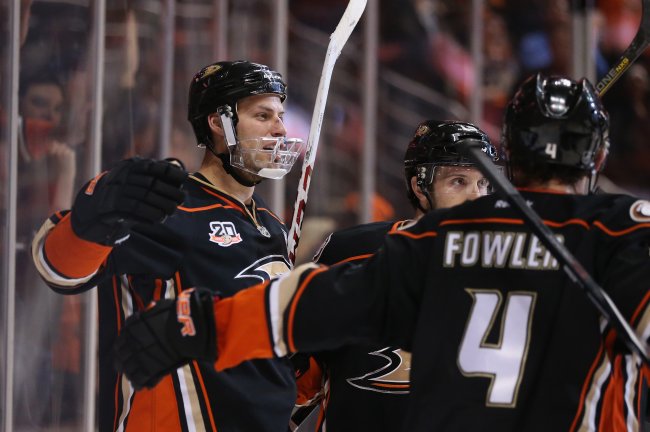 Jeff Gross/Getty Images
The Anaheim Ducks didn't have the best record in the Western Conference by accident. In Game 5, a sleeping giant may have awoken. The Ducks exploded for three goals in the third period en route to a 6-2 win.
Although the home team has won every game of this series, Anaheim may break that streak on Sunday. It proved its worth on Friday night, and as a result may have irrevocably swung the series in its favor.
Game 6 will likely hinge on the performance of Ryan Getzlaf. He scored a goal and assisted on two others in Game 5, bringing his postseason total to three goals and four assists.
He missed Game 4 with an upper-body injury and before that, posted a minus-1 rating in Game 3.
Getzlaf has already confirmed that he'll be on the ice for Game 6, per Eric Stephens of the Orange County Register:
Not that it's any surprise but Ducks captain Ryan Getzlaf said he's good to go for Game 6.

— Eric Stephens (@icemancometh) April 27, 2014
Once again, the Ducks captain will prove the difference and help Anaheim advance to the next round.
Prediction: Anaheim 2, Dallas 0