The Dallas Mavericks are playing with fire, yet it's the San Antonio Spurs who might end up making a pit stop at the nearest burn center.
Dallas is playing San Antonio's game. That should be a recipe for disaster against the NBA's 50-win factory.
If the jerseys were nameless and the faces blurred out, though, you'd have a tough time telling one team from the other:
Mavs-Spurs has been a tactics masterclass

— netw3rk (@netw3rk) April 26, 2014
The Mavs' come-from-behind 109-108 Game 3 win on Saturday had a certain Spursian feel to it. Four Dallas starters finished in double digits, and the lone exception (Shawn Marion) chipped in with nine points. Rick Carlisle got another 24 points from his second team, highlighted by Vince Carter's 11-point effort, punctuated with a coffin-closing three-point dagger from the short corner.
San Antonio had balance (five players in double figures), a sizzling 54.3 field-goal percentage and a Gregg Popovich-approved selflessness in its attack (26 assists on 44 makes).
Something was missing, though. Somethings, actually, and they've been absent for a while.
There are defensive breakdowns, inconsistent performances by the supporting cast and an overall lethargy that shows the slightest stain of Father Time's fingerprints. The machine is supposed to have built-in safeguards against these skids.
For some reason, that switch has yet to be flipped.
Defensive Lapses
San Antonio's offensive firepower is staggering, but its defense actually graded out better in the regular season (fourth in defensive efficiency, sixth at the opposite end).
The Spurs don't contain incendiary offensive weapons; they engulf the flames before they spread. Whether that's leaving the Golden State Warriors' "Splash Brothers," Steph Curry and Klay Thompson, bone dry in the 2013 conference semis or making the league's 10th-best scorer all-time, Dirk Nowitzki, seem human, this team has a way of snuffing out primary options.
"The Diggler" had his best game of the 2014 postseason Saturday: 18 points on 7-of-13 shooting. A future Hall of Famer "erupted" for 18 points. He averaged more points in Dallas losses during the regular season (21.1).
Come back, 2011 Dirk! Come back!

— Hardwood Paroxysm (@HPbasketball) April 26, 2014
Nowitzki isn't San Antonio's problem. It's slowing down his support staff.
Jose Calderon, a slow jogger at a position filled with Olympic track stars, burned the Spurs for 16 points and nine assists in the win. Monta Ellis had it all (29 points on 54.5-percent shooting), including 12 of his team's final 22 points. Samuel Dalembert tossed in 13 points during his 25 minutes. He had six total in the first two games and cracked the 12-point barrier in only eight of his 80 regular-season games.
The Spurs have all but killed the Mavs head, but Dallas' body has yet to die.
The Mavericks have poured in 222 points over the last 96 minutes of this series. San Antonio's offense is humming, but it's not as loud as its in-state rival:
#Spurs must be befuddled. They're shooting 55.6% and have only 5 turnovers, but trail at the half 59-54.

— Dwain Price (@DwainPrice) April 26, 2014
Tiago Splitter's reverse layup at the 9:35 mark of the second quarter gave San Antonio a 40-31 lead. Over the next 12 minutes, the Mavericks doubled up the Spurs, 32-16, turning a 40-31 deficit into a 63-56 advantage.
Ellis and Nowitzki supplied the first 10 points of that surge. Dallas diversified its attack from there.
Dalembert broke free for a layup, and Calderon knocked down a pull-up jumper. Ellis converted a tough and-one, then Dalembert added another layup. Ellis knocked down a triple, then Marion buried a pair.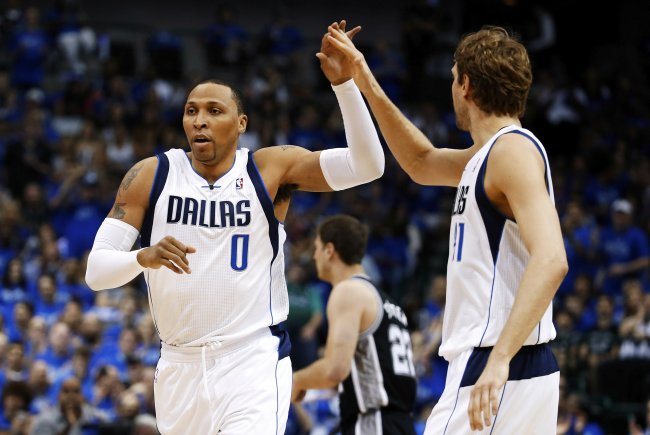 USA TODAY Sports
"We have a deep roster, and we need every single guy on the roster," Carlisle said after his team's loss in the series opener, via Eddie Sefko of The Dallas Morning News.
Truer words may have never been spoken. Ten different Mavericks saw the floor in Game 3. Ten different Mavericks put an entry into their scoring columns.
The Spurs held the Mavs to just 85 points in Game 1, but that was a dodged bullet more than anything else. Dallas was missing shots—not failing to find good ones:
Even with the well running dry at in the 4Q of G1, Dallas has looked generally smooth on offense. Not sure how Spurs slow them down.

— Bryan Gutierrez (@BallinWithBryan) April 26, 2014
That game was the first (and only) time since April 8 that a Spurs opponent failed to reach triple digits. San Antonio has allowed an average of 104.1 points a night over that stretch. Only five teams surrendered more during the regular season.
The Spurs aren't necessarily built to win with defense, but they can't survive breakdowns like these—not when they're having problems at the opposite end as well.
Offensive Inconsistencies
Tim Duncan (22 points) and Tony Parker (19) paced the Spurs offensive attack in Game 3. The pair also finished first and second on the team in scoring during the series opener. Manu Ginobili led the way in Game 2, but guess who finished second and third that night? Duncan and Parker.
The pot just isn't stirring for Pop's squad. There aren't enough hands inside to get it going:
Spurs are getting their scoring from mainly 3 guys. Mavs are getting it from everyone on the floor playing heavier mins. Not an accident.

— Bryan Gutierrez (@BallinWithBryan) April 26, 2014
Three-headed monsters are as trendy as anything you'll see at an NBA postgame press conference, but even a historically significant trio needs help.
Kawhi Leonard finished with an efficient 17 points on 7-of-8 shooting Saturday, but it only bumped his series scoring average to a forgettable 11.3. Splitter chipped in with 14 points and 13 boards, but his game was nearly negated by Dalembert (13 and 10). Danny Green has been invisible (3.0 points on 25.0-percent shooting), aside from a few unsightly showings:
Danny Green just had a 3-pointer blocked by Jose Calderon...

— Dan McCarney (@danmccarneysaen) April 26, 2014
San Antonio's perimeter snipers have been firing blanks. The Spurs shot 10-of-20 from distance in Game 2, but they have just nine makes on 35 attempts in the other two contests.
Patty Mills is still gunning (10 three-point attempts), but he's not hitting his mark (one made triple). Boris Diaw has glue-guy skills, but he's not holding anything together (5.0 points, 1.7 assists and 1.3 rebounds). Marco Belinelli has shot it fairly well (42.9 percent from the field, 50.0 percent from deep), but he's not finding many shots (4.7 field-goal attempts per game, down from 8.7 in the regular season).
Dallas' defense has been active, but those moving pieces are still sieves. The Mavs had the worst regular-season defensive efficiency (105.9 points allowed per 100 possessions) of any playoff team.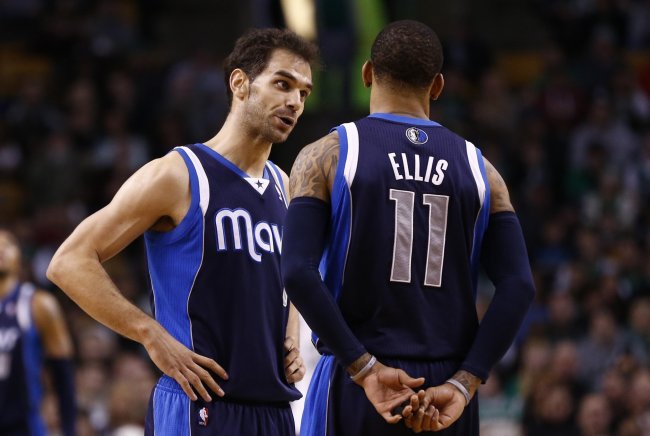 USA TODAY Sports
San Antonio should be feasting on this group, but Dallas has been the only one eating well:
30 point quarters so far in this series: #Mavs 4, #Spurs 1. DAL offense again giving SAS defense trouble.

— Paul Garcia PS (@PaulGarciaPS) April 26, 2014
Duncan and Parker aren't dominating the ball. Their combined 32 field-goal attempts in Game 3 were fewer than Nowitzki and Ellis' 35 looks.
But the Spurs' decorated duo might have to do more if they can't find additional help from their supporting cast.
Saturday was a start:
One big change for Spurs from Game 1 and 2: So far, bench hasn't been a total dumpster fire.

— Jeff McDonald (@JMcDonald_SAEN) April 26, 2014
Obviously, it wasn't enough. The Spurs have to figure something out and do it quickly.
Clock Is Ticking
Time typically stands still in the Alamo City. What other explanation could there be for the way a 38-year-old Duncan is still wreaking havoc?
But at some point, San Antonio's age-defying tricks will stop working. The Spurs' championship window and their history suggest whatever it is, it might already be ending:
When tied 1-1 in a series & Game 3 is on the road, #Spurs have gone 8-0 when they've won game 3, 0-10 when losing game 3

— Jaime Maggio (@jaimemaggio) April 26, 2014
One loss shouldn't sound any panic alarms. I'm not sure those actually exist inside a Popovich-led locker room anyway.
It should, however, heighten a sense of urgency that's seemed lacking on San Antonio's side over the first three games. This group established itself as the best in the business over its 82-game trek through the regular season, but that success means nothing now.
Dallas' Game 2 win, which snapped a 10-game losing streak to San Antonio, was supposed to be a wake-up call.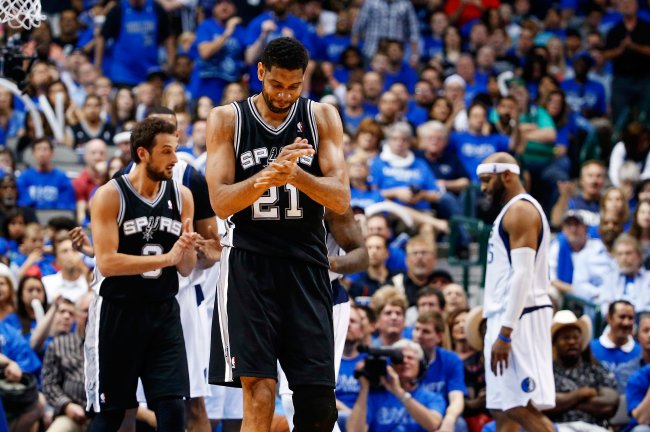 USA TODAY Sports
"I think Popovich definitely had a problem on his hands in getting his team to believe Dallas posed a real problem," Tim Cowlishaw of The Dallas Morning News wrote before Game 3. "...now the Spurs know what can happen if they struggle on offense."
Reality checks are no longer needed. The Mavs have shown the coaching, the confidence and the crisp execution it takes to stop the machine.
Dallas poses a serious threat to San Antonio's championship hopes. The biggest demons the Spurs have to exorcise, though, are the ones haunting their own ranks.