In what could very well be the biggest card of 2014, Jon "Bones" Jones will defend the UFC Light Heavyweight Championship against seasoned challenger Glover Teixeira at UFC 172.
Along with that marquee matchup, many of the biggest names and fastest-rising stars in UFC will be in action as well. With 10 hard-hitting contests across UFC Fight Pass, Fox Sports 1 and pay-per-view, Saturday night will be chock-full of MMA action.
Here is the full viewing schedule for every fight on the card and a closer look at which fighters will provide the most intrigue throughout the night.
*All viewing info courtesy of UFC.com.
Early Preliminary Bouts
*Begins at 7:30 p.m. ET on UFC Fight Pass
Preliminary Card

| | | |
| --- | --- | --- |
| Weight Class | Fighter | Fighter |
| Bantamweight | Chris Beal | Patrick Williams |
UFC.com
Fox Sports 1 Preliminary Bouts
*Begins at 8 p.m. ET on Fox Sports 1
Fox Sports 1 Card

| | | |
| --- | --- | --- |
| Weight Class | Fighter | Fighter |
| Flyweight | Joseph Benavidez | Tim Elliott |
| Lightweight | Takanori Gomi | Isaac Vallie-Flagg |
| Women's Bantamweight | Jessamyn Duke | Bethe Correia |
| Lightweight | Danny Castillo | Charlie Brenneman |
UFC.com
Main Card PPV Bouts
*Begins at 10 p.m. ET on PPV
PPV Main Card

| | | |
| --- | --- | --- |
| Weight Class | Fighter | Fighter |
| Light Heavyweight | Jon Jones | Glover Teixeira |
| Light Heavyweight | Phil Davis | Anthony Johnson |
| Middleweight | Luke Rockhold | Tim Boetsch |
| Lightweight | Jim Miller | Yancy Medeiros |
| Featherweight | Max Holloway | Andre Fili |
UFC.com
Top Fighters to Watch
Jon Jones
As is always the case when Jones is on a card, most of the focus is on him. He is the best pound-for-pound fighter in the world, and watching him compete in the Octagon is a spectacle. At the same time, there is even more intrigue surrounding his bout with Teixeira than there may have been in the past.
That is because Jones had to scratch and claw his way to a decision victory in his last outing against Alexander Gustafsson. Jones probably deserved to win the fight, but his detractors have been vocal about him not looking particularly convincing in that tilt.
After showing some chinks in the armor, observers are interested to see if Jones can bounce back. If he can help it, he will attempt to remove all doubt by stopping the fight short of the scorecards, according to UFC's official Twitter account:
"My mindset this fight is to finish Glover Teixeira." @JonnyBones http://t.co/fvJTcuyG5U #UFC172 pic.twitter.com/A1kCA3MmtQ

— UFC (@ufc) April 26, 2014
The fact that Jones has a knockout state of mind is exciting for MMA fans, and it may very well be nerve-wracking for Teixeira. Although Teixeira is one of the toughest competitors UFC has to offer, it is difficult to imagine him overcoming Jones, particularly now that he has a chip on his shoulder.
Phil Davis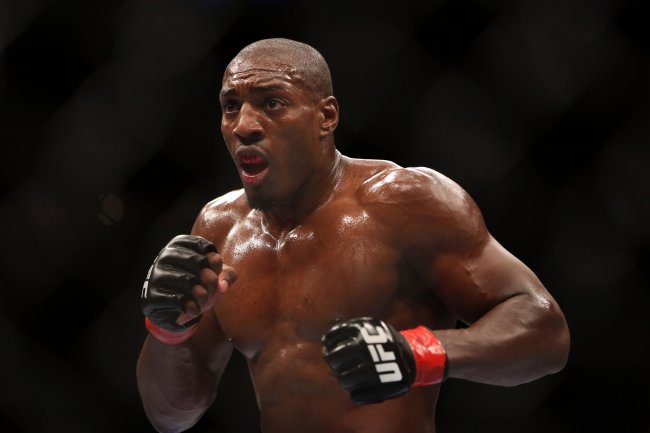 Gregory Payan
Which star will shine brightest at UFC 172?
It seems as though Phil Davis has Bones Jones on his mind, but he must first get past Anthony Johnson at UFC 172 if he wants a future shot at the UFC Light Heavyweight Champion. Davis is one of the top contenders in the weight class who has yet to fall to Jones, and most agree that he is in line for a battle with him in the near future.
That could all go by the wayside if Davis takes a win over Johnson for granted, however. Johnson is no pushover, with a career record of 16-4, including six victories in a row. He also has the potential to end a fight in the blink of an eye, as evidenced by his 11 wins by way of knockout.
Davis has to be mindful of Johnson's power, and if he is able to defeat him, then the real fireworks may very well start. Davis has been quite vocal about his desire to face Jones, and he has made it known that he intends to beat him if given the chance, per Damon Martin of Fox Sports:
Phil Davis - "I'm going to crumble Jon Jones like a cookie" Jon Jones says 'that's not very nice, Phil' #UFC

— Damon Martin (@DamonMartin) April 21, 2014
If Davis truly wants to fight Jones, then he knows that beating Johnson is an absolute must. Because of that, all signs point toward Davis being at his very best Saturday night.
Jessamyn Duke
Women's MMA has gained a great deal of popularity in recent years, thanks largely to the emergence of Ronda Rousey. In order for it to remain sustainable, however, other stars must emerge. One fighter in particular with a great deal of potential is Jessamyn Duke, who was a member of Team Rousey on The Ultimate Fighter 18.
Duke has plenty of skill and a great look at 5'11", so UFC officials would unquestionably like to see her succeed. Many others feel the same way, including MMA star Josh Barnett:
Having a gun is great but you gotta have the ammo. Load up some hollowpoints tonight @jessamynduke and empty the cylinder on her. #ufc #MMA.

— Josh Barnett (@JoshLBarnett) April 26, 2014
In order for Duke to reach that next level, though, she must get past quite a roadblock in the form of Bethe Correia. While Correia is much smaller than Duke, she is a dogged competitor who has yet to suffer a loss.
Duke has a golden opportunity to become one of the next stars in women's MMA, and she simply won't let it pass her by at UFC 172.
Follow @MikeChiari on Twitter