Washington Wizards fans, Chicago Bulls center Joakim Noah wants you to know that he feels your pain.
He savors it, actually.
The big man made that clear as he strolled through the halls of the Verizon Center after Chicago's badly needed 100-97 win over the Wizards on Friday. The entire series has been physical, but it turned up a few notches when Wizards forward Nene and Bulls swingman Jimmy Butler literally went head-to-head during a fourth-quarter skirmish.
Nene headbutted Butler and grabbed the back of his neck. The Brazilian big man even appeared to wind up for a punch before other players stepped in to stop the scuffle.
Nene was ejected for his involvement and faces further punishment from the league office.
The NBA has suspended Wizards F Nene for Game 4 against the Bulls for his altercation with Jimmy Butler during Game 3.

— NBA on ESPN (@ESPNNBA) April 26, 2014
Noah giddily addressed that possibility after the game, via Mike Wise of The Washington Post:
Going on midnight Friday, Joakim Noah, America's most ornery, nails-on-a-chalkboard player, rubbed salt on the wound.

"Looks like you're going to lose Nene for a game," the Chicago Bulls center said to no one in particular as he shuffled down the hall outside the Verizon Center press room. Almost cackling, he added, "What a bummer. [Stinks] for you guys."

A few steps later, he mouthed, " 'Roid rage."
The confrontation itself was about as close to a real fight as you'll find in today's NBA.
Tensions had been mounting, and neither of the players involved are the type to back down from a challenge. This had potential to get really ugly had no one intervened.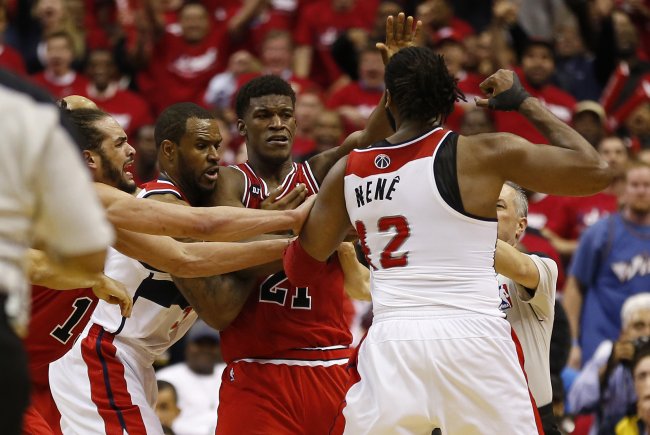 USA TODAY Sports
This could be ugly enough in the eyes of the league office, though.
The basketball world has been buzzing since the tussle about whether it was actually suspension-worthy:
Lot of postgame debate at Bulls-Wizards about Nene possibly getting suspended for Game 4. Some think two hands around head might = one game.

— Jeff Zillgitt (@JeffZillgitt) April 26, 2014
Watched the Butler/Nene video again. The fist at the end probably gets Nene suspended.

— Sean Highkin (@highkin) April 26, 2014
My prediction is no suspension for Nene; didn't see a clear punch. We'll see. Bulls skipping practice today.

— Mike McGraw (@McGrawDHBulls) April 26, 2014
Losing Nene would be deflating.
While he battled his shot in Game 3 (5-of-15 from the field), he gave the Wizards a steady scoring hand during their two wins (20.5 points on 63.3 percent shooting). When he's rolling, he demands all the attention of Noah, the reigning Defensive Player of the Year. With Noah preoccupied, Washington's explosive backcourt of John Wall and Bradley Beal can slice through the creases left behind.
The Wizards have other weapons, but Nene's presence seems to elevate this entire team:
The @WashWizards were a winning team w/Nene this year; a losing (14-15) team w/o him. Bad timing for mental meltdown from vet. #WizardsTalk

— Kevin B. Blackistone (@ProfBlackistone) April 26, 2014
That said, a one-game suspension wouldn't necessarily be a series-changer. Nene had a tough time before the ejection Friday night, and the Bulls still needed 35 points out of Mike Dunleavy (who had 20 points in the first two games combined) to escape with the narrow victory.
Chicago has issues that Nene's absence alone won't solve.
"It's entirely possible that the Bulls will fail to capitalize upon what may be a golden opportunity," Bleacher Report's Stephen Babb wrote. "Their offensive problems are systemic in nature, and their defense hasn't been as intimidating as it was throughout the regular season (for whatever reason)."

Noah might be cackling now, but it remains to be seen who will get the last laugh.