The Premier League season is close to concluded, but EPL squads are not slowing down near the finish line.
Week 36 will derive most of its attention for Sunday's showdown between Chelsea and Liverpool. Chelsea can lessen the gap for first place to two points with a victory, while a victory would give the Reds ample breathing room atop of the EPL table.
Saturday's games, however, provided fans with more than enough excitement to pass the time. On top of the table, Everton squandered an opportunity for points in the ugliest way imaginable.
Much lower in the standings, Fulham teased everyone for the majority of the match before fumbling a 2-0 lead down the stretch. Let's take a look at two bizarre results from Saturday's action.
EPL Week 36 Results - Saturday, April 26

| | | |
| --- | --- | --- |
| Team | Score | Team |
| Southampton | 2-0 | Everton |
| Fulham | 2-2 | Hull City |
| Tottenham | 1-0 | Stoke City |
| Swansea City | 4-1 | Aston Villa |
| West Bromwich | 1-0 | West Ham United |
| Manchester United | 4-0 | Norwich City |
ESPN FC
Everton Gifts Southampton Two Own Goals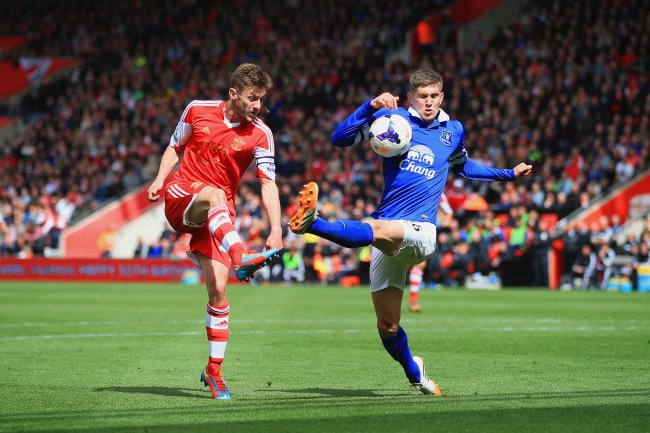 Richard Heathcote/Getty Images
Southampton defeating Everton is hardly the shocker of the century. Nor should it be terribly stunning that a club allowing 1.25 goals per match blanked its opponent.
But, considering Everton ranks among the league's top defenses with exactly one goal surrendered per contest, it's a bit perplexing to see them yield two scores to the Saints.
While they technically scored two goals, Everton did all the work for their opponents. Two own goals, including one in the match's opening minute, caused the Blues a costly loss that dampens their chances of earning a top-four finish.
FT: Everton defeat themselves 2-0 thanks to 2 own goals. Their Champions League hopes are fading quickly. pic.twitter.com/A0fK7hE4Gf

— ESPN FC (@ESPNFC) April 26, 2014
According to BT Sport Football's Twitter count, Everton owns a dubious EPL record with 43 own goals.
.@Everton have now scored 43 own-goals, more than any other side in @premierleague history. #SOUEVE pic.twitter.com/zk2TFXW2L7

— BT Sport Football (@btsportfootball) April 26, 2014
Everton stands one point behind Arsenal for fourth place, but the Gunners can expand the difference by defeating Newcastle on Monday. With only two more weeks remaining, an Arsenal victory would prove deadly to their chances.
Meanwhile, Southampton earned their first victory since March 29, which puts them comfortably in eighth place. They'll conclude their seasons with fixtures against Swansea City and Manchester United.
Fulham Falls Apart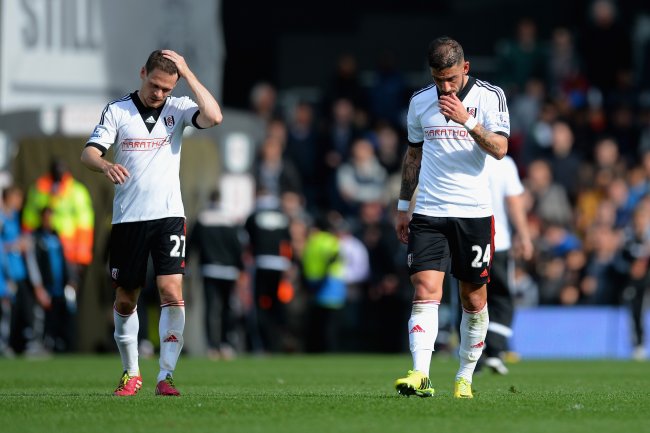 Christopher Lee/Getty Images
OK, the final result isn't the surprise. A 2-2 draw between Fulham and Hull City isn't too ground-breaking. But the way it happened was heart-breaking for the Lilywhites.
In a battle of two squads looking to avoid relegation, Fulham jumped to a 2-0 lead with two goals early in the second half. The strikes from Ashkan Dejagah and Fernando Amorebieta, separated by only three minutes, looked to give them three points that would have allowed them to pass Norwich City for 17th place.
Instead, Nikica Jelavic notched a goal in the 75th minute and Shane Long evened the tally at the 87th minute to end the match in a draw. While they did not add to their league-worst 23 losses, relinquishing the two-goal advantage must hurt just as much.
Oh no! Hull have scored twice in the last 10 minutes and are now level with Fulham 2-2. Silence at Craven Cottage.

— ESPN FC (@ESPNFC) April 26, 2014
ESPN's Paul Carr provided some numbers to show how much the blown lead hurts Fulham's chances of fending off relegation.
Hull City's late equalizer "improved" Fulham's relegation odds from 47% to 80%, according to SPI.

— Paul Carr (@PCarrESPN) April 26, 2014
The pressure was on Fulham to escape with three points, but manager Felix Magath wishes there was more. On Friday, he told The Guardian's Jacob Steinberg that his club has less vocal supporters to motivate them.
Here in London you have too many big teams so the pressure does not come from outside. The atmosphere here is more relaxed than Sunderland so I have to do more to make the players sensitive to the situation. I have to do that for the whole week with the players and I'm sure we will have the right attitude for the game.
Fulham's final two matches against Stoke City and Crystal Palace will determine their fate. Norwich City, who holds a one-point edge, can further stunt Fulham's odds if they somehow stun Manchester United on Saturday afternoon.