After just one year in charge, David Moyes is no longer the manager of Manchester United, and while the Red Devils look for the next man to try to replace Sir Alex Ferguson, club legend Ryan Giggs had been named interim manager for the remainder of the season.
With the stature of Manchester United, you can expect to hear practically every promising manager in world football to be connected with the job, and such a list would include Giggs himself.
Paris Saint-Germain's Laurent Blanc is one of many backing the Welsh legend;
Laurent Blanc: "I'm confident that Ryan Giggs could do the job on a permanent basis. Nobody knows the club better than him."

— Rahul (@forevruntd) April 24, 2014
So is former Devil Steve Bruce, as reported by ITV:
He has nothing to lose and no pressure on him, the supporters will be right behind him. He might win the next four games and give them something to think about.

Make no mistake when you do your first team talk or pick your first team it's hard and you understand what a big job it is.

But the one thing that will never daunt him is the Man United thing, because he's been there all his life.

He's got a group around him who all know the Man United way and I'm sure Old Trafford will be behind him.
Now before I say anything, I need to clarify I am a huge fan of Giggs.
The former midfielder has all the tools I look for in a top manager: a distinguished playing career at a position that requires a lot of vision, a fantastic connection with the club and the kind of personality that endears him to players, fans and media alike.
The latter is very, very important in my book. I don't need my coach to be popular with everyone—Jose Mourinho certainly isn't. But his players absolutely love him (as you can see in the video below), the media love his brashness and one-liners and Chelsea fans adore the man who put their team on the map.
Everyone even remotely connected with Manchester United loves Giggs, and he did nothing to damage the respect people have for him in his very first press conference in charge of the club. This joke, shared by TransferScoop, was just perfect given the circumstances:
Giggs (jokes): "I've given myself a new 5-year contract. I want to use my power whilst I've got it."

— TransferScoop (@TransferScoop) April 25, 2014
Giggs' situation with Manchester United reminds me of Antonio Conte's ascendancy as manager of Juventus in a lot of ways.
Conte took over as manager of the Bianconeri following consecutive disappointing finishes for Juventus, and the legendary midfielder used his natural charisma, tactical insights and incredible motivation skills to put the club back on the map in a hurry.
In fact, United's current predicament is so similar to what Juventus went through that the Glazer family has reportedly identified Conte as one of their main targets to replace Giggs at the end of the season, according to The Independent's Gordon Tynan.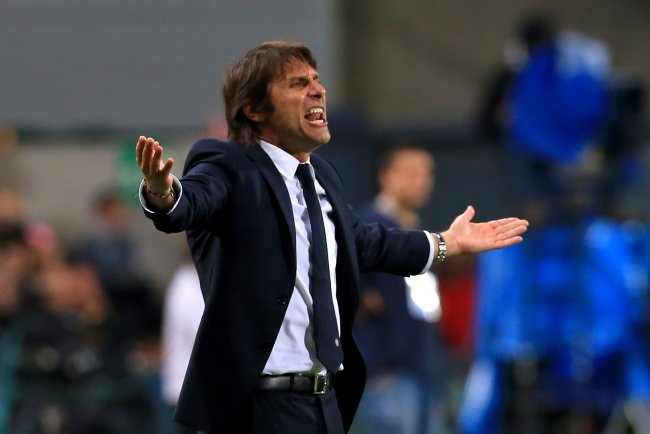 Paolo Giovannini
When the Italian took over as manager of Juventus, he had one thing Giggs didn't have—experience. After retiring a Juventino, Conte had stints coaching Arezzo, Bari, Atalanta and Sienna before accepting the job in Turin.
Conte had to earn his stripes as a coach: Arezzo were a struggling side in a lower division, as were Bari. His time in Bergamo taught Conte how to deal with losing and demanding fans, and his work with a less-than-talented squad in Sienna showed the world he was ready to coach a bigger club.
The best case scenario is someone like LVG coming in for 3-5 years, having Giggs as assistant, who can learn + take mantle in the future.

— The Peoples Person (@PeoplesPerson_) April 25, 2014
Giggs doesn't have those experiences. He's been part of a winning team for the better part of his career and has never managed a senior squad. On-the-job training is probably the best way to go in world football, but Conte's time away from the club did more than just give him valuable experience.
Conte is well liked by his players, but he's not their friend. There's just one player left in Turin who once shared the pitch with Conte in the iconic black-and-white kits, and that's Gianluigi Buffon. The ultimate professional, he understands Conte no longer is his teammate—he's his boss.
As a manager, you need to be able to create distance between yourself and your players while maintaining a healthy, close relationship. It sounds complicated, and it really is. It's hard to gain a player's trust during the week when you're the one deciding whether he'll play or not on Sunday.
Should Ryan Giggs be considered for the position of permanent manager?
Giggs hasn't even officially retired from playing yet. He's shared the pitch with his players all year long, joked with them in the showers, complained about bad training sessions, you name it.
All of a sudden, he's expected to make the difficult decisions. Giggs can no longer be the players' friend, and it takes time for everyone involved to get used to that fact.
Even more than learn how to coach, Giggs needs to create distance between himself and his former teammates. He doesn't have to leave the club for a while, like Conte did, and a few years on the coaching staff or a job in upper management will do just fine.
These four matches will give us some insights as to how Giggs can handle managing a club the size of United, and with expectations near the floor, the Welshman can't bring the club down any further.
But even if the Red Devils dazzle and Giggs leads the club to four straight wins, the Glazers should still be looking for a different, more experienced manager this summer.
Giggs could become the team's manager one day, and perhaps he should. But now is not the time. Allow the club legend time to learn all about the intricacies of coaching and grow comfortable with his new role outside of the group of players. If the story of Conte is any indication, it can only mean good things for the future.