Scouting Report: Is Youssouf Sabaly Arsenal's Bacary Sagna Replacement?
April 25, 2014

Julian Finney/Getty Images
Arsenal right-back Bacary Sagna appears to be running down his contract, so could he be replaced by Paris Saint-Germain's Evian Thonon Gaillard loanee Youssouf Sabaly? To cover that scenario, here is a scouting report on the 21-year-old French youth international. 
Sagna Wants Out?
Arsenal manager Arsene Wenger revealed Sagna is holding out for an improved contract. 
"At the moment, the talks are not progressing," Wenger said, per Sky Sports. "We know what we want from him [Sagna], he knows what is on the table and that's where we are."
From Sagna's perspective, he may feel entitled to an inflated salary considering his loyalty and his consistent performances over the years. 
Arsenal management could be deterred by Sagna's two leg breaks, per UEFA.com, hence the contractual stand-off. 

Source: Instagram.com/therealbac.
The situation looks bleak, but then again so was Lauren's case.
He turned down the chance to sign with Real Madrid, which meant taking £20,000 per-week less to become an Arsenal player in 2000, per Alex Hayes at the Irish Independent. 
Four years on, Lauren, at the time 27 years of age, had played an undervalued role for the Invincibles, was a PFA team of the year member and a two-time Premier League winner.
He was also approaching the end of his contract.
"You can get injured and not be able to play anymore, so you have to think of other things as well," Lauren said in December 2004, per the Sunday Times (h/t ESPN FC). "From next month I can speak to other clubs, but I'm not thinking about that. I'm leaving everything to my agent."
Translation: I've done my part, now I need you [Arsenal] to do yours.

Ian Walton/Getty Images
In January 2005, Lauren "agreed a two-year contract after initially rejecting a one-year extension," per the Telegraph, so there is hope Arsenal and Sagna can resolve their differences. 
If they don't, Sagna could take up Manchester City's three-year deal, per David Hytner at the Guardian.
Though, Wenger claims reports of City offering Sagna a pre-contract are "illegal", per John Cross at the Mirror, as teams in England are not allowed to approach other domestic-based players until the end of their contracts. 

Should Sagna, 31, leave Arsenal, Wenger should have Sabaly, 21, of PSG on the long-list of possible successors. 
Positives
Sabaly is listed as one of the best prospects in France, per French Football Weekly. 

Source: FrenchFootballWeekly.com.
Sabaly is a 5'9", 154-pound right-back, who has adapted to being a left-back on loan at Evian, like Cesar Azpilicueta has at Chelsea. 
| | | | |
| --- | --- | --- | --- |
| League Only | Tackles Per Game | Interceptions Per Game | Fouls Per Game |
|   |   |   |   |
| Azpilicueta  | 3.4 | 1.7 | 1.1 |
| Sabaly  | 3.5 | 2.4 | 1.4 |
| Sagna  | 1.7 | 1.5 | 0.7 |
|   |   |   |   |
If you doubled Sagna's tackles per game (1.7 → 3.4), it would still be less than Sabaly's (3.5).
Sabaly is a highly disruptive ball-winning defender who is in his element in one-on-one encounters.
He leads Evian in tackles (119) and interceptions (82) this season. He has tallied up some incredible games from the defensive side.
Source: Squawka.com.
Source: Squawka.com.

Source: Squawka.com.

Source: Squawka.com.
When you watch Sabaly, what stands out is his speed.
"Blessed with impressive pace, bags of stamina and good crossing ability," per French Football Weekly. "The ingredients are there to make the PSG youth academy product a top talent in le Championnat."
Sabaly's pace gives him a head-start defensively and offensively, like accelerating past several Toulouse players.
Source: Ligue1.com.
Against Montpellier, Sabaly zipped past centre-back Hilton and crossed for Evian centre-forward Modou Sougou, who scored.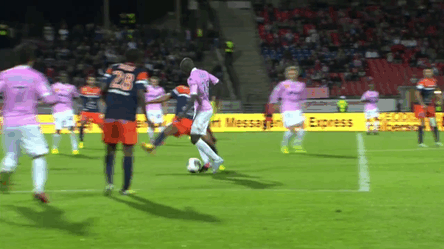 Source: Ligue1.com.
Negatives
Paris Saint-Germain management did not consider Sabaly a better right-back than Gregory van der Wiel and Christophe Jallet. 
During France's 2013 FIFA U-20 World Cup triumph, manager Pierre Mankowski preferred Dimitri Foulquier (Rennes; on loan at Granada) in the right-back slot. 
This raises the question: how good of a right-back is Sabaly?
Can he successfully transition to right-back after a season at left-back? 
One area Sabaly has to work on is his off-the-ball defending, as evidenced when he fouled Rennes right forward Jonathan Pitroipa. 
If Sabaly had been marking Pitroipa, the Evian loanee would not have needed to tackle.  
Source: Ligue1.com.
A defensive miscommunication between Sabaly and Evian centre-back Cedric Mongongu resulted in Lorient centre-forward Vincent Aboubakar scoring. 
Source: Ligue1.com.
PSG left forward Ezequiel Lavezzi made a simple curled run in behind Sabaly. 
Source: Ligue1.com.
While Sabaly is an elite tackler, his Achilles' heel of being caught in no man's land is a red flag. 
Another concern with Sabaly is no-one definitively knows how he will perform as a right-back at top-flight level. 
Bottom Line
Let's say Sagna wants to leave Arsenal.
On Wenger's hypothetical list of potential successors to Sagna, you surmise the likes of Daryl Janmaat (Feyenoord), Serge Aurier (Toulouse) and Tony Jantschke (Borussia Monchengladbach) would be sought-after targets.
Sabaly should be a backup option if Wenger fails to seal the deal on his primary right-back transfer targets. 
Statistics via WhoScored.com