The Los Angeles Clippers are doing what legitimate championship contenders are supposed to do in their first-round series against the Golden State Warriors: controlling things on both ends, exploiting mismatches and playing with an edge.
That 2-1 series lead that resulted from a 98-96 road win in Game 3? They've earned it.
But the short-handed Dubs aren't exactly doing themselves any favors, and that's a problem for a club squaring off against superior competition.
And yet, Game 3 came down to the final shot, with the Warriors in possession of the ball with a chance to win. If they hadn't put together such a spotty effort for most of the contest's first 40 minutes, they might not have needed any heroics on that final play.
We'll come back to the game's last seconds in a bit. First, let's run down how the game reached that point.
Taking Care of Business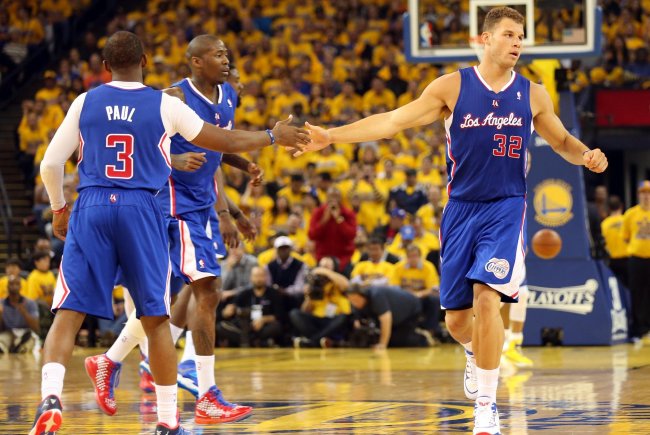 USA TODAY Sports
The Clips were solid in all the ways you would expect.
No Andrew Bogut in the lane meant L.A. had a clear advantage down low, and it capitalized on that edge early. Blake Griffin absolutely annihilated David Lee in the first half, nailing seven of his first 11 attempts from the field. DeAndre Jordan scored 10 points and gobbled up 13 rebounds.
In the second half, the Clippers' paint play continued. Griffin finished the contest with a game-high 32 points on 15-of-25 shooting, while Jordan accumulated 14 points and 22 rebounds (seven on the offensive end) in his 35 minutes.
Both bigs punctuated their nights with signature plays at key moments, with Jordan snuffing out a Harrison Barnes dunk attempt in the third quarter:
Later, Griffin hit a seemingly impossible shot from the right baseline that helped stave off a Warriors rally.
Blake Griffin just pivoted through a human being. Sorcery.

— Joseph Flynn (@ChinaJoeFlynn) April 25, 2014
Whenever Golden State threatened to make things interesting, the Clippers responded. Signs of life were stamped out. Big shots by Klay Thompson or key defensive plays by Draymond Green were met with quick deaths when Los Angeles invariably countered on the other end.
In short, the Clippers played like they knew they had an advantage over the Warriors.
Probably because they did.
Not Helping Matters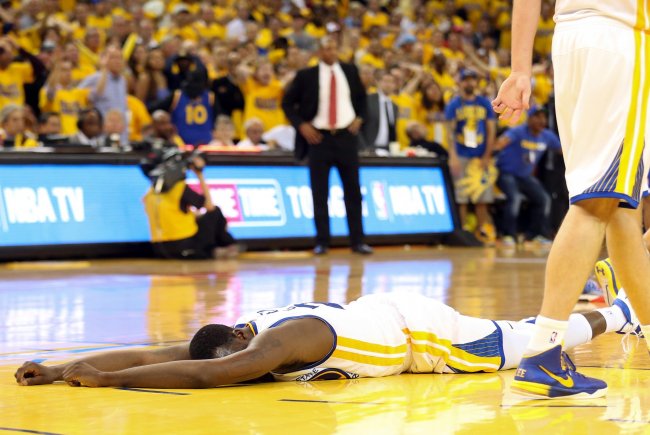 USA TODAY Sports
Here's the thing, though: Golden State continued its worrisome habit of shooting itself in the foot. That's a problem against any opponent, but the Clippers' personnel advantage makes any mistake by the Warriors potentially fatal.
Golden State's margin for error is basically invisible.
The Dubs turned the ball over 10 times in the first half, failed to hit a triple until the 1:04 mark in the second quarter and routinely squandered opportunities to keep the game close early. Credit the Clippers for running the Warriors off the three-point arc—something they did exceptionally well in the third quarter—but also give the Dubs a demerit for coming up empty on a handful of pivotal open shots.
DeAndre Jordan had 21 rebounds in three quarters. This is because Warriors are 4 for 789 tonight.

— Joe Posnanski (@JPosnanski) April 25, 2014
On the night, Curry managed to fire off just 12 attempts, hitting five. Two of his triples came in the final minute, and they were spectacularly difficult. But if he'd been able to get loose a bit earlier, such desperate heaves probably wouldn't have been necessary.
Thompson also missed nine of his 11 attempts from long distance, and overall, Golden State went 6-of-31 from beyond the arc. Over the past two games, the team is 10-of-50.
Doc was so taken aback by the Warriors making a three that he had to call timeout to collect his thoughts

— Bay Area Sports Guy (@BASportsGuy) April 25, 2014
Bricked shots, a few panicked possessions and an ongoing resistance to ball security (Golden State finished with 17 giveaways overall, giving it 64 in the three games played thus far) resulted in an 18-point deficit in the third period.
Unfortunately for the Dubs, a massive hole is something they've grown accustomed to. They've fallen behind by huge margins in all three games against L.A.
The point is, Golden State isn't good enough to spot the Clippers leads. It can't afford to waste possessions, and it certainly doesn't have the luxury of relying on superior talent to carry the day. Mistakes count double right now, both because the Dubs are in the do-or-die environment of the playoffs, and because they're undermanned.
The Clippers are the better team, and they don't need any help to beat Golden State. When we look back on this series, we'll probably wonder why the Dubs insisted on offering so much of it.
And Yet, It Almost Happened
Golden State finally sold out and went small in the final six minutes of the contest, and the resulting back-and-forth bucket exchange helped it gradually cut into the Clippers' lead. Curry found some space, Green dirtied up the game and, in the end, the Warriors had the ball with a chance to win.
Curry's step-back three from the left wing fell curiously short—likely because Chris Paul gave him a sneaky shove on the right hip. There was no whistle, both because Paul is a true master of subtle contact and because the officials were bent on letting the action play out without interference.
Curry: "That's my go-to move, the step back. I'm not going to air ball that."

— Marcus Thompson (@ThompsonScribe) April 25, 2014
Maybe that's not fair to the Warriors. But in a series where Golden State has refused to make its own luck, why should it expect good fortune at a crucial juncture?
The Warriors' chances to win this series were slim from the outset. Bogut's presence is impossible to replace, and his absence fundamentally weakens his team in critical ways. Against a team that looks very much like a championship contender, unforced errors and a ponderous approach to the first three quarters are inexcusable.
The Dubs have dug themselves plenty of holes in this series, and they've climbed out of a few. But the 2-1 deficit they now find themselves in looks awfully deep.
The Clippers aren't going to give this series away, and it doesn't look like Golden State is interested in trying to take it either.