Are we having fun yet?
With their second-straight overtime victory, the Memphis Grizzlies have taken a 2-1 series lead over the Oklahoma City Thunder in the first round. The series already feels like a conference finals classic, but alas, we're still just a week into the postseason.
Memphis takes a 2-1 lead over OKC with a 98-95 OT win in the Grindhouse! Conley finished with 20 points pic.twitter.com/z1AlXnfahr

— Bleacher Report (@BleacherReport) April 25, 2014
Thursday night's game was riddled with salient themes, but chief among them is the fact that these Grizzlies really are that good on defense. They held the Thunder to a season-low 36 points in the first half, dictating tempo and doing all the little things they'll have to do if they're to hold on in this series.
Some of OKC's wounds were partially self-inflicted. Even the Grizzlies can't take credit for all of those misses. Thunder point guard Russell Westbrook admitted as much after the game, saying (via USA Today's Scott Gleeson): "I took some bad ones. I've gotta do a better job of attacking."
Head coach Scott Brooks was more diplomatic, saying (also via Gleeson), "We got to make some shots. I don't know if they were all good shots."
Controversial analysis: It's hard for the Thunder to win when Kevin Durant can't make anything.

— Royce Young (@royceyoung) April 25, 2014
Kevin Durant: 0 for 8 from 3-point range, 2nd-most misses without a make from 3 in his career ... pic.twitter.com/8DkzVC988Y

— ESPN Stats & Info (@ESPNStatsInfo) April 25, 2014
Memphis' grind-it-out style was on full display in Game 3. Even when the Thunder went on a 17-0 run in the fourth quarter, the Grizzlies remained faithful to their game plan, valuing possessions, working the clock and waiting for good shots.
They played their brand of basketball, and it proved insurmountable for OKC and its superior talent. Here's why.
Tempo
Even after the overtime frame, the Thunder took just 87 field-goal attempts—five fewer than Memphis. OKC only made 39.1 percent of those attempts—many of them jump shots.
Controlling the pace is important to Memphis for a couple of reasons.
First, it gives the defense an opportunity to get set up. The big concern isn't fast breaks in the traditional sense. It's the risk that OKC will get the ball up the floor before the Grizzlies have defenders in position, increasing the probability of an open jumper and improving OKC's ability to pick their spots around the floor. Westbrook is as good as any at exploiting these scenarios, dribbling to his favorite spots and knocking down shots.
Second, slower pace means fewer possessions for the Thunder. That entails fewer opportunities for guys to get in rhythm and it forces a team that doesn't thrive in halfcourt scenarios to make the most of them.
The Grizzlies excel in slower games. They like working the clock, getting the ball inside, moving it from side to side on the perimeter. These are the kind of games for which Memphis lives.
Much of the credit has to go to head coach Dave Joerger. He's kept his troops disciplined and focused on the task at hand. They aren't getting carried away by the intensity of the playoffs, not getting lured into a tempo that doesn't fit their style.
They're doing what they do best. And it's having the desired effect. Durant and Westbrook were a combined 19-of-53 from the field. They each scored 30 points thanks in large part to 25 combined trips to the stripe, but the inefficiency from outside was damning.
Some of those shots just didn't fall, but you can't ignore the effect of Memphis' defense.
Inside-Out Attack
One of the keys to maintaining a deliberate tempo is remaining stubbornly glued to a game plan. For Memphis, that game plan entails going to its inside talent early an often. Zach Randolph and Marc Gasol combined for 30 points, and the Grizzlies' guards got in on the act, too.
The final result?
Lots of scoring around the basket. And that's essential to a slowed-down game. Long jumpers often produce long rebounds, the kind that all too frequently spark fast breaks on the other end. By forcing the ball inside, the Grizzlies go a long way toward preventing those kind of run-outs.
But the more obvious advantage is of course that Memphis is taking high-percentage shots. This is a team that knows what it is and what it isn't. It doesn't come replete with three-point shooters. It isn't outfitted with elite speed and athleticism.
It's not the Thunder.
Compare the two team's shot distribution.
Most of Memphis' attempts were in or near the painted area.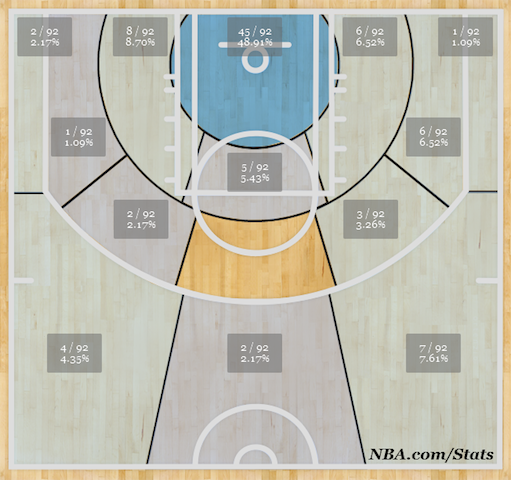 NBA.com
In contrast, note that the Thunder took 28 three-pointers.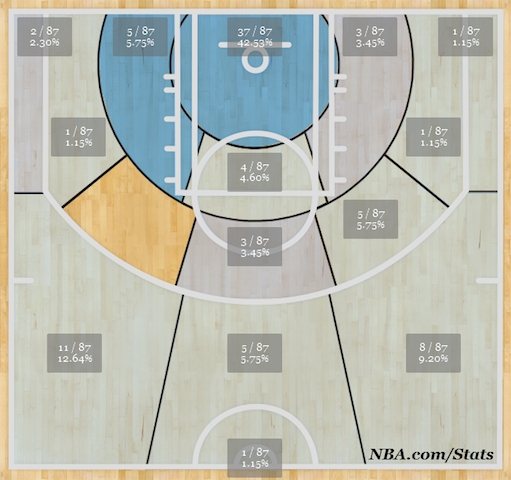 NBA.com
To some degree, that's because OKC was behind for much of the game and trying to catch up. But it also has to do with personnel. The Thunder don't have a reliable post-up scorer. Their best chance at scoring in the interior typically comes from Westbrook driving the ball.
Meanwhile, the Grizzlies boast two strong, meaty post-scorers in Randolph and Gasol. Even though Randolph was just 5-of-20 from the field, he got to the foul line seven times. He's using his strength and footwork to get inside and make something happen.
Memphis' guards aren't settling for outside shots either. Tony Allen scored 14 of his 16 points in the paint. Mike Conley scored eight of his team-high 20 points in the paint. Even Beno Udrih got a couple of buckets at the rim.
More notably, it was Randolph who led the Grizzlies with six assists, proving that an inside-outside attack doesn't mean the ball always stays inside. That's just where it goes first. From there, the idea is to either score or make a play. Randolph did plenty of both, demonstrating decision-making that was up to the occasion.
You can't say the same for the Thunder.
OKC's Offense
The knock on Oklahoma City—and there can't be much more than one—has long been that the club sometimes struggles to execute its halfcourt offense. Those struggles are in part the product of the Thunder's strengths. This is a team with two very talented scorers who often do some of their best work in isolation.
Those sets typically don't favor much movement—either in terms of the ball or personnel. When Durant or Westbrook is in full-on hero mode, this isn't much of a problem. When the shots aren't falling regularly, then we notice.
We also notice when the open guy is this open.
Ibaka not on Russ's Framily plan. pic.twitter.com/wfpZIZem4J

— devin kharpertian (@uuords) April 25, 2014
Westbrook didn't have an assist in the first half. He finished the game with just two.
As a team, the Thunder had just 13 assists—three coming from Durant. It's hard to play an entire game without getting at least that many assists. This is a sign of something systemically wrong, something broken in Oklahoma City's offense. When the game slows down, the Thunder can suddenly look very mortal. Is it head coach Scott Brooks' fault? Westbrook's brother seems to think so.
Russell Westbrook's brother ---> RT @whynotraywest We need a new coach ASAP like rocky!!!!!!

— Royce Young (@royceyoung) April 25, 2014
Brooks' fault or not, the problems have as much to do with decision-making as anything the Grizzlies are doing. The Thunder are electing to put the ball in their best scorers' hands. They're putting the onus on Durant and Westbrook and getting out of the way.
It's a tried-and-true formula for the most part, but it's garnered most of its success over the course of regular seasons in which Oklahoma City controls the tempo more often than not. Between the open court and a little bit of hero ball, this team usually gets by.
But the luck may have run out, and at the worst possible time. The Thunder now face a team that knows how to exploit vulnerabilities. If the ball isn't moving, Memphis will focus its attention on Durant and Westbrook, using high volumes of Tony Allen to do much of the dirty work.
And it's working.