While there are certain to be poor decisions in the 2014 NFL draft, there are enough talented prospects for each team to make smart moves in the first round.
Each organization is looking for different things in May. Some teams believe they only need one or two pieces to win a Super Bowl and will likely try to find the most pro-ready players in the draft. Others need a wide variety of players capable of turning things around after a losing season.
Fortunately, there is something available for everyone in the NFL draft. Here is a breakdown of the best picks for every team selecting in the first round.
1. Houston Texans: Jadeveon Clowney, DE, South Carolina
Whether there is a trade or not, Jadeveon Clowney should be the No. 1 pick of the draft. He has the combination of size, speed and pure athleticism to make him a dominant force on the defensive side of the ball.
If you want a good reason to make this selection, just ask Clowney. The defensive end explained to David Newton of ESPN.com:
I can pretty much do it all. Anything on defense I can help. I can be a playmaker. I am a playmaker. I've got what it takes, I believe, to go out there and set the tone for the next guy coming up. And to help my team out winning games.

Every team I've ever played with, we've never had a losing season. Never. Before I got there, I watched them lose. Not just here. Back in high school, middle school. I was like, 'Man, that ain't going to be my team when I play on that team.'
This confidence will pair with his pure ability to ensure that he makes a huge impact right out of the gate. With the Texans, he can team up with J.J. Watt to create one of the best defenses in the NFL.
2. St. Louis Rams (from Washington Redskins): Greg Robinson, OT, Auburn
Greg Robinson helped lead the No. 1 rushing attack in the country at Auburn, consistently clearing space for running backs and quarterbacks throughout the season. Although he still needs improvement in the passing game, he has the skill to be just as productive in this area.
This would represent a necessary upgrade to the Rams offensive line, as they look to contend in the difficult NFC West.
3. Jacksonville Jaguars: Johnny Manziel, QB, Texas A&M
The Jaguars have a number of needs, but they will not become a contender without a legitimate quarterback under center. Johnny Manziel might be a bit undersized and is not your prototypical quarterback, but he is a playmaker who will win games on his own.
Jacksonville could use anyone capable of bringing in victories after years of struggles.
4. Cleveland Browns: Sammy Watkins, WR, Clemson
Sammy Watkins is not only the best receiving prospect in the class, he is one of the best in years. His combination of size and speed makes him incredibly dangerous after the catch and tough to cover before it.
The Browns could pair him with Josh Gordon and make things easier for whoever is playing quarterback next season.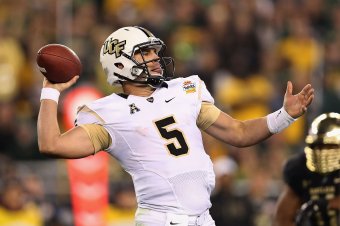 Christian Petersen/Getty Images
5. Oakland Raiders: Blake Bortles, QB, UCF
There is plenty of debate as to who is the best quarterback in the class. Blake Bortles certainly has his claim thanks to his size, arm strength and mobility within the pocket. While he might not be great yet, he has the talent to be a star at the next level.
Oakland can grab him with this pick and build around him as a face of the franchise going forward.
6. Atlanta Falcons: Jake Matthews, OT, Texas A&M
The Falcons had two major problems last season: rushing the quarterback and blocking for their own. While it might be exciting to draft a player like Clowney or Khalil Mack, it is more important to protect their star, Matt Ryan.
Jake Matthews has proven the ability to play on both sides of the offensive line and should be able to start immediately for an offensive line that needs help.
7. Tampa Bay Buccaneers: Mike Evans, WR, Texas A&M
Although Vincent Jackson had a great season in 2013, the Buccaneers had few other options in the passing game. If Mike Glennon remains at quarterback, he will need at least one more target that can make plays down the field.
Mike Evans can certainly help in this area after making huge plays at Texas A&M all last season. At 6'5", he can become another great red-zone target to pair with Jackson.
8. Minnesota Vikings: Khalil Mack, OLB, Buffalo
This might end up being low for Khalil Mack, who is quickly rising up draft boards as one of the best prospects in the class. Daniel Jeremiah of NFL.com notes that he will likely be among the top five picks:
Talking with personnel guys, they all have the same names in their top 5: Clowney, Mack, Watkins, Robinson & Matthews. Order 1-5 varies

— Daniel Jeremiah (@MoveTheSticks) April 23, 2014
On the other hand, ESPN's Mel Kiper Jr. notes that the linebacker is raw, via D. Orlando Ledbetter of the Atlanta Journal-Constitution:
Mel Kiper on Khalil Mack:"He's still a work in progress. He's still developing. needs coaching. He's not a finished product." #NFLDraft2014

— D. Orlando Ledbetter (@AJCFalcons) April 24, 2014
It is unlikely this forces too much of a slide, but without trades, the teams in front might look to fill their bigger needs with their picks. This allows Mack to slide to No. 8, where he would be a great addition to the Vikings defense, which ranked last in the NFL in points allowed last season.
9. Buffalo Bills: Taylor Lewan, OT, Michigan
The Bills have a number of needs on both sides of the ball, but they used an early pick on quarterback EJ Manuel a year ago. They need to make sure they find a way to keep him healthy.
This will not be a problem with Taylor Lewan, the 6'7" offensive tackle who has shown great explosiveness as both a pass-blocker and with the run. This will help improve an offense that already has plenty of weapons.
10. Detroit Lions: Darqueze Dennard, CB, Michigan State
The Lions struggled against the pass last season due to the poor play of the secondary. They need to draft a cornerback capable of stepping in and contributing right away.
Darqueze Dennard has that ability with great coverage skills and the physicality necessary to handle the bigger NFL receivers.
11. Tennessee Titans: Anthony Barr, OLB, UCLA
This is another pick that would be based mostly on upside. Anthony Barr has great athleticism and has already proven the ability to bring down quarterbacks consistently. However, he still needs work before he can be an every-down player.
Either way, Tennessee has an improving young defense and can use a player with this much potential.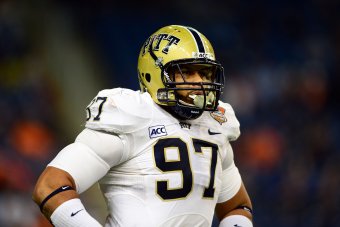 USA TODAY Sports
12. New York Giants: Aaron Donald, DT, Pittsburgh
There were many doubters about Aaron Donald's ability to contribute on the defensive line, considering his small stature at just 6'1", 285 pounds. However, he dominated college football this past season with his ability to penetrate into the backfield.
This will continue in the NFL as he would be able to solidify a rebuilt defensive line with the Giants.
13. St. Louis Rams: Ha Ha Clinton-Dix, S, Alabama
Plenty of fans are hoping for an exciting addition like a receiver, but the Rams have enough options currently on the roster to hold them over for next season.
Instead, St. Louis should solidify the defense by upgrading at safety with the best in the class. Ha Ha Clinton-Dix has good speed that will allow him to cover a lot of ground in the secondary and will help the defense move toward being one of the best in the league.
14. Chicago Bears: Timmy Jernigan, DT, Florida State
The Bears gave up the most rushing yards in the NFL last season due to the inability to clog the middle of the field once Henry Melton was injured. With him no longer on the roster, the squad has to find a new defensive tackle who can take on that role.
This leaves Timmy Jernigan as the best option as someone who can excel against both the run and the pass. He will help bring Chicago back to its roots as an elite defense.
15. Pittsburgh Steelers: Justin Gilbert, CB, Oklahoma State
While a lot of scouts consider Justin Gilbert the best cornerback in the class, he is still incredibly raw and has not shown the physicality necessary to prove he can handle playing in the NFL.
That being said, the cornerback has off-the-charts upside with his speed and athleticism. He would be a worthwhile selection for the Steelers hoping to get younger in the defensive secondary.
16. Dallas Cowboys: Louis Nix III, DT, Notre Dame
The Cowboys defense could not stop anyone last season, allowing the most total yards from scrimmage. While the team made upgrades in free agency, it could still use a lot of help.
Louis Nix III will do that immediately with his ability to take on blockers and free up space for teammates. His strength up front will slow down the run and make everyone better on that side of the ball.
17. Baltimore Ravens: Kony Ealy, DE/OLB, Missouri
You want a first-round pick coming into the NFL with confidence, and Kony Ealy certainly has a lot of it. He told Tom Pelissero of USA Today how good he expects to be at the next level:
Kony Ealy on Jadeveon Clowney draft hype: "There's no knocking him. But I'm the best defensive end in this draft." http://t.co/ucPXeSILvn

— Tom Pelissero (@TomPelissero) April 23, 2014
He might need some time before he can be a complete player in the NFL, but he knows how to rush the quarterback and can get started immediately in this role as either a defensive end or linebacker.
Although the Ravens have a lot of talent on defense already, they can use a high-upside player like this who is capable of becoming a star down the line.
18. New York Jets: Eric Ebron, TE, North Carolina
Eric Ebron is a potential matchup nightmare in the NFL thanks to his size (6'4", 250 pounds) and athleticism. Quarterbacks will simply be able to toss the ball in the air and expect the tight end to come down with it.
Even after adding Eric Decker in free agency, the Jets still need more weapons in the passing game to help out either Michael Vick or Geno Smith. This is where Ebron could be a big addition.
19. Miami Dolphins: Zack Martin, OT, Notre Dame
The Dolphins had the worst offensive line in the NFL last season when it came to pass protection, allowing a league-high 58 sacks. Zack Martin represents someone who could be an upgrade either at tackle or guard on either side of the line.
With Branden Albert likely to start the season at left tackle, Martin can move inside to guard where he can be even better.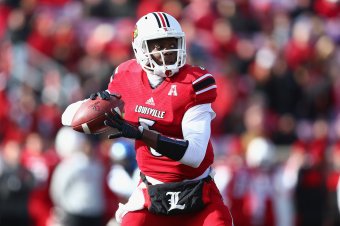 Andy Lyons/Getty Images
20. Arizona Cardinals: Teddy Bridgewater, QB, Louisville
Carson Palmer had a good year and, with a few more additions, the Cardinals could be legitimate contenders in the NFC. However, they still must look toward the future, and drafting Teddy Bridgewater does just that.
Bridgewater has fallen on draft boards due to poor workouts, but the talent is there to shine. With a year of mentoring from a veteran quarterback, he could reach his potential as an above-average starter.
21. Green Bay Packers: Calvin Pryor, FS, Louisville
Calvin Pryor has just about everything you want to see in a safety. He has the speed to cover a lot of ground against the pass and is physical enough to make plays near the line of scrimmage.
This is exactly what the Packers need, making this a match made in heaven.
22. Philadelphia Eagles: Odell Beckham Jr., WR, LSU
After getting rid of DeSean Jackson, the Eagles must find a way to replace him. Jeremy Maclin and Riley Cooper are solid receivers, but they do not have the game-changing ability of Jackson.
On the other hand, Odell Beckham Jr. can be that type of playmaker and turn any catch into a long touchdown. He has great body control and can be a huge contributor in Chip Kelly's offense.
23. Kansas City Chiefs: Brandin Cooks, WR, Oregon State
Few players in the draft have the pure speed of Brandin Cooks. The Oregon State star posted the second-best 40-yard dash time at the scouting combine at 4.33, and he plays just as fast in games.
Cooks can provide the Chiefs with another offensive weapon besides Jamaal Charles and, hopefully, take some of the pressure off the overused running back.
24. Cincinnati Bengals: Ryan Shazier, OLB, Ohio State
Cincinnati had one of the best defenses in the NFL a year ago, but there are still places to improve. One opportunity to do that is to draft a linebacker loaded with potential in Ryan Shazier.
Shazier is one of the most explosive players in the draft with the versatility to be productive against both the run and the pass.
Doug Farrar of Sports Illustrated also had good things to say about the Ohio State product:
To me, Ryan Shazier is the prototype of the every-down true linebacker. Lighter, faster, more explosive. Moves inside to outside and back.

— SI_DougFarrar (@SI_DougFarrar) April 22, 2014
The Bengals might need to bring him along slowly, but he can eventually pair with Vontaze Burfict to create an elite linebacking corps.
25. San Diego Chargers: Kyle Fuller, CB, Virginia Tech
The Chargers need to upgrade at cornerback. as this was by far the team's biggest hole a year ago. This leaves Kyle Fuller as the obvious choice as the best player available.
Who is the best cornerback in the 2014 draft?
Although Fuller might not have elite speed, he has great instincts and quick hips to stick with receivers in man coverage. This is more important for a cornerback that is expecting to stick around the league for a long time.
26. Cleveland Browns (from Indianapolis Colts): Derek Carr, QB, Fresno State
At some point in the draft, the Browns will need to select a quarterback. There is simply no one on the roster that can be trusted to be a long-term solution at the position.
Derek Carr might end up being the best choice with impressive arm strength and the ability to make quick decisions with the ball. While he will likely need some time to get acclimated to the league after competing in the Mountain West Conference last season, the long-term potential is unmistakable.
27. New Orleans Saints: Dee Ford, DE, Auburn
It seems like only yesterday that the Saints defense was nothing more than a joke. All of a sudden, the arrival of coordinator Rob Ryan and a number of quality players have made it into one of the best in the league.
By bringing in Dee Ford as a situational pass-rusher who can blossom into a full-time star, New Orleans will take one more step toward bringing home another Super Bowl.
28. Carolina Panthers: Marqise Lee, WR, USC
For a team that earned the No. 2 seed in the NFC last season, the Panthers have a lot of needs. However, none are bigger than that of a receiver who can take some of the pressure off Cam Newton.
Marqise Lee has that ability thanks to his knack for making things happen after the catch. He is a rare talent that can help spread the defense and give the run-heavy attack more balance.
29. New England Patriots: Jace Amaro, TE, Texas Tech
When the Patriots were at their best in recent years, they were running a two-tight end set that featured Aaron Hernandez and Rob Gronkowski. With one out of the league and the other spending most of the season on the bench due to injuries, the offense was less effective.
Gronkowski should be healthy in 2014, which would allow the squad to pair him with Jace Amaro out of Texas Tech, a natural pass-catcher with enough size to make him a quality target in the middle of the field.
He represents the best option to get the most out of the team, as currently assembled, and attempt to win a title.
30. San Francisco 49ers: Jason Verrett, CB, TCU
The 49ers could add an impact player at receiver like Kelvin Benjamin, but they should feel comfortable with Michael Crabtree and Anquan Boldin going into next season.
On the other hand, the defensive secondary is much less secure with plenty of question marks. This is where Jason Verrett could help out as a solid all-around player. Matt Miller of Bleacher Report discusses what makes the TCU product so good:
Take away Jason Verrett's height (5'9") and shoulder injury...what are his weaknesses? Doesn't have many flaws outside the physical.

— Matt Miller (@nfldraftscout) April 22, 2014
While the physical issues might cause him to drop to the end of the first round, this just gives San Francisco the chance to grab one of the better cornerbacks in the class.
31. Denver Broncos: C.J. Mosley, ILB, Alabama
C.J. Mosley has more talent than many of the prospects taken ahead of him, but the value of a middle linebacker has gone down in the draft. Still, the Alabama linebacker might be one of the most pro-ready players in the class after competing at a high level with one of the best defenses in the nation.
He should make an immediate contribution for the Broncos as they look to finally get over the top and win a Super Bowl.
32. Seattle Seahawks: Xavier Su'a-Filo, OG, UCLA
The defending champs have to replace a few departed players from the title run, but it is much more important to fill the biggest hole from last season: interior blocking.
Russell Wilson was on his back much more than the Seahawks might have liked, so the squad must upgrade its pass protection up the middle. Xavier Su'a-Filo can step in immediately and improve this weakness.
Follow Rob Goldberg on Twitter for the latest breaking news and analysis.