A decorated collegiate career at Clemson failed to generate much 2014 NFL draft buzz for quarterback Tajh Boyd. His wait to be selected into the pros ended when the New York Jets drafted the signal-caller in the sixth round, as the team indicates:
With the 213th pick we've selected QB Tajh Boyd (@TajhB10). Welcome him to the Green & White! #NFLDraft pic.twitter.com/RDEqxOxfpJ

— New York Jets (@nyjets) May 10, 2014
Boyd was one of the most prolific passers in ACC history in his three-year tenure as a starter for the Tigers, accounting for 13,069 yards of total offense and a conference-record 133 total touchdowns (107 passing, 26 rushing, per ClemsonTigers.com).
Those gaudy numbers suggest that Boyd can indeed thrive in the NFL, but there are several caveats to keep in mind.
Most who doubt Boyd's ability as it translates to the highest level of football will point out that he had two excellent receivers to throw to in Sammy Watkins and Martavis Bryant. Watkins' electricity after the catch and Bryant's massive size helped bolster Boyd's production.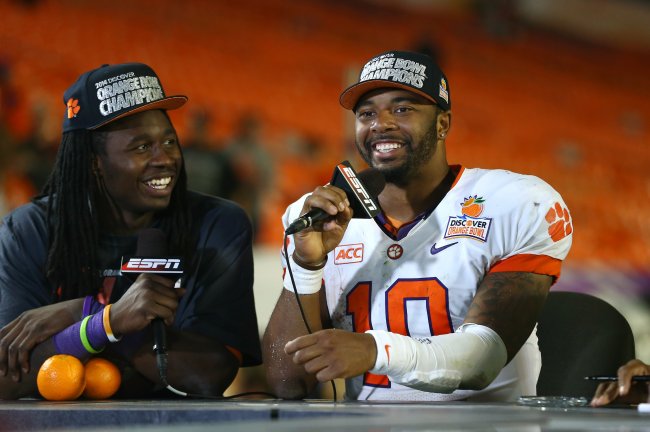 Streeter Lecka/Getty Images
But someone still had to throw them the ball, lead them properly to put them in the best position to succeed and execute Clemson's offense. When it comes to arm talent, few can question Boyd's prowess in that department, and that should help him stick as a backup at the very least.
Athleticism is also an X-factor Boyd brings to the position that not many others do. He has the power to run through tackles and enough speed to keep defenses honest when he escapes from the pocket. Thanks to his strong arm, receivers can shake defensive backs by continuing to go vertical, where Boyd can hit them for big plays.
With so much success as a starter and evident leadership intangibles, the fact that Boyd won so much at Clemson certainly won't hurt him moving forward.
ESPN analyst Jon Gruden expressed some of his concerns about Boyd, per Sirius XM NFL Radio's official Twitter account:
Gruden Cons on Tajh Boyd - "Fla State loss, last 3 losses to So Car, must handle protections better, must handle critical situation better."

— SiriusXM NFL Radio (@SiriusXMNFL) April 23, 2014
Completion percentage can also be inflated by a spread offense and a pro-caliber supporting cast. Tim Tebow never completed worse than 64.4 percent of his passes in his three years starting at Florida. To be fair to Boyd, he is a far more accurate passer than Tebow ever has been, yet that attribute is still viewed as a flaw in Boyd's arsenal.
Kevin Weidl of ESPN has been none too impressed by Boyd's mechanics and his general ability to read the field—both of which were concerns before Tebow was drafted in the first round:
Studying Tajh Boyd tonight. Poor mechanics, lack of field awareness and poise in the pocket is very alarming. Rough tape vs. South Carolina.

— Kevin Weidl (@KevinW_ESPN) March 27, 2014
Worry not, anti-Tebow folks, no more mention of him from here on out.
Boyd did string together a strong pro day throwing to the likes of Watkins and Bryant. Even though that was against no defense and was bolstered by the duo's catch radius, it was nevertheless a stellar showcase for a QB in dire need of it.
NFL.com analyst Gil Brandt was impressed, and Boyd felt he showed off precision and power, per Panthers.com's Max Henson:
Players who caught my eye at pro days last wk: Liberty CB Walt Aikens, Clemson QB Tajh Boyd (great workout), Furman OL Dakota Dozier (cont)

— Gil Brandt (@Gil_Brandt) March 24, 2014
Tajh Boyd on his pro day workout: "A lot of people had questions about my accuracy & arm strength. I feel like I answered those questions."

— Max Henson (@PanthersMax) March 6, 2014
How will Tajh Boyd fare in the NFL?
So a myriad of reasons contributed to Boyd falling in the draft. He would have been viewed as a potential first-round pick had he left Clemson following his junior campaign in 2012, yet he elected to stay and saw his stock fall. It was reminiscent of what happened to Matt Barkley coming from USC in the 2013 draft, as he wasn't chosen until the fourth round by the Philadelphia Eagles.
At least at this point, his team doesn't have to worry about Boyd being labeled a bust and can bring him along at a gradual rate. The talent is there for Boyd to potentially pan out and even become viewed as a diamond in the rough in retrospect. Now it's up to him to put in the preparation, become a more refined passer and understand the complex schematics the NFL will throw his way.
Now, Boyd will be joining a Jets squad that already features Geno Smith and veteran Michael Vick. With the uncertainty that has surrounded the position in New York, Boyd has to like his chances of competing for the starting role down the road.
Boyd has time on his side to dive into the playbook and take invaluable advice while he learns on the sidelines. Whether it eventually translates to any sort of shot at starting remains to be seen.