LaMarcus Aldridge is bringing Blazermania back—and the Houston Rockets aren't doing much to stop him.
Aldridge led the Portland Trail Blazers with 43 points in a 112-105 loss for the Rockets. Houston is now down 2-0 in a series it was supposed to win and has given up home-court advantage:
LaMarcus Aldridge is averaging 44.5 PPG, 13 RPG this series... on the road... Blazers up 2-0... NO BIG DEAL.

— Numbers Never Lie (@ESPN_Numbers) April 24, 2014
Portland's power forward is making history at the Rockets' expense:
LaMarcus Aldridge has 89 points in Games 1 & 2. Only Jordan, West, and Iverson have more to start a playoff series. pic.twitter.com/It6i7XaGBc

— SportsCenter (@SportsCenter) April 24, 2014
You would think after Aldridge dropped 46 on them in Game 1, that the Rockets—specifically coach Kevin McHale—would make some adjustments.
In the first meeting, it was all Terrence Jones and Omer Asik getting burned. In the second meeting, it was all Jones and Asik getting burned. Oh wait:
Rockets defense has to be worst out of playoff teams. Kevin McHale had two days to prepare and no adjustments visible. #Blazers feasting.

— Chris Haynes (@ChrisBHaynes) April 24, 2014
And not making adjustments after Game 1 might have been borderline excusable (not really, but let's give a little of the old benefit of the doubt), but not making any after Aldridge scored 23 in the first half of Game 2 is unthinkable, unconscionable, inconceivable. And yet, that's what happened:
I can get over Harden going cold. It happens. Can't get over McHale making ZERO defensive adjustments on Aldridge. Unacceptable

— nick wright (@getnickwright) April 24, 2014
Aldridge is a great mid-range shooter. And against Jones and Asik, he's getting all the mid-range shots he wants. When Jones is on him, all Aldridge has to do is turn around and shoot. He's also a good finisher inside, which is where he gets when he blows by the heavy-footed Asik: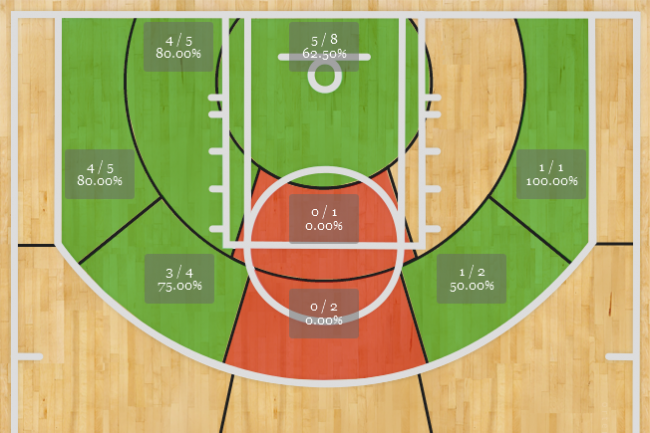 NBA.com
So what can the Rockets do to stop this onslaught? Or at the very least, slow it down?
Damian Lillard on LaMarcus Aldridge: "What can they do to stop him?"

— Nick Mathews (@Nick_Mathews) April 24, 2014
Aldridge's point guard, Damian Lillard, may not know, but the rest of the world has to at this point. McHale has to at least try to double-team Aldridge. What other option is there?
At this point, McHale should consider putting Casspi in with orders to punch Aldridge in the nuts.

— netw3rk (@netw3rk) April 24, 2014
Since that one's illegal and would likely get Omri Casspi tossed, Houston may just have to bite the bullet on sending a double-team.
Yes, the Blazers are a solid outside shooting squad, but that's not what is completely and utterly obliterating the Houston D right now.

Would that start to be the case if Houston sent doubles Aldridge's way? Maybe. But at this point, the Rockets have to at least try. What they've done so far hasn't worked, and they're now in a deep hole.
Only 3 times has a team lost first two at home of 7-gm series and come back to win. Rockets involved in 2 of those (94 vs Suns, 05 vs Mavs).

— ClutchFans (@clutchfans) April 24, 2014
At this point, it's going to take some desperation to dig out.
Another option—and this is one that could be done in combination with the first—is to put Dwight Howard on Aldridge. And I don't just mean here and there, like we've seen in these first two games.
I mean, start the game with Howard on Aldridge. Leave him there the entire game. Sub him out when Aldridge is out. Put him back in when Aldridge checks in. Start Asik to guard Lopez. I mean, go all-in with it.
Jones has been a great story for the Rockets this year, but this is not his matchup. The Blazers have a traditional starting five with two legitimate big men up front. Jones is a small forward, a combo forward at best.
Adjust McHale. Adjust!
You can always go back to the smaller lineup as the game dictates. But right now, it's just not working.
It's time to go with your best defender against the guy who torched you in historical fashion in two games on your home floor.
Howard has more strength and know-how in the post to deal with Aldridge on the blocks. And even if he can't really handle Aldridge on the perimeter, he's certainly more fleet of foot and better equipped to play outside than Asik.
At this point, even holding Aldridge to 35 would be a little victory. And winning that battle could help stem the tide in this war.
Otherwise, Aldridge may go back to Portland for Games 3 and 4 and fully revive 1970s Blazermania in the city in which it was born.
Andy Bailey covers the NBA for Bleacher Report.