Claude Giroux is the captain of the Philadelphia Flyers. That means he is the leader of the team both on and off the ice. Yet thus far, Giroux has let his team down with his poor performance in the 2014 Stanley Cup playoffs. In fact, he has almost been invisible.
In three games against the New York Rangers, Giroux has yet to score a goal. In fact, he has only two shots on goal in the series with both of them coming in Game 3 in Philadelphia.
Giroux is the Flyers' most important offensive player. He finished third in the league in scoring with 86 points. During the regular season, Giroux was also the engine who drove the Flyers. When their captain scored a goal, Philadelphia was 21-2-1. When he failed to score, the Orange and Black were just 21-28-9.
The Rangers have made it a special point to neutralize Giroux. New York is hitting Giroux and making sure he does not have room to operate with the puck. So far, it's working.
That was Claude Giroux's first shot on goal against NYR in 115 shifts. That's 311:19 (game time), 94 minutes (ice time) since Jan. 12.

— Frank Seravalli (@DNFlyers) April 23, 2014
Giroux finished second on the Flyers with 223 shots on goal during the regular season. That's an average of more than 2.7 shots per game.
Against the Rangers, he is averaging less than one shot per game and failed to register a shot on goal in two of the three games thus far in the series. So far, the man who makes the Flyers go has been stuck in neutral.
Leader for Fischler's Biggest Bust of the First Round has to be Claude Giroux -- by ice miles.

— Stan Fischler (@StanFischler) April 24, 2014
The Flyers are putting up a brave front, saying they are confident their captain will rally. "He's been in the league for 6 years," Jakub Voracek told Ed Barkowitz of the Philadelphia Daily News. "He's doing so many other things right. I'm sure he'll be fine."
The Flyers do have reasons for optimism. After all, Giroux opened the regular season with a 15-game scoring drought. He did find his game after that and helped lead the Flyers to the playoffs after a dreadful start to the season.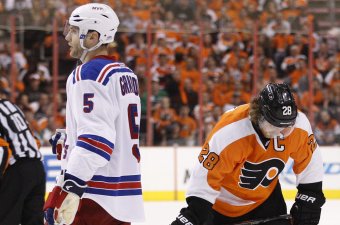 Chris Szagola
But the playoffs are different. There is much less room for error. Giroux's regular-season slump lasted 15 games. In the playoffs, just one more loss would put the Flyers on the brink of elimination.
Giroux needs to be leading his team to victory on the ice now and can't take any more time to fix what's wrong. He is Philadelphia's best player, and he needs to play like it for them to have a chance to win.
Game 4 of this series is vital for the Flyers. After a 4-1 loss in Game 3, Giroux made a guarantee. "We'll be ready for Game 4," he told Barkowitz. "We're going to tie up this series and go back to New York. We just have to stay confident."
Giroux can make all the guarantees he wants. But unless the Flyers captain backs up his words with better play on the ice, Philadelphia's stay in the playoffs may be a short one.