In Game 1, the San Antonio Spurs were able to pull out a close win by stopping Dirk Nowitzki. In Game 2, they did it again.
This time, it didn't matter.
Behind a sterling two-way performance from Shawn Marion and some surprisingly sloppy all-around play from the home team, the Mavericks trounced the Spurs, 113-92, in San Antonio to tie up their best-of-seven series going back home.
Mavericks win, snap their 10-game losing streak vs Spurs

— ESPN Stats & Info (@ESPNStatsInfo) April 24, 2014
The two teams will reconvene in Dallas on Saturday. It will serve as a so-called pressing of the reset button on the series, as the best-of-seven format now goes back to the old-school best-of-five. Considering the foibles the Mavericks and Spurs have shown thus far, it's safe to say the reset will be welcomed for both sides.
Nowitzki, coming off an 11-point, 4-of-14 performance in Game 1, again struggled mightily with his stroke. Guarded closely all over the floor by the rangy Spurs bigs, Nowitzki failed time and again from the left block area and found limited success on mid-range and three-point jumpers. San Antonio bottled up pick-and-rolls and stayed locked to the Mavs All-Star, forcing a series of well-contested shots.
"I don't think they're going to leave me much on pick-and-roll coverage all series," Nowitzki told reporters before the game. "I can't just sit out there and measure the wind and shoot."
Nowitzki finished with 16 points on 7-of-19 shooting. It is the first time since 2010 that Nowitzki has gone back-to-back games without scoring at least 20 points in the postseason.
Dallas headed for a 1-1 split in San Antone with Dirk shooting 33 percent from the floor in the two games. #somethingaboutthisrivalry

— Marc Stein (@ESPNSteinLine) April 24, 2014
The problem for the Spurs: Every other Maverick showed up to play.
Dallas shot 48.9 percent as a team, including 54.2 percent during a critical third quarter. Ahead five at the halftime break, the Mavericks stretched their lead to 13 going into the final 12 minutes by whirring the ball around the perimeter and taking advantage of San Antonio's preoccupation with Nowitzki. Jose Calderon scored all 12 of his points in the frame, including a run where he went for seven straight points on his own.
Marion, one of the few lynchpins in an oft-leaky Dallas defense, came through with one of his best offensive performances of the season. Leaking out in transition for easy transition buckets and spotting up in the corner for open jumpers, Marion hit his first seven shots before a miss and ended 8-of-10 with 20 points.
Monta Ellis, who led the Mavs with 21 points, was the only other key Dallas player aside from Nowitzki to miss more than half his shots. It was a sterling team performance overall, and a nod in Rick Carlisle's direction in a battle between two of the NBA's best coaches. Carlisle confounded the San Antonio offense in Game 1 by switching on almost every pick-and-roll screen involving Tony Parker, and Dallas again out-schemed San Antonio on Wednesday night in every conceivable fashion.
Rick Carlisle has had the best coaching performance of the first two games.

— Hardwood Paroxysm (@HPbasketball) April 24, 2014
The Spurs' starting lineup combined for a disconcerting 41 points, with nearly every star disappearing for long stretches. Kawhi Leonard, in foul trouble throughout the first half, did not attempt a field goal in the first three quarters. Tim Duncan was more engaged, but scored 11 points on just five shots. Parker, unlike Game 1, couldn't find a way to be effective without the ball as the Mavericks thwarted his pick-and-roll efforts.
Really out-of-character shot by Kawhi Leonard there. Rare to see the Spurs lose their poise, but it's happening now.

— Mike Prada (@MikePradaSBN) April 24, 2014
The only San Antonio star locked and loaded from a scoring standpoint was Manu Ginobili, who led all scorers with 27 points. But Ginobili was also wildly inefficient as a ball-handler, turning the ball over six times, and took numerous unnecessary risks with passes.
A bastion of precision passing and team-first basketball, the Spurs matched their season-high with 22 turnovers.
"That's the been the weak link for us throughout the year and it showed up tonight," Spurs coach Gregg Popovich told reporters, via The News Observer. "It's a bad combination when you play bad defense at one end and give up the ball at the other end."
The mental errors were a major source of frustration in the first half. During the first 24 minutes, Dallas won the turnover battle, 14-3, which allowed for 12 extra shot attempts. The Spurs went into halftime trailing despite shooting nearly 58 percent from the field. They finished the game out-shooting the Mavericks at 50 percent, but Dallas' ability to take care of the ball (eight turnovers) and 14 offensive rebounds allowed them 92 shot attempts to San Antonio's 64.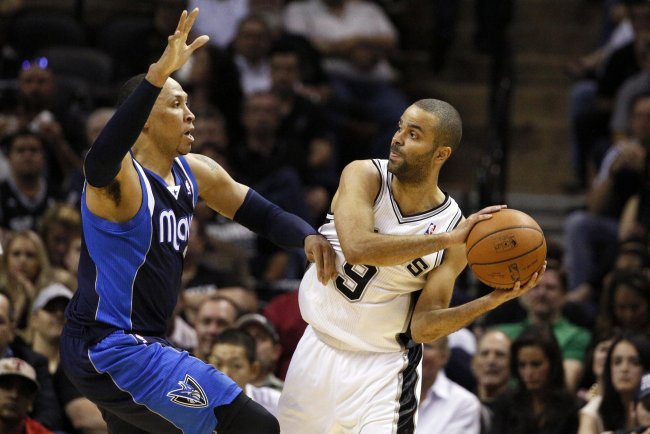 USA TODAY Sports
The uncharacteristically sloppy play also carried over to the free-throw line, where San Antonio shot just 18-of-29. Dallas made all but one of its 16 attempts.
Through two games, Carlisle has put on a virtuoso coaching performance. The Mavericks were the worst defensive playoff team during the regular season, a flaw so seemingly fatal that few gave Dallas much of a chance. San Antonio was a juggernaut on both ends of the floor during the regular season, and the prevailing wisdom was that the Spurs would be unquenchably motivated to atone for their loss to the Miami Heat in the 2013 NBA Finals.
That hasn't been the case, however. Carlisle has found a workable defensive system that has taken his team filled with minuses and helped it shut down the NBA's sixth-best offense. San Antonio has scored just 98.7 points per 100 possessions in this series, a rate that would have been better than only the dreadful Philadelphia 76ers during the regular season.
Given Nowitzki's struggles from the field, the Mavericks have plenty of reason for optimism heading back home for Game 3. Gregg Popovich, meanwhile, will have to earn his Coach of the Year honor far earlier than he may have expected.
Unless otherwise noted, all statistics via NBA.com.
Follow Tyler Conway on Twitter: