Once again, Tim Duncan led the San Antonio Spurs to a key victory at the AT&T Center.
Duncan's 27 points carried the Spurs to a 90-85 victory over the Dallas Mavericks in the first of a seven-game opening round series.
As for the Mavericks, they blew a 10-point fourth-quarter lead and a potential upset of the No. 1 seed Spurs. Devin Harris led the Mavs with 19 points.
The Mavericks will need a lot more to go their way in Game 2. Here are a few things they should look out for as they try to steal Game 2 and even up the series.
Dirk Nowitzki Must Contribute More
Nowitzki, who averaged 21.7 points on 49.7 percent shooting this season, is the undisputed leader of the No. 8 seed Mavericks.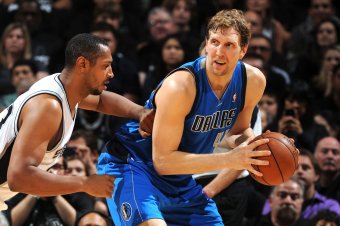 Garrett Ellwood/Getty Images
In Game 1, the 35-year-old was completely off his game. He finished with just 11 points on 4-for-14 shooting.
The Mavericks were a disappointing minus-seven with Nowitzki on the floor. If the Mavericks want to even up the series, Nowitzki must play like the star he is. Duncan was sensational in the post, and not coincidentally finished a team-leading plus-24 when on the floor.
As Duncan's shot chart proves, he harassed Nowitzki and Co. the entire game:
Ageless wonder Tim Duncan crammed a lot of made shots into a small amount of space. His shot chart- pic.twitter.com/L13pOKGGcv

— ESPN Stats & Info (@ESPNStatsInfo) April 20, 2014
Nowitzki is not an elite defender, but he must stop Duncan from so efficiently beating the Mavs defense. Moreover, if Nowitzki struggles on defense, he must score much more than 11 points to compensate.
Nowitzki's greatest asset is his jump shot. Duncan is too fundamentally sound and very hard to drive on. Nowitzki must get his shot back for Game 2 and force Duncan and his teammates out of the post.
He must step up to his All-Star potential on offense and defense if the Mavs have any plans to tie the series.
Someone Stop Tony Parker
The Mavs already have their hands full in stopping Duncan.
However, Game 1 proved that an in-form Parker is a scary thing for a team facing a dynamic Spurs offense. Parker facilitates the Spurs offense like clockwork, and he finished with 21 points (9-for-15 FG), six assists, four rebounds and just one turnover.
The Mavs raised a few eyebrows when they opted to start 35-year-old forward Shawn Marion to defend Parker. Parker responded by scoring the team's first seven points and finished with 17 points in the first half.
Parker drove to the basket at will in Game 1. Marion did not have the quickness to contain Parker, while the point guard Harris is not a skilled enough defender on the perimeter.
Harris, who went 8-for-16 shooting en route to his 19 points and five assists, was still a pleasant surprise on offense in Game 1, as noted by Parker's quote postgame:
"He surprised us a little bit. He was aggressive." - Tony Parker on devin Harris. #Spurs #Mavs

— Paul Garcia PS (@PaulGarciaPS) April 20, 2014
However, he finished a moderate plus-two on the night. Parker was unstoppable on offense, and Harris was simply not the answer on defense.
Monta Ellis was not capable of stopping Parker either. Ellis finished a nightmarish minus-23 on the night and looks to turn things around for Game 2.
To stop Parker, the Mavs need to play smarter team defense and keep him away from the paint.
Ellis is the only player quick enough to keep up with Parker one-on-one, but Game 1 showed that Ellis lacks the defensive skills for such an elite point guard. The best chance for the Mavs is to work as a team and limit Parker to contested jumpers rather than easy layups.
While guarding Duncan is a hefty task in its own right, Parker is the humble quarterback of this Spurs team. The Mavs must find some way to contain Parker in order to compete.
Who Will Step Up in the 4th Quarter?
As mentioned earlier, the Mavs blew a 10-point lead in the fourth quarter of Game 1.
.@spurs close the game on a 19-4 run covering the final 7:22. They shoot 6/11 (54.5%) in that span, hold DAL to 1/13 (7.7%)

— NBA.com/Stats (@nbastats) April 20, 2014
You can bet that did not sit well with any of the Mavs players. Thus, the most crucial factor for the Mavs for Game 2 is finding someone to step up in crunch time.
The Spurs, on the other hand, do not have to worry much about their game plan.
Gregg Popovich is the Coach of the Year. He has silently and ruthlessly coached the Spurs to the top of the Western Conference year after year, all while resting his aging starters for a deep playoff run.
.@Spurs: 1st NBA team ever to complete a season in which no player avg. 30.0+mins. Their bench recorded 45.1ppg, 4th highest (since '70-71)

— NBA.com/Stats (@nbastats) April 20, 2014
Thus, they will have no trouble pulling off a scoring run late in the game. Game 1 was a strong indication of the Spurs' late-game capabilities.
The Spurs rode their star players to an important opening game victory, while the Mavs had Nowitzki go 2-for-6 in the fourth quarter.
Ellis and Vince Carter, the next two leading scorers on the Mavericks, finished Game 1 with just 11 and 10 points, respectively. For Game 2, the Mavericks need their best scorers to step up in crunch time if they have any hope of winning the series.