Best players for the New England Revolution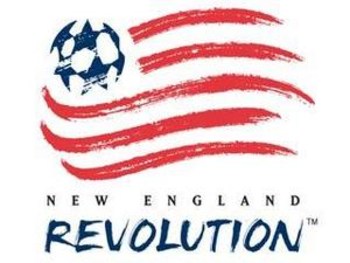 The New England Revolution; they are a charter member of Major League Soccer back in 1995.They've had no shortage of excellent players Twellman. Dempsey. Lalas. Dorman. Noonan. That's just some of the players on this list.
If I missed anyone major, just put their name in the comments section, and I'll add them.
This list is in no particular order, and I almost definently left someone off it, so forgive me. But here we go...
Clint Dempsey, 2004-2007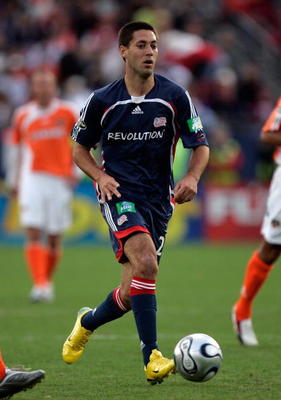 Clint Dempsey left New England for Fulham FC of the Barclays Premier League in England in 2007. I don't care. I still think he's one of the best the Revs--and maybe the entire MLS--have seen.
In his time with the Revolution, from 2004-2007. In 71 games, Dempsey had 25 goals.
With Fulham, Dempsey has appeared in 81 games, and scored 14 goals, off the bench.
Alexi Lalas, 1996-1997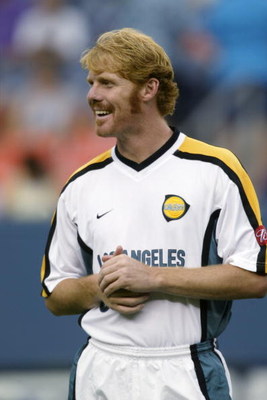 Alexi Lalas is among the greatest American soccer players ever. And he played for the Revolution. Even if it was only from 1996-1997. I'm also sorry about the photo with the Los Angeles Galaxy. I couldn't find one with him in a Revs jersey.
In the defender's time in New England, Lalas scored 3 goals in 57 games.
Raul Diaz Arce, 1998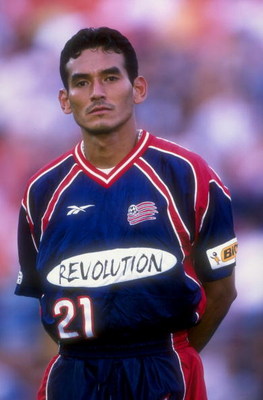 Raul Diaz Arce played only 32 games with the Revolution in 1998. But in those 32 games, Arce scored 18 goals and had eight assists after being traded from DC United. Despite this, Arce was traded again, this time to the San Jose Clash. His final season in the MLS was in 2001 with the Colorado Rapids.
Taylor Twellman, 2001-Present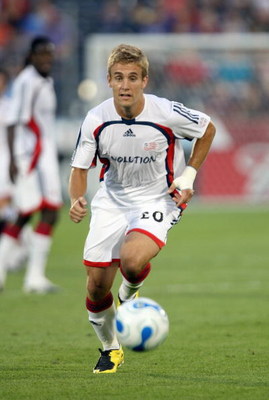 Taylor Twellman is, in my opinion, the best ever for the Revolution. And I thought he'd go the way of Dempsey by now. But anyway, Twellman now has 101 goals with the Revolution, and eight in 10 appearances in 2008.
Joe-Max Moore, 1996-1999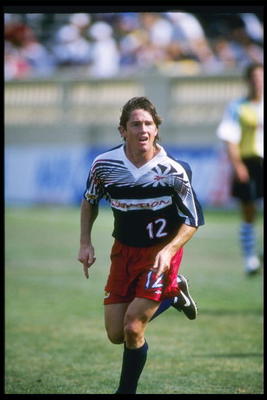 Joe-Max Moore. Probably among the most unknown on this list; he had two stints with the Revs. During one stint from 1996-1999 he scored 49 goals in 90 games, and another from 2003-2004, after which he retired. In 19 appearances in from 03-04, he had four goals.
Pat Noonan, 2003-2008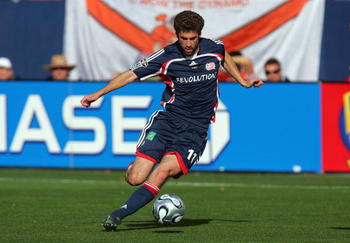 Pat Noonan left the Revs after the 2007 season, after spending his entire career with New England. Noonan scored 41 goals in 136 appearances with the Revs and currently plays for the Colorado Rapids.
Eric Wynalda, 2000-2001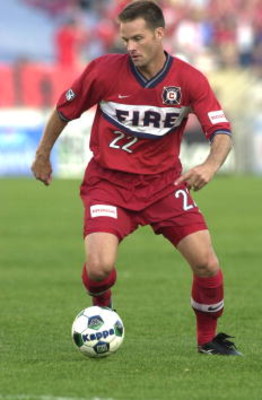 Although Eric Wynalda only played eight games for the Revolution, merit alone gets Wynalda on this list. He had no goals in those eight games with New England.
Andy Dorman, 2004-2007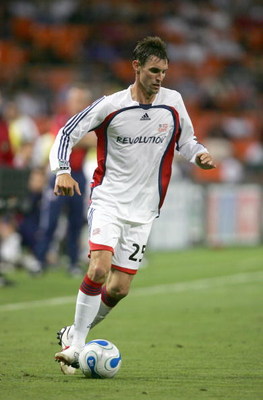 Dorman was a local guy who graduated from Boston University after being born in Chester, England. Dorman had just 17 goals in 112 games for the Revs, from 2004-2007. Despite his low goal amount, he was still well-liked by the New England fans. Dorman now plays on St. Mirren F.C.
Matt Reis, 2002-Present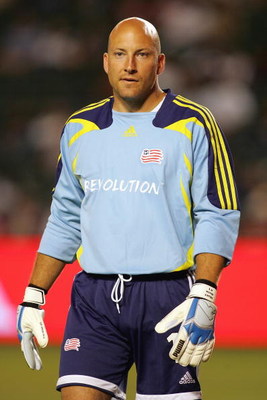 The starting keepr on the all-time Revs roster, Reis is probably the best New England keeper of all their 14 years in the league. He played for the Los Angeles Galaxy from 1998-2002, and then was traded to the Revs for a draft pick.
Reis has played 160 games for the Revolution, and he became the first keeper in the MLS to stop two penalty kicks in a single playoff game, against the Columbus Crew during the 2004 playoffs.
Walter Zenga, 1997-1999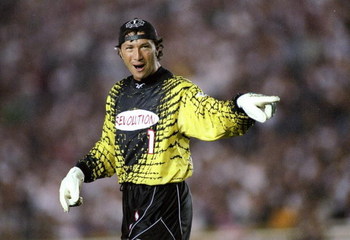 Probably the backup keeper on the All-Time Revs roster, Zenga played for the Revs at the tail end of his career, from 1997-1999, after spending most of his career in Italian football leagues. He played 47 games for the Revolution in his tenure in the MLS.
Jeff Larentowicz, 2005-Present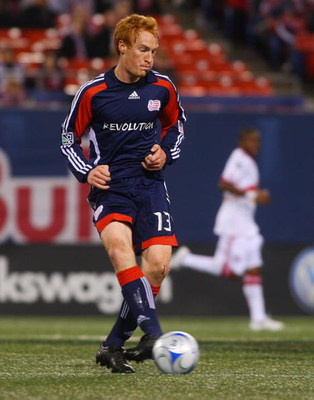 Larentowicz was never a big goal socrer, but he has heart. In 94 games with the Revs (he has 99 in his career, he spent time with the New Hampshire Phantoms in 2005) Larentowicz has eight career goals.
Steve Ralston, 2002-Present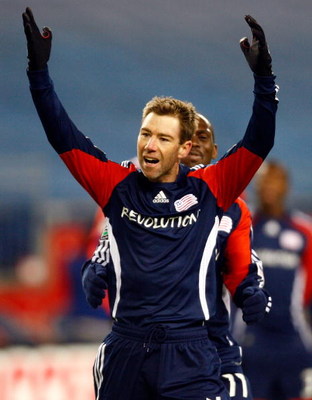 Ralston is the current captain of the New England Revolution, and has been with the franchise since 2002. In 192 games with the Revolution, he has 37 goals with New England,72 goals in his MLS career (he had 35 with the Tampa Bay Mutiny in 187 games from 1996-2001). Ralston might be retiring soon, considering that he's 35-years-old.
Shalrie Joseph, 2003-Present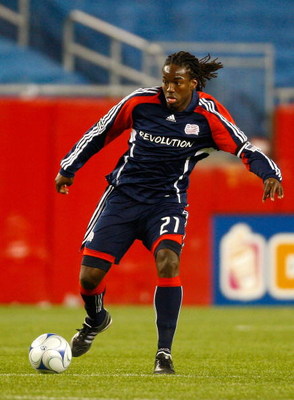 Joseph is from Grenada, and has played on their national team since 2002. Joseph is another Revolution player whose stats aren't stellar, but he's shown heart in his time with New England. He's played for the Revolution since 2003, and has 21 goals in 173 games.
John Harkes, 1999-2001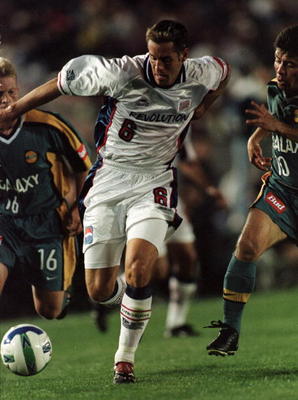 Harkes is another great soccer player from the United States. Although he joined the Revs at the end of his career, he still was a very productive midfielder for the Revolution.
He scored two goals in 55 games for New England.
Leonel Alvarez, 1999-2001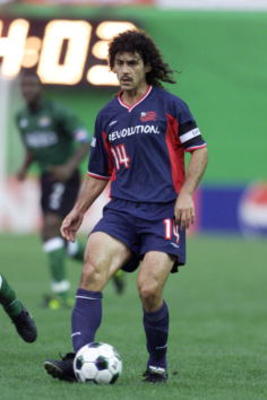 Alvarez, from Colombia, was the captain of the Revolution for a number of years and was always a vital member of the squad on the field. A defensive midfielder, for a while he was the MLS's version of Rio Ferdinand.
Alvarez scored two goals in 58 games for the Revs.
A special thanks to Bob Madaio for reminding me of both Harkes and Alvarez.
Keep Reading