The 2013 season was a disaster for defensive end Jason Pierre-Paul and the New York Giants. The Giants lost their first six games. Pierre-Paul managed only a pair of sacks in the worst season of his four-year NFL career.
Now, as a retooled Giants team tries to get back in the NFC East race, a slimmed-down Pierre-Paul has vowed he's healthy and plans to return to form this year.
He'd better, because the Giants aren't making the playoffs without him.
As Connor Orr of The Star-Ledger tweeted Tuesday, Pierre-Paul arrived for the start of the Giants' offseason program down quite a bit from last year's playing weight of 285 pounds:
Jason Pierre-Paul said he's down 15 LBs last season, working out at 270 now.

— Conor Orr (@ConorTOrr) April 22, 2014
Pierre-Paul also told Ralph Vacchiano of The New York Daily News that his rehab from the injuries that ruined his 2013 season is progressing well:
Jason Pierre-Paul (back, shoulder) said he's "very" healthy. He's still rehabbing both injuries, but doesn't expect to be limited at OTAs.

— Ralph Vacchiano (@RVacchianoNYDN) April 22, 2014
That echoes a refrain from Pierre-Paul himself last month:
2013 season was the worse season 4 me, INJURIES held me back. I've been working my butt off this OFF-SEASON I'm so ready for 2014 season.

— Jason Pierre Paul (@UDWJPP) March 30, 2014
It's also a refrain that the Giants don't mind hearing repeated, because a healthy Pierre-Paul is music to the team's ears.
In 2011, Pierre-Paul was a force of nature. Not only were his 16.5 sacks fourth in the NFL (and more than teammates Osi Umenyiora and Justin Tuck combined), but Pierre-Paul's 86 tackles led all defensive linemen.
That season ended fairly well for the Giants.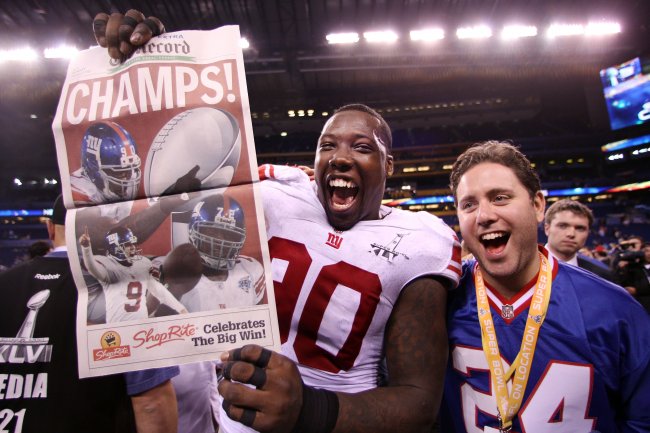 Elsa/Getty Images
Heading into 2012, the sky appeared to be the limit for Pierre-Paul. He was the heir apparent to Jared Allen's title as the league's best 4-3 defensive end.
Then everything fell apart.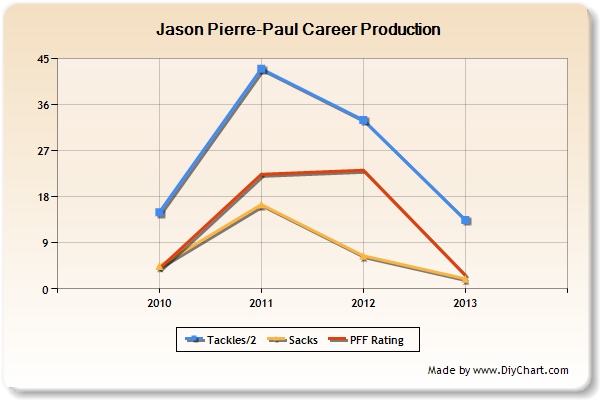 Gary Davenport/Bleacher Report
Pierre-Paul finished the 2012 season as the NFL's third-ranked 4-3 end, according to Pro Football Focus (subscription required). But partly due to nagging injuries and partly due to increased attention from opponents, Pierre-Paul's numbers were down across the board.
It got even worse in 2013. Pierre-Paul was clearly nowhere near "right" for most of the season after undergoing back surgery in August. After playing at least 900 snaps in each of the prior two seasons, Pierre-Paul managed only 583 last year.
If the Giants are going to make it back to the postseason for the first time since that Super Bowl win in 2011, they're going to need the "old" Pierre-Paul back.
New York Giants Defensive Changes 2014

| | | | |
| --- | --- | --- | --- |
| Player | Position | Old Team | New Team |
| Ryan Mundy | SS | NYG | CHI |
| Robert Ayers | DE | DEN | NYG |
| Justin Tuck | DE | NYG | OAK |
| Linval Joseph | DT | NYG | MIN |
| Dominique Rodgers-Cromartie | CB | DEN | NYG |
| Walter Thurmond | CB | SEA | NYG |
| Zackary Bowman | CB | CHI | NYG |
| Jameel McClain | LB | BAL | NYG |
| Keith Rivers | LB | NYG | BUF |
Per Spotrac
The Giants let Umenyiora depart for Atlanta a year ago. This year, it was Tuck (Oakland Raiders) and tackle Linval Joseph (Minnesota Vikings) who are no longer with the team.
It was Tuck who paced the Giants with 11 sacks last year. With Tuck gone and Mathias Kiwanuka (who has never logged more than eight sacks in a season) and the unproven Damontre Moore opposite him, it's going to fall to Pierre-Paul to anchor the team's pass rush.
And it's the pass rush that anchors the entire the New York defense.
It's been a hallmark of the Giants ever since head coach Tom Coughlin took the reins back in 2004. As goes the front four, so goes the defense. The Giants upset win over the unbeaten Patriots in Super Bowl XLII? Spurred by a pass rush that battered Tom Brady all game long. It's also no fluke that Tuck's white-hot second half last year coincided with a 5-3 run by the team to close the season.
The Giants have certainly taken steps to make the defense better in the offseason, even if those steps haven't necessarily been on the defensive front.
How many sacks will Jason Pierre-Paul have in 2014?
In addition to re-signing linebacker Jon Beason and safety Stevie Brown, the Giants spent a bundle of money to upgrade at cornerback, signing Dominique Rodgers-Cromartie and Walter Thurmond.
Those upgrades in the back seven can only help Pierre-Paul and the defensive front. After all, it doesn't matter how good a pass-rusher is if all the opposing quarterback has to do is drop back three steps and hit a receiver who's already open.
Of course, there's a flip side to that. The best secondary money can buy is of little use if opposing quarterbacks can drop back, survey the field, have a sandwich, binge-watch a season of House of Cards, file their income taxes and then deliver the football.
That's where Pierre-Paul comes in. If the 25-year-old gets back to being the incredibly athletic and disruptive pass-rusher with a first step that has to be seen to be believed, then the Giants are in position to have the best defense in the NFC East by a fair margin.
Mind you, defense isn't the only issue facing the Giants. There's a new running back in town in Rashad Jennings. Hakeem Nicks moved on to the Indianapolis Colts in free agency, leaving a hole at wide receiver opposite Victor Cruz. The Giants' offensive line ranked in the bottom half of the NFL in both run and pass blocking in 2013, according to Football Outsiders.
Then there's the small matter of the 83 interceptions thrown by Eli Manning over the past four years. That's kind of a lot.
However, the Giants are hardly bereft of talent on offense. They're going to score some points, especially in a division full of defenses that run the gamut from so-so to non-existent.
If Pierre-Paul can anchor a pass rush like the Giants had in 2011, when the Giants were third in the league in sacks, then Big Blue's defense will be head and shoulders better than any team in the NFC East.
And we've seen more than once just how far a stout defense can carry the New York Giants.