Top 5 Greatest Detroit Sports Athletes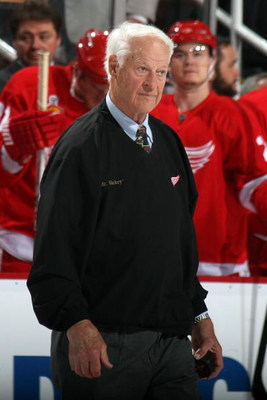 I've been a fan of All sports in Detroit for about 5 years now. I recently just started watching them closely. I'm taking the all time greatest players in each sport (in my eyes) and putting them down. With a honorable mention in the 5th spot. Detroit in my eyes is the greatest sports city in the world. We have the Red Wings, Lions, Tigers, and Pistons. I'll show their nicknames, stats, some career highlights and, quotes. This is the list.
The Pistons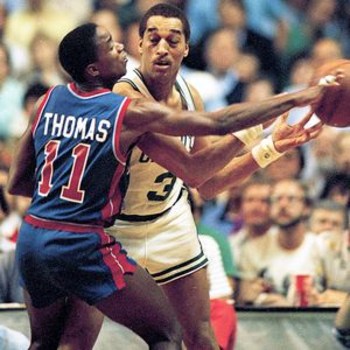 Isiah "Zeke" Thomas.I never payed much attention to basketball or it's history so I can't say much about Isiah. I have seen him coach in the NBA though and it is not pretty. What a shame. 12 Time NBA All-Star, he leads the Pistons in all-time points and assists. Isiah is 4th in NBA history with 9,061 assists. He averaged 9.3 of the a game. He's also 9th in NBA history with 1861 steals.
My greatest gift that I have in life is basketball. - Isiah Thomas
His career stats are: 979 Games played, of which Isiah started 971 of them. He has played 35,516 minutes. 7,194 FG made out of 15,904, giving him a percentage of .452. he made 398 3-pointers, while he attempted 1,373, his percentage .290. 4,036 free throws made and 5,316 attempts, .759 of them made. 951 Off. boards, 2,527 Def. boards for a total of 3,478. he blocked 249 balls, while having 3682 turnovers.
The Lions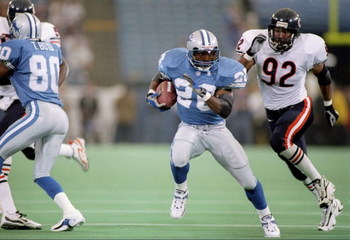 Barry "B" Sanders. In my eyes, there will never be anyone on the same level as Barry Sanders. No running back, no player no one. He had speed, agility, moves, and most importantly a vision for the game. I would cut off my ears to have the same ability that he had. He did screw over the Lions. True. but out of this quote, you can feel the pain the organization gave him.
I quit because I didn't feel like the Detroit Lions had a chance to win. It just killed my enjoyment of the game - Barry-----I'm sure everyone feels this way about the Lions. Now for his Career highlights.
+ He set 34 NCAA records during his Heisman Campaign.
+ He holds the national college single-season rushing record with 2,628 rushing yards in 1988.
+ In 1988, Sanders won the Heisman Trophy while attending Oklahoma State University.
+ Third-fastest player in league history to tally 10,000 career rushing yards
+ Set nine NFL records, and owns every Lions' offensive rushing record conceivable
+ The first player in NFL history to rush for 1,000 yards in 10 consecutive seasons and the only player to do it in the first 10 seasons of his career.
+ The only player in NFL history to record five 1,500-yard rushing seasons.
+ Retired in 1999 needing 1,458 rushing yards to overtake Walter Payton as all-time leading rusher.
+ Barry Sanders is the only player in NFL history to post two 80-yard TD runs in one game
+ Ranked sixth on the NFL's all-time rushing touchdowns list when he retired.
+ 10time Pro Bowl selection (1989, 1990, 1991, 1992, 1993, 1994, 1995, 1996, 1997, 1998)
+ 6 time First-Team All-Pro selection (1989, 1990, 1991, 1994, 1995, 1997)
+ 4 time Second-Team All-Pro selection (1992, 1993, 1996, 1998)
+ 1997 Co-NFL MVP
+ 1989 NFL Offensive Rookie of the Year
+ 2 time NFL Offensive Player of the Year (1997, 1994)
+ 2 time Bert Bell Award (1997, 1991)
The stats
Rushing-
3,062 career rushing attempts, 15,269 rushing yards with an average of 5.0 yards a carry. He had 99 TD's.
Receiving-
352 receptions for 2,921 yards and an average of 8.3 yards a catch with 10 TD's.
The Tigers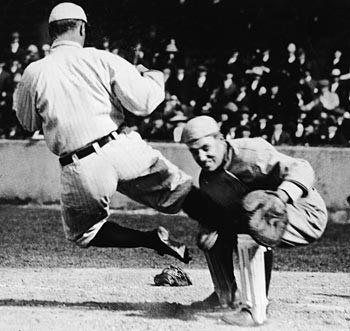 Ty "The Georgia Peach" Cobb. Not much that I know about him. I've heard stories that he was not a people person and was very racist. Still, he was a great baseball player. His quote
I've got to be first all the time -- in everything - Ty Cobb.
Here are some stats and facts:
+ Career Batting Average: .366
+ Won 12 batting titles
+ He stole 892 bases
+ 2245 RBI's
+ 4191hits
+ Played for 24 years; 22 years with Detroit, 2 with Philadelphia
+ Batted over .400 3 times
+ Batted under .320 only once during his career
+ One of the first five players selected to the Hall of Fame in 1936
The Red Wings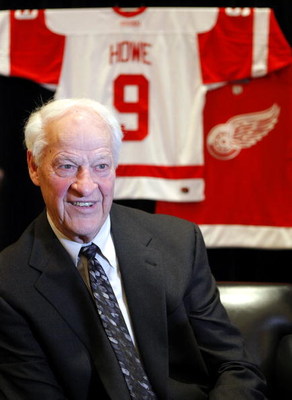 Gordie "Mr.Hockey" Howe. Now I've never heard any bad stories about him. He to me is also the best hockey player. Forget Orr and Gretzky. he is the true Great One. His quote:
You find that you have peace of mind and can enjoy yourself, get more sleep, and rest when you know that it was a one hundred percent effort that you gave win or lose. - Gordie Howe
His achievements -
+ Stanley Cup Champion 4 times.
+ Art Ross Memorial Trophy winner 6 times.
+ Hart Memorial Trophy 6 times
+ Inducted into the Hockey Hall of Fame in 1972.
+ Awarded the first annual NHL Lifetime Achievement Award – 2008
+ NHL First All-Star Team 12 times
+ NHL Second All-Star Team 9 times.
+ Finished in the top five in NHL scoring for 20 consecutive seasons.
+ Inducted into 11 Halls of Fame in total.
+ Most NHL regular season games played: 1,767
+ Most NHL and WHA regular season games played: 2,186
+ Most NHL and WHA regular season and playoff games played: 2,421
+ Most NHL seasons played: 26
+ Most NHL and WHA seasons played: 32
+ Most NHL regular season goals by a right winger: 801
+ Most NHL regular season assists by a right winger: 1,049
+ Most NHL regular season points by a right winger: 1,850
+ Most NHL regular season points by a father/son combo (with son Mark): 2,592
+ First player to score over 1000 goals. Includes both WHA and NHL totals
+ Oldest player to play in NHL: age 52
Stats -
+ 1,767 games played
+ 801 goals
+ 1,049 assists
+ 1,685 penalty minutes.
Honorable Mention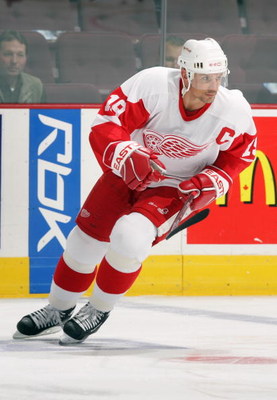 The greatest player I have ever seen on the ice in front of my eyes. A good character in all and has a great record, very deserving of Honorable mention.
Keep Reading