Following the events of last year's Boston Marathon, you always knew the 2014 edition would be special.

The eyes of a nation were firmly focused on the city of Boston on Monday morning, as the best distance runners in the world competed in what is one of the most famous races in the world.

After last year's bombings, though, there was a decidedly different atmosphere surrounding the event. One year later, the effects of that tragedy are still being felt.

The 2014 Boston Marathon was a return to normalcy and will no doubt be remembered for years to come.

It's hard to distill such an emotional day into only three talking points, but these were no doubt the best moments from Monday.

Meb Keflezighi Does the Unthinkable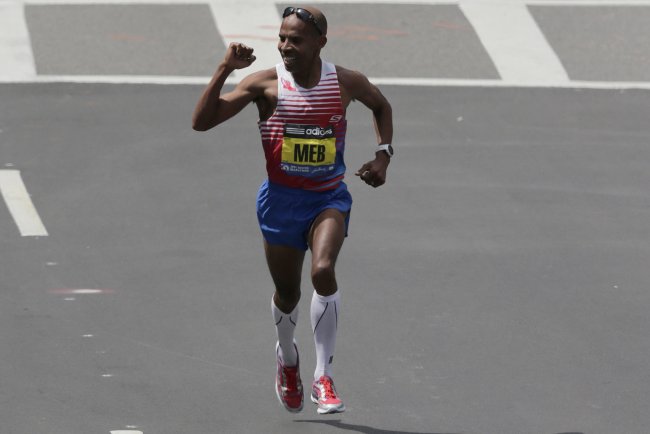 Charles Krupa
At 38 years old, I probably won't be able to drive 26 miles without getting incredibly bored and hating my life.

At 38 years old, Meb Keflezighi recorded a personal best and won the 2014 Boston Marathon.
He's the first American male to win the race since 1983:

For the first time since 1983 an American man has won the Boston Marathon! Congratulations Meb Keflezighi!

— Boston Marathon (@bostonmarathon) April 21, 2014
You can't overstate how impressive his accomplishment was.

Keflezighi was in a field with some of the best male distance runners on the planet and, at his age, seemingly in the twilight of his racing career.

However, he finished with a time of two hours, eight minutes and 37 seconds, beating out Wilson Chebet by 11 seconds. Ross Tucker of SportsScientists.com provided the splits for each of the two runners:

Analysis: Compare paces of @runmeb & Chebet. Meb rock solid even splits. Chasers just left too much #bostonmarathon pic.twitter.com/zrTvolOLQ5

— Ross Tucker (@Scienceofsport) April 21, 2014
After his victory, Keflezighi said that after last year's bombings, he wanted to perform well and inspire the city.

"When the bomb exploded, every day since I've wanted to come back and win it," he said, per Kelly Whiteside of USA Today. "When the Red Sox won it and put the trophy right there, I wanted to win it for the people of Boston. It's beyond words. The laurel wreath, the trophy."

This is the kind of story that would be dismissed by Hollywood directors by being too unbelievable. Yet, Keflezighi made it happen on Monday.

Rita Jeptoo Goes Back to Back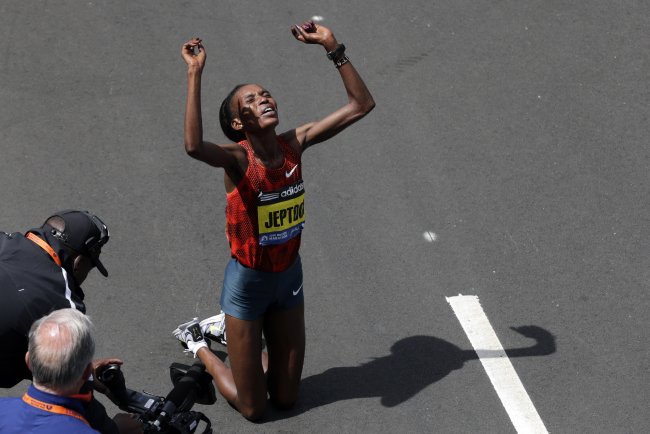 Charles Krupa
Lost in the shuffle a bit was women's winner Rita Jeptoo. The 33-year-old became the first woman to repeat as Boston Marathon champion in almost a decade. Catherine Ndereba went back to back in 2004 and 2005.

Even more impressive was that Jeptoo's time of 2:18:57 was a Marathon record:

Rita Jeptoo (KEN) sets a course record (~2:18:57) to win the women's field of the 118th Boston Marathon - her... http://t.co/7qzaGcWk9g

— Boston Marathon (@bostonmarathon) April 21, 2014
Jeptoo commented after the race that it wasn't until after
the first 10 kilometers or so that she began to feel prepared to handle a faster pace. She credited seventh-place finisher Shalane Flanagan with forcing her to pick it up.

Speaking of Flanagan, Jeptoo said, per The Boston Globe's Michael Vega, "She was...she was tough."

"I was not expecting to run very fast like I did today," she added. "I'm happy. Today I was surprised because the start of the race was like [on] fire. I was not expecting to finish the race the way I did today."

Fatuma Roba was the last women to pull off the three-peat, winning in 1997, '98 and '99.

Jeptoo will have a tough task ahead to make it three in a row in 2015, but with her back-to-back titles, she's no doubt etched her name into Marathon history forever.

Patrick Downes and Jessica Kensky Finish Race Hand in Hand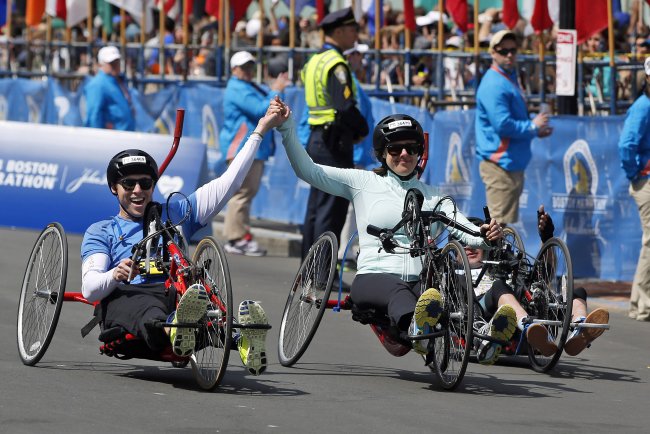 Elise Amendola
If you haven't heard the stories of Patrick Downes and Jessica Kensky, you need to read about the couple by Eric Moskowitz of The Boston Globe.

The short story is that the couple attended the 2013 Boston Marathon and waited to cheer on some of the runners at the finish line. They each lost part of their left leg.

That didn't stop the newlyweds from partaking in the 2014 Boston Marathon.

Kensky won the women's handcycle division, and Downes was all too happy to cross the finish line right there with her.

You hate to get too sappy and Hallmark Channel-y, but the couple represents everything good that sports can accomplish. Their story is one of tragedy and triumph and making the most of one's circumstances.