Hindsight can be painful during the NBA playoffs.
If you're a Houston Rockets fan, it can be really painful.
The NBA announced that a pivotal foul called on Dwight Howard in overtime of Game 1 between the Rockets and Portland Trail Blazers should have gone the other way, per Yahoo Sports' Adrian Wojnarowski:
NBA issues statement on Houston-Portland Game 1: Foul on Dwight Howard w/ 10.8 seconds left in OT should've been called on Joel Freeland.

— Adrian Wojnarowski (@WojYahooNBA) April 21, 2014
Ouch.
Jonathan Feigen of the Houston Chronicle provided clarification on what this could have meant at the time:
Rockets were down one at the time of the call. Howard should have gone to the line for two free throws. Instead, Freeland made one of two.

— Jonathan Feigen (@Jonathan_Feigen) April 21, 2014
Double ouch.
Howard and the Rockets lost 122-120, so this error in judgment proved costly. Had the refs sent Howard to the free-throw line like they were supposed to, he would have had the opportunity to tie the game or give Houston the lead.
Instead of a potential game-tying or game-winning situation, Howard fouled out, Joel Freeland extended Portland's lead to two points, James Harden missed a short jumper at the buzzer and the Rockets and their fans left Toyota Center unhappy.
This marks the second gaffe the NBA has acknowledged since the playoffs began. Following the Golden State Warriors' Game 1 defeat of the Los Angeles Clippers, Dan Woike of The Orange County Register brought word that officials missed a potential game-changing foul call:
League says there should've been a foul called on Draymond Green late in the 4th quarter on the play resulting in a CP3 turnover.

— Dan Woike (@DanWoikeSports) April 20, 2014
"Just prior to the ball going out-of-bounds, Paul was fouled by Green and Paul should have been granted two free throws." Wasn't reviewable

— Dan Woike (@DanWoikeSports) April 20, 2014
Times like these are for reflection, for lamenting what has happened and pondering what could have been.
Would the Clippers have beaten the Warriors if Draymond Green was called for his foul? Would the Rockets have taken down the Blazers if Howard had been awarded his two free throws?
The world will never know.
But while there's a burning desire to crucify officials for late-game blunders, mistakes unfortunately happen. Referees are human, so you can only hope their follies and foibles don't come at pivotal points of games, like they did in these cases.
When this does happen, it's imperative we remember that so many other things could have changed the final outcome as well. The Rockets had every opportunity to defeat the Blazers. They scored the first seven points of the fourth quarter to pull ahead 86-73 before falling victim to a 11-0 Blazers run in the waning minutes of regulation. That could have gone differently.
Harden also shot 8-of-28 overall, including 0-of-4 in overtime. He could have played better.
The Rockets as a team could have done plenty of other things to ensure the game didn't basically come down to this missed call. There's also no guarantee Howard makes one or even both those free throws. So while the officiating was questionable for much of this game, blame cannot be placed solely on the referees.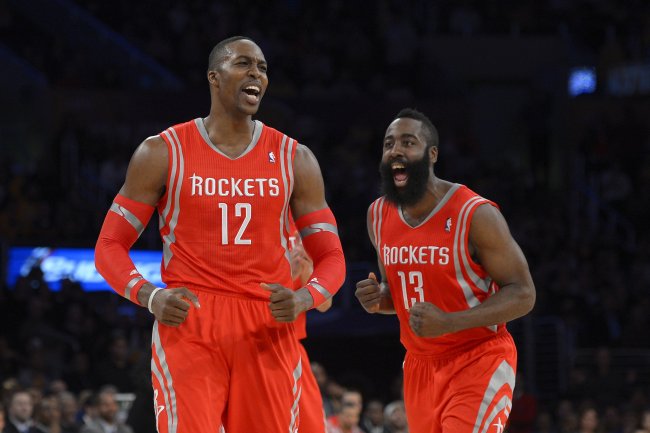 Mark J. Terrill
"There wasn't a problem with the officiating," wrote the Houston Chronicle's Jerome Solomon. "There was a problem with the Rockets' style of play. They didn't play with the aggression or intensity that is required to play quality playoff basketball."
Although that doesn't make it any easier for the Rockets to accept, they have no choice. They lost. They trail the Blazers 1-0 in the series and must look to rebound for Game 2, which will take place Wednesday in Houston. If they can follow this loss up with a victory, it should ease the pain of realizing Game 1 could have ended differently.
"I've got to play better," Harden told reporters after the game. "I didn't shoot the ball well...I've got to shake it off, but it will be better in Game 2."
There's nothing else the Rockets can do other than hope that Harden is right.
*Game stats via NBA.com (subscription required), unless otherwise noted.