In the NBA, the regular season and postseason are wholly different animals.
"The regular season and the playoffs are like two different sports," Philadelphia 76ers head coach Brett Brown, who went on multiple, extended, second-season runs as an assistant with the San Antonio Spurs, recently told USA Today.
"If you put me in a bubble and you drag me out in May, I can say this is different than the game I'm seeing in November. It's just entirely different."
While there are numerous factors that cause this disjunction, one of the primary differentiators is simple: rest.
The regular season is a grind, a war of attrition. NBA teams play 82 games, irregularly slathered over a six month schedule. There are back-to-backs and brutal three-games-in-four-nights stretches, broken up by cross-country flights that would be difficult to handle if the passengers in question were headed to medical device conferences instead of, you know, grindingly intense professional sports contests.
About those contests: NBA games are hard. Not just because of the two-way nature of the sport and the constant-motion offenses that the best teams increasingly run, but the surface itself.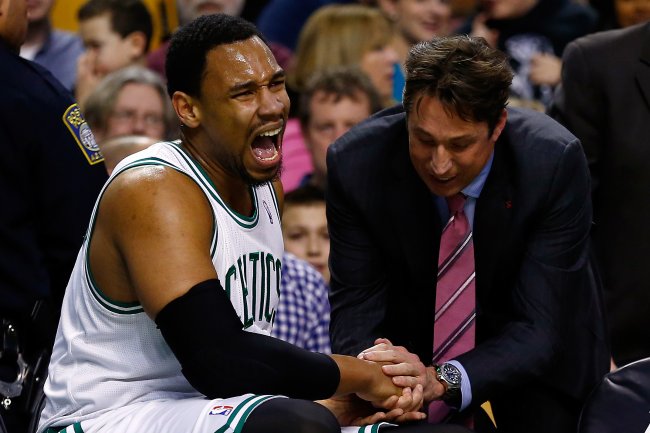 Alex Trautwig/Getty Images
Running on hardwood is difficult, and doing it night-in and night-out causes a variety of performance-sapping, stress-related injuries and ailments that can—over the course of a season—render even the best-conditioned athletes shadows of themselves.
As Jeff Stotts wrote in Fivethirtyeight last week, unsurprisingly, this was a big year for injuries in the NBA.
Together, the league's athletes missed more than 4,900 games to injury, the highest total since the 2008-09 season. Eighteen teams saw more games missed due to player injury than the prior season.
But the postseason schedule is comparatively tame. Last season, for instance, the postseason started for the Miami Heat on April 21 and the team had to get on a plane exactly once in the course of its perfunctory 4-0 dispatching of the Milwaukee Bucks. The Heat then got an eight day layoff before they picked up in round two against the Chicago Bulls.
This sort of relaxed schedule can be an enormous advantage for teams exactly like the Heat: Old, tired groups who have been there before, but have a tough time getting up with the young guys on night two of a back-to-back.
But which title contender will benefit most from the playoff schedule? Below we take a look at the five championship aspirants who figure to get the biggest boost from a bit of extra rest.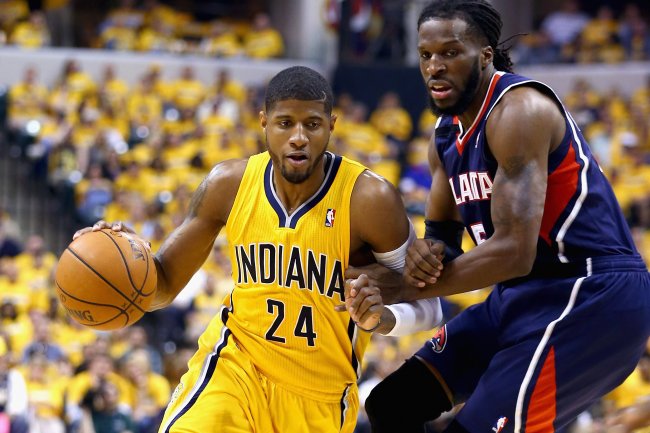 Andy Lyons/Getty Images
5. Indiana Pacers
The Pacers collapsed in the tail end of the regular season, going just 17-16 after Feb. 7, while posting a negative scoring differential.
While these struggles continued in Game 1 of the playoffs—a surprising setback against the Atlanta Hawks—the Pacers figure to get a needed shot in the arm from the postseason schedule.
This was a tired basketball team. Paul George, David West and Roy Hibbert didn't get days off until April 9, which—according to some analysts—was overdue. These guys worked. George, according to NBA.com, ran the fourth most miles in the Association this season.
With a bit of extra rest, it's possible Indiana will return to the fresh-legged form than gave them the best record in the NBA for much of the regular season.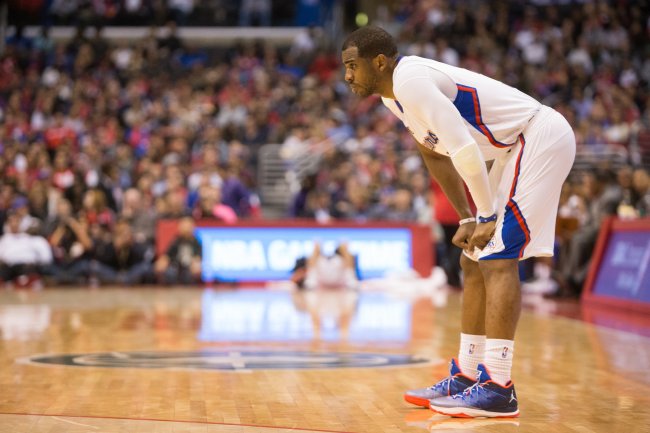 Mpu Dinani/Getty Images
4. Los Angeles Clippers
Despite the rise of Blake Griffin and DeAndre Jordan, the Clippers are still all about Chris Paul. Fortunately for Angelino hoop-heads, LAC will see a lot more of its star during the playoffs.
While the point guard missed 20 games this season with a shoulder injury, he was awesome when he played, finishing second to Kevin Durant in win shares per 48 minutes, per Basketball-Reference, and leading qualified players in wins produced per 48 minutes, according to Boxscore Geeks.
While Paul has spent the last few seasons under light minute restrictions, the governor comes off in the playoffs, where he averages 39.5 minutes a night in 41 career contests.

While the Clippers figure to have their hands full with the Golden State Warriors in round one, they'll also have a unique advantage: 40 minutes a night of CP3.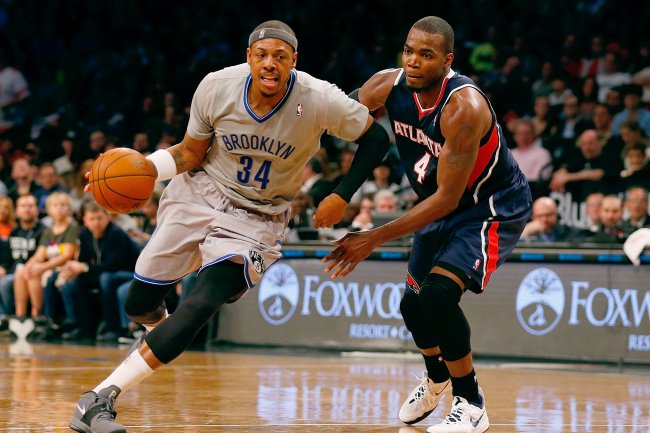 Mike Stobe/Getty Images
3. Brooklyn Nets
Joe Johnson is old.
Andrei Kirilenko is old.
Paul Pierce and Kevin Garnett are really old.
Even with a relative young buck like Mason Plumlee logging serious minutes, the Nets are, according to HispanosNBA, the second-oldest team in the Association. A team with this much tread missing from the tires figures to struggle in the regular season, even with a relatively easy schedule. But Brooklyn had an especially difficult go of it in 2013-14 playing 20 back-to-backs, the second most in the NBA to the Charlotte Bobcats.
The Nets ended the regular season strong, ripping off a 34-17 record after the New Year and, with a bit of extra playoff rest, their old legs figure to make a spirited playoff run.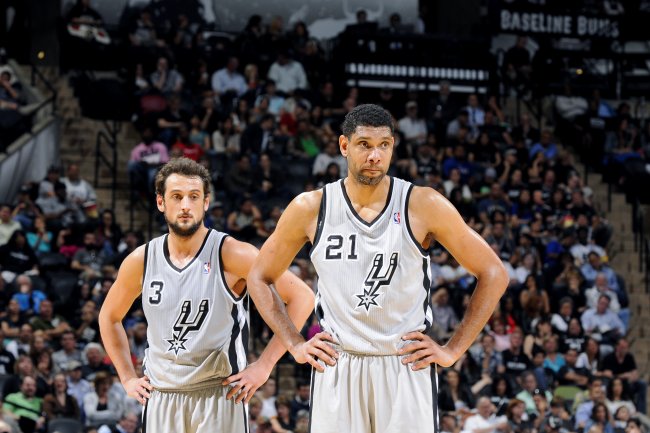 D. Clarke Evans/Getty Images
2. San Antonio Spurs
At first blush, Gregg Popovich and the Spurs figure to benefit enormously from a bit of extra rest.
The team is long in the tooth—the seventh oldest in the NBA, according to HispanosNBA—their own Big Three of Tim Duncan (37), Manu Ginobili (36) and Tony Parker (31) are especially ancient and each member of the rotation operated under fairly strict minute restrictions in 2013-14. Tony Parker led the team in minutes per game with 29.4
San Antonio will certainly get a boost by playing its best players more often—Duncan played 38 minutes in Game 1 against the Dallas Mavericks and he only got more run once in the regular season—but this advantage will be somewhat softened, counterintuitively, by the Spurs depth.
San Antonio is one of the deepest teams in the NBA. According to Basketball-Reference, from Tim Duncan down to Matt Bonner, the Spurs 12 regular season leaders in total minutes played each posted a win shares per 48 minutes that was at least 20 percent better than league average. This is an incredible feat of roster construction, but when rotations tighten in the playoffs, it will be rendered moot.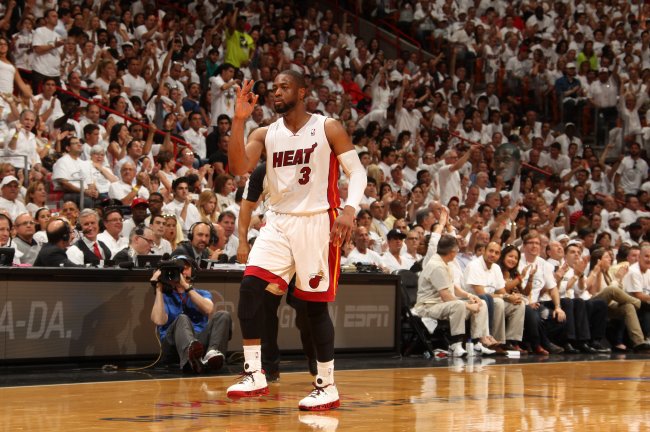 Issac Baldizon/Getty Images
1. Miami Heat
The Heat are the oldest team in the NBA.
The Heat have played 67 extra games these last three postseasons.
The Heat look tired.
Given the aforementioned information, there probably isn't an NBA team who will benefit more from the extra days off this spring than Miami. Not only will the down time allow Miami to tighten its rotation and ratchet up its signature defensive intensity—the Heat's regular season and playoff defense are as different as night and day—but Miami will get to reap the full benefit of Dwyane Wade, who missed 28 games this season and played a career-low 32.9 minutes when he did suit up.
The presence of Wade makes a huge difference. Writing for Fivethirtyeight, Jeff Stotts completed an interesting exercise. How different, he wondered, would the 2013-14 NBA standings look if no players were lost to injury? He ran the numbers and found that the Heat, in his projection, would have won 4.2 additional games without injury—the biggest increase of any contender.
Miami's playoff roster, a close reader might notice, looks very similar to its ideal, injury-free unit. The Heat should be replenished by the playoff rest. And they'll need it.
Way back in January, LeBron James conceded to CBS's Ken Berger that Miami was exhausted.
"It's a long and grueling season for all of us, not just us because we're the champs," James said. "We've played a lot of basketball in our four years together. It's taken a lot of wear and tear on all our bodies. It's mentally fatiguing. And you just try to find the motivation the best way you can as an individual and as a collective group."
The playoffs are still fatiguing and there's two months to go, but LeBron and company can take solace in this: In the hunt for a three-peat, at least the back-to-backs are over.