Following a breakout season featuring his usual stellar defensive efforts, Chicago Bulls star Joakim Noah has been named the NBA's Defensive Player of the Year, according to Aggrey Sam of Comcast SportsNet Chicago:
Bulls to make a major announcement later today. Hearing Jo won Defensive Player of the Year.

— Aggrey Sam (@CSNBullsInsider) April 21, 2014
K.C. Johnson of the Chicago Tribune confirmed Sam's report, while also adding an extra nugget about Chicago's history with this particular award:
Confirming Noah will be named Defensive Player of Year. @CSNBullsInsider first. Noah is 2nd DPOY in franchise history, joining MJ in 88.

— K.C. Johnson (@KCJHoop) April 21, 2014
The league later confirmed the news (via the Chicago Bulls):
Joakim Noah named 2013-14 @Kia Defensive Player of the Year http://t.co/r6yRJMB2Gm #KiaDPOY pic.twitter.com/A49jEVea3B

— Chicago Bulls (@chicagobulls) April 21, 2014
Howard Beck of Bleacher Report broke down the voting for the award as well:
Noah won DPOY by a landslide, with 555 points, to 166 for Roy Hibbert. DeAndre Jordan was third, with 121.

— Howard Beck (@HowardBeck) April 21, 2014
Noah later spoke about the honor at a press conference where he thanked his head coach, Tom Thibodeau (via Nick Friedell of ESPN):
Noah to Thibs: "Without your system this wouldn't be possible."

— Nick Friedell (@NickFriedell) April 21, 2014
Anyone who caught even a glimpse of Noah this season shouldn't be surprised that voters tabbed him as the Defensive Player of the Year. He finished sixth in the league in rebounds (11.3), 12th in blocks (1.5) and 41st in steals (1.2) per game.
Noah was also one of the league's best interior defenders, allowing opponents to shoot just 46.8 percent at the rim, according to NBA.com. His presence helped the Bulls rank first in points allowed per game during the regular season.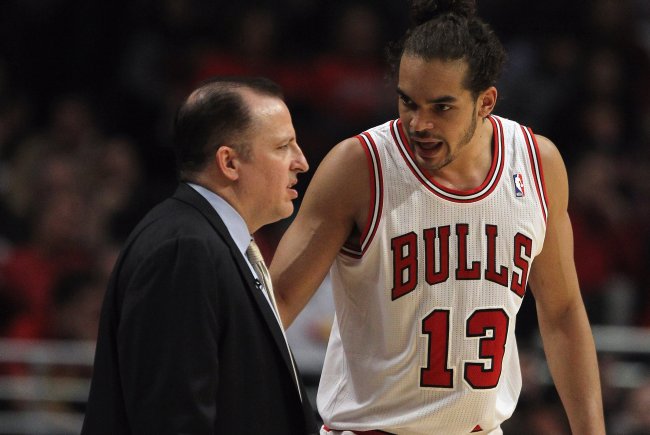 Jonathan Daniel/Getty Images
In many ways, Noah embodies what this Bulls team has become under Thibodeau. He's not a traditional superstar who will win a lot of shooting contests, but he has a tough, hard-nosed approach that makes him easy to root for if you are a Chicago fan and root against if you're not.
Who is Chicago's most important player right now?
Making Noah's job even more difficult this season was the increased leadership role he inherited after Derrick Rose went down with another season-ending knee injury on Nov. 22.
The 29-year-old center set career highs in games started (80), points per game (12.6), rebounds and assists (5.4).
It's hard to be a superstar in the NBA when you don't score 20-25 points per game, but Noah has bucked that trend because of his all-around game and ability to impact the outcome without touching the ball.
Defense isn't a sexy sell when you are trying to market games or athletes, yet we always notice it when it's great. Noah makes life miserable for opponents by playing a physical style that a lot of players in today's era aren't comfortable with.
The Bulls needed every ounce of the energy Noah brings to the court in order to make the postseason, and will be even more reliant on it in their postseason series against Washington after dropping the opening game.
Hopefully this award is just the first of many future accolades that Noah receives. He's one of the most passionate players in all of sports who manages to play the game the right way.