What happens when you combine losing football, nationally recognized programs and coaches on the hot seat? At Florida and Michigan it means throwing up a coaching Hail Mary and changing course offensively.
Both Will Muschamp (Florida) and Brady Hoke (Michigan) saw significant pressure following disappointing 2013 seasons, and as the saying goes—desperate times call for desperate measures.
It led to offensive coordinators being fired and hot names being hired as replacements at both schools.
Florida replaced Brent Pease with Kurt Roper from Duke, while Michigan replaced Hoke's longtime friend Al Borges with Alabama's Doug Nussmeier.
There's no doubt both hires are meant to quickly turn around the biggest trouble spot at each school, but will one be more successful than the other in that task?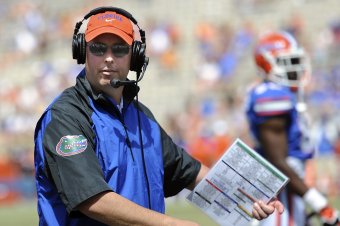 Phil Sandlin
If spring was any indication, one school may have an easier time of making a big jump than the other.
At Florida, Roper will have Jeff Driskel returning at quarterback, which is a great place to start from for a new coach who happens to be one of the more flexible coordinators in the country. It's a point Muschamp made sure to hit when he hired Roper.
"I'm excited to have Coach Roper join our staff," Muschamp said, via the school's athletic website. "He has a diverse, up-tempo background on offense and does a good job of adapting to what the players do best. The most important thing though is he has always remained balanced."
Part of Florida's decline offensively last season could be directly pointed at losing Driskel after just three games. He had completed 68.9 percent of his passes for 477 yards and two touchdowns in those three games.
Driskel is a good starting point for a coordinator such as Roper, who has coached three NFL quarterbacks in his days as a quarterbacks coach/offensive coordinator.
Speaking of coaching quarterbacks, Doug Nussmeier is no slouch in that category. He's coached players such as Keith Price (Washington), Jake Locker (Washington), Drew Stanton (Michigan State) and A.J. McCarron (Alabama).
It was that quarterback reputation that was highlighted by head coach Brady Hoke in announcing the hiring of Nussmeier in January, according to Nick Baumgardner of MLive.com:
Doug is a highly respected offensive coordinator and has earned a reputation as being a great mentor to quarterbacks, specifically, where he's coached Pro Bowlers, top NFL draft choices and Heisman Trophy finalists. Doug has been successful at every coaching stop with his balanced and explosive offenses, and he brings national championship experience.
Nussmeier is in a different situation than Roper, as there is a heated three-way battle for the starting quarterback spot—one that won't be decided until well into the fall.
Outside of the quarterback spot, there are even more similarities between the two programs. Both programs are looking for multiple replacements along the offensive line and both are looking to find wide receivers who can make plays this fall.
The difference between the two comes in what we've seen this spring from all three areas.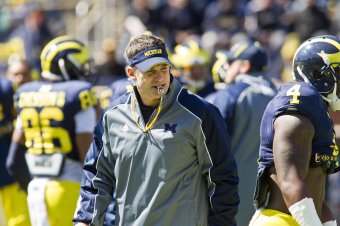 Tony Ding
The most worrisome area for Michigan coming in to the spring was the offensive line. It was a unit that couldn't get things going downhill (a pretty big requirement in the pro-style offense) last year, leading to a rushing game that averaged just 3.3 yards per carry.
Nussmeier recognizes what Michigan's offensive line needs to become to solve that problem at the very least.
"We want to play physical and be a balanced team," he said, via Brian Bennett of ESPN.com. "And that all starts with what you're doing up front in the trenches and on the line of scrimmage."
As great as that is, after spring ball it appears Nussmeier may have a lot more work in molding those recruited players in to a capable offense though.
The offensive line showed little to no improvement from a season ago in the spring game, struggling to open holes for the running backs and allowing the quarterbacks time to go through progressions and get in a rhythm.
It's led Michigan to do something it very rarely does—recruit a transfer player. According to Baumgardner, Hoke and Nussmeier are seriously considering bringing in former Alabama center Chad Lindsay.
Lindsay may be help to a very young offensive line, but it is also a group that had a ton of experience last season and appears to have grown very little from it so far.
That's the challenge facing Nussmeier, and it's an important one. If the offensive line can't turn the corner, it's doubtful the rest of the offense can either.
Roper had no such issues this spring with his offensive line, which is full of upperclassmen with plenty of experience.
The challenge that group faces is not so much one of experience, but rather making sure it can handle the uptempo style the Gators will play under Roper.
That kind of conditioning happens only with time, something everyone recognized this spring.
"We want to be ready to go when the defense is not ready to go, and at the tempo we're going, they're not going to be able to do that," Garcia said, via the Gators athletic website. "That's going to give us an edge and it's something we're going to pride ourselves on this year."
Which Offense Will Turn Around Quicker in 2014?
Despite the roster differences that may favor a quicker turnaround for Florida under Roper, there is one big advantage for Nussmeier at Michigan.
He isn't looking to completely reinvent the way the Wolverines play offense. Instead, Nussmeier will look to further Michigan's transformation to a true pro-style offense once and for all.
Nussmeier should have more of the players who fit his thinking than having to mold his thinking to the players he's surrounded with, and that can be to his advantage over time.
However, we can only judge by what we've seen and heard through 15 practices this spring, and by all indications Roper's offense is far and away ahead of where Michigan is.
Roper's offense looked far more in sync during the respective spring games, even if Driskell completed just 56.2 percent of his passes in front of the public.
According to Jeff Barlis of ESPN.com, Florida's offense racked up more than 400 yards, 36 points and had 69 plays between the first- and second-team units in just one half of football.
No fewer than 20 receivers caught balls in the spring game, and Florida also averaged 4.6 yards per carry on a day that was more focused on the pass game.
The confidence and efficiency with which the Gators ran the offense was in stark contrast to what Michigan put on display for the public a few weeks ago.
Just listen to how Driskel summed up spring ball, telling Barlis that confidence is the key to what is happening within Roper's offense.
"It felt like we were really efficient," Driskel said, via Barlis. "We moved the ball really well. We only turned it over one time and we only had one penalty on offense. I think when you're not beating yourself up, you can really, really gain momentum and gain confidence."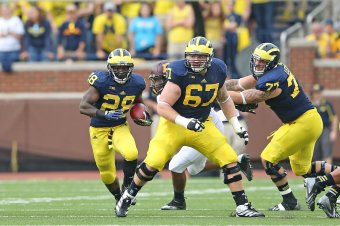 Leon Halip/Getty Images
Contrast that with what was being said by Hoke following the spring game.
"We missed a couple guys during the course of spring with (Joey) Burzynski and (Erik) Magnuson and Chris Fox on and off," said Hoke, via Baumgardner of MLive.com. "But I think the improvement is coming. Is it where we want it to be? No. I'd be lying if I told you we were exactly where we wanted to be."
As the teams focus shifts to fall, progress in front of the public is important—if for no other reason than to alleviate some of the public and private pressure on your job.
For that reason alone, it is advantage Roper and Florida's offense. Yet, there's more to it than that.
The combination of returning players, a quarterback situation that is already settled and a coordinator with a lot more athletic talent to build around gives Roper and the Gators the overall edge.
It wouldn't be surprising to see Florida's offense doing some impressive scoring this season given what we saw this spring already.
Combine that with a defense that should be one of the SEC's better units and the Gators could be in for a very quick turnaround, at just the right time for Muschamp to keep his job.
Andy Coppens is a national college football featured columnist. You can follow him on Twitter: @AndyOnCFB.