Wimbledon Predictions, All the Way to the Final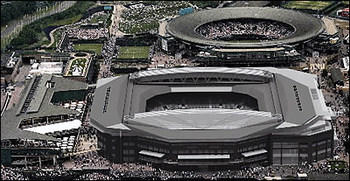 Wimbledon starts tomorrow and I am excited. Ever since the NBA finals finished I have barely watched any sports except a little of Queens and the Confederations cup. But tomorrow the excitement returns.
I have decided to fill in my bracket and explain my road to the 2009 Wimbledon final.
Excuse me for not creating 127 slideshows and starting from the fourth round, if you want to argue my participants in the fourth round fill free to leave a comment.
In a Wimbledon without Nadal it might be wide open, or might bring back the Federer days of domination. But for sure the road will be full of classic's, so enjoy.
Lleyton Hewitt vs Radek Stepanek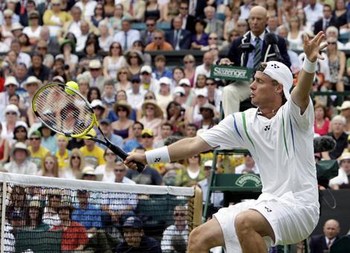 This part of the draw was meant to be Nadal's easy road to the quarters, however Del Potro got the top spot in this part of the draw and loses to Lleyton Hewitt in a epic second round match. Del Potro not a grass player and Hewitt as looked pretty good so far in the short grass season. Stepanek reaches the fourth round after beating David Ferrer in the third round.
In this fourth round match Stepanek wins the first set 6-4, but then loses three straight sets 7-6, 6-2, 7-6. Lleyton Hewitt reaches his first Wimbledon quarter finals in three years, what a great story that would be.
Paul Henry Mathieu vs Andy Roddick
Mathieu beats Davydenko in third round, while Roddick beats Ordina open winner Benjamin Becker.
On the grass I don't see Mathieu competing with Roddick, especially if his serve his on and in this match his serve will be on. Roddick wins 7-5, 7-6, 6-1.
Queens third round rematch is on the hand in Wimbledon's first quarter final, Lleyton Hewitt vs Andy Roddick.
Andy Murray vs Stanislas Wawrinka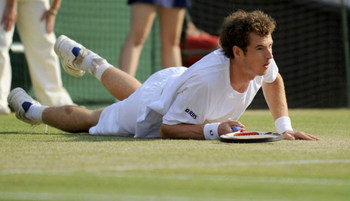 Murray reaches fourth round quite comfortably, while Wawrinka beats Marat Safin in the third.
Wawrinka plays one of his best matches in his career but in what becomes the best match of the tournament till that point, Murray wins the match in five sets 3-6, 6-3, 6-7, 6-4, 10-8.
Andy Murray advances to the quarters and Britain's biggest hope to beat the curse his still alive.
Nicolas Kiefer vs Giles Simon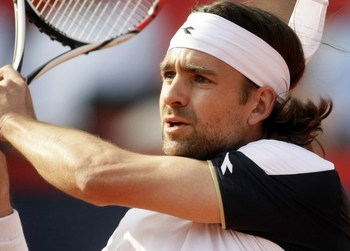 Simon as never past the first round at Wimbledon but doesn't have great Competition until the fourth round, and according to my bracket you could argue it's not great in the fourth round either and I would agree with that.
However in my bracket Kiefer is on a hot streak after beating Fernando Gonzalez in the third round (Gonzalez not a great grass player) and is able to beat Simon in four sets 6-4, 7-6, 1-6, 7-5.
It is safe to say that Andy Murray his in the semi final, or is it?
James Blake vs Tommy Haas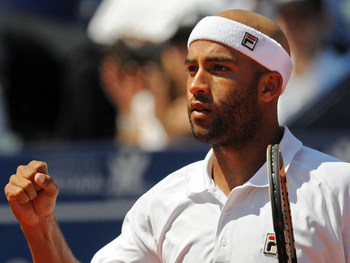 You would think that both of these veterans would have been in at least one Wimbledon quarter final, but you would be wrong, neither one of them reached the quarters at Wimbledon.
But in my opinion that will change at this Wimbledon and it suits just well since both of them have been playing really well this grass court season. James Blake made the final at Queens and Haas won at Halle.
Haas beats Cilic in third round to reach the fourth, while Blake beats Spadea in an all American battle.
But in their match at Wimbledon Blake will prevail with a four set win 6-4, 4-6, 7-6, 7-6.
Dudi Sela vs Novak Djokovic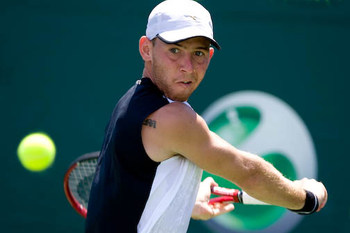 Most of you are probably puzzled and so you should, but every tournament has it's surprise and looking at my country's number 1 tennis player who made it into the top 50 for the first time a couple of weeks ago has quite a comfortable road to the fourth.
Schuetler his ranked 18 because of last seasons performance at Wimbledon (SF) but usually cannot bring his A game anymore, and Robredo as never passed the first round at Wimbledon ever. Sela his also a great Davis cup player leading Israel to the quarter finals.
Djokovic reaches this round after a hard match against Mardy Fish in the third round.
In the fourth round however Djokovic will find it a lot easier winning in straight sets 6-4, 6-2, 7-5.
Fernando Verdasco vs Jo Wilfried Tsonga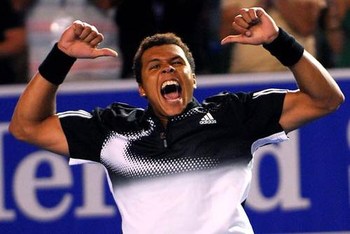 Verdasco makes it to the fourth round because of a easy draw and Tsonga makes it after a close three set match with Ivo Karlovic in the third round.
Verdasco his not a great grass court player and we don't really know about Tsonga since he never made the main draw at Wimbledon.
I think Tsonga will be good enough to win his first five set match in his career against Verdasco.
Robert Soderling vs Roger Federer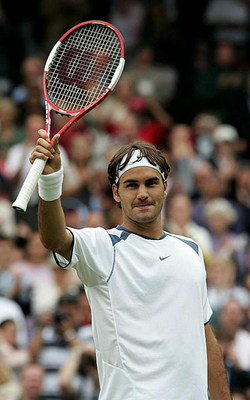 It's amazing how the world of sports plays with your head and it should seem almost obvious that the "Lords of the draw" would pull out a French Open rematch already in the fourth round of Wimbledon.
None of them have what would seem like question marks before the fourth round, so it should happen.
In the match itself Roger Federer should beat Soderling on grass, because I think Soderling will not have as much time as on clay to whip his mighty forehand.
I think Roger will beat him again in straight sets and probably the "Lords of Tennis" will play another trick with us with a 6-1, 7-6, 6-4 score, same has at the French.
Lleyton Hewitt vs Andy Roddick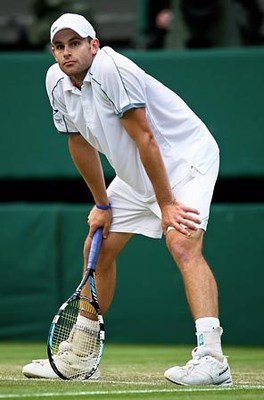 As much as I would like to see Hewitt advance to the Semi Final I think his road will be done with at the quarters.
Andy Roddick doesn't get enough credit nowadays for improving his mental game but he has. I think on grass he could beat anyone if his serve is on.
Anyways I think Roddick wins in three straight sets 7-6, 6-4, 7-6.
Andy Roddick is the first player to advance to the Semi final.
Andy Murray vs Nicolas Kiefer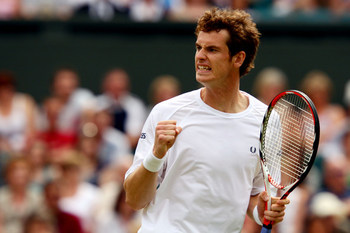 Andy Murray advances to the Semi Final quite comfortably after a 6-1, 7-5, 6-3 win over Kiefer.
Great Britain starting to hope that their Men's journey in the wilderness will end after 73 years.
James Blake vs Novak Djokovic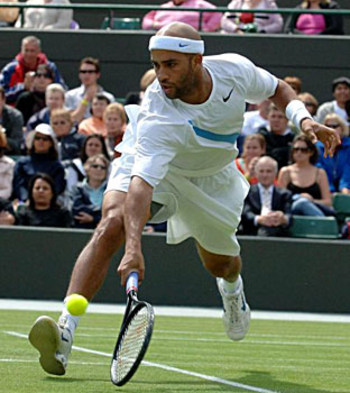 Are you kidding me 2 Americans in a slam semi Final, but yeah I think Blake can beat Djokovic on grass and like I said before Blake always seems like he will have one big slam before he will retire, who knows it might be Wimbledon 2009!
I know it seems hard to believe 2 American in the Semi's but that is my prediction according to the draw.
The Match itself will be the best of the quarter Finals as blake wins in 5 sets 4-6, 7-6, 7-5, 3-6, 8-6, surely the greatest game in James Blake's career
Jo wilfried tsonga vs Roger Federer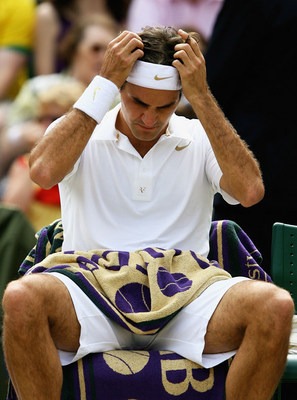 I think that Tsonga could be a good matchup against Federer, but I am not sure that on grass he can compete with the great one.
Federer beats hard fighting Tsonga in straight sets 6-4, 6-4, 6-4.
Anyways since I have made up my mind up until the Semi's, I will leave it to everyone's mind to make their decision because you have to be quite insane to predict a tournament with 128 participants.
So I think the great one will pass Pete Sampras on the slam list, and really no one could argue with the fact that he is the greatest Tennis player that ever played.
So I which all of you Tennis fans a very good couple of weeks with plenty of surprises, and probably some players will prove me as an idiot.
Keep Reading