Wayne Rooney couldn't help his team overcome a vibrant Everton side, as Manchester United lost at Goodison Park on Sunday by a score of 2-0.
Phil Jones was the main culprit for the visitors. He blocked a Romelu Lukaku shot with his arm inside the box, leading to a Leighton Baines penalty goal, and mistimed a run that kept Kevin Mirallas onside as the Belgian international doubled the Toffees' lead before half-time.
Wayne Rooney had a pair of good chances in the second half, but he took too much time on the ball right after the break and found an excellent Tim Howard on his way in the dying moments of the match.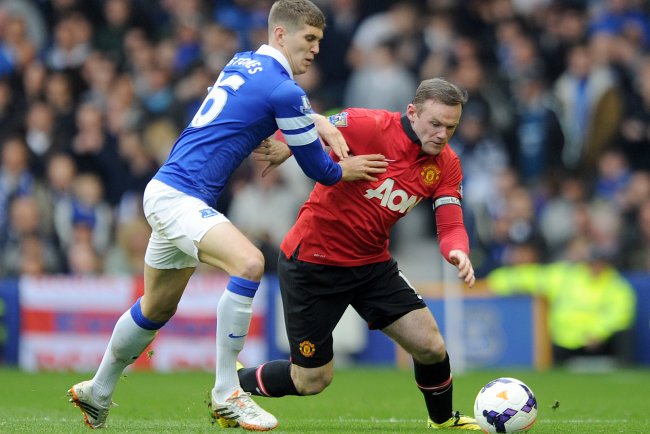 Clint Hughes
The England international didn't look particularly impressive all afternoon, and as you'd expect, Twitter reacted accordingly.
This particular fan of the home side noted how Rooney was kept in check by John Stones for most of the afternoon:
Rooney earned 300k for that performance but spent 90 minutes counting the change in John Stones' back pocket 😂😂😂 Via FB

— ⚽️Bluenose⚽️ (@k_3rry) April 20, 2014
Rooney himself acknowledged Everton had been in excellent form leading up to the match and they'd be a strong opponent for anyone, via Manchester United's Twitter account:
Wayne Rooney on defeat to Everton: "They're in good form and they've got a lot of confidence so we knew it would be hard." #mufc

— Manchester United (@ManUtd) April 20, 2014
The Whitehouse Address didn't want to hear any excuses, however, and was particularly harsh on the forward-turned-midfielder:
Rooney has been pathetic, once again. Club needed to rid themselves of him last summer, instead chose to invest next 5 years in him.

— Whitehouse Address (@The_W_Address) April 20, 2014
ESPN's Miguel Delaney was less blunt, though he did agree Rooney's new, improved contract was a mistake the club seemingly had to make:
This disaster of a season forced United into the Rooney deal as a face-saving exercise. Now they're stuck with him, on that wage.

— Miguel Delaney (@MiguelDelaney) April 20, 2014
The Football Front couldn't help but laugh at the fact he's now officially the league's highest-paid player:
Wayne Rooney has been so bad today. So bad. Premier League's highest paid footballer too.lolz.

— The Football Front (@ReviewFootball) April 20, 2014
This comparison by Kop Talking should be painful to read for United fans and perhaps underlines what could be wrong with the Premier League's financial structure:
Wayne Rooney - £300,000 per week Marco Reus - £25,000 per week Just think about that for a moment...

— Kop Talking (@Kop_Talking) April 20, 2014
Of course, he wasn't the only player to struggle today, as shared by Full Time DEVILS:
Very English pass by Kagawa in to Rooney's heels. #MUFC

— Full Time DEVILS (@FullTimeDEVILS) April 20, 2014
Some of Rooney's struggles should perhaps be attributed to the brilliant play of John Stones, as the youngster put together a phenomenal afternoon. Gary Lineker noticed as well:
I like John Stones....a lot. England are desperately short in his position. Might be worth a wild card. He's got everything bar experience.

— Gary Lineker (@GaryLineker) April 20, 2014
TalkFootball finally took a look ahead at a certain tournament that will be played this summer:
England can't pin their hopes on Rooney at the World Cup, doesn't look the player he use to be.

— talkFOOTBALL (@talkFOOTYBALL) April 20, 2014
While the reaction to Rooney's performance against Everton was almost exclusively negative, it's important to note the team played a terrible game as a whole, and Everton did an excellent job distorting any form of rhythm the Red Devils tried to build.
Rooney's 17 goals and 15 assists still lead the team, per WhoScored.com, and despite his move away from the areas around the box this season, he's still ranked fifth on the Premier League's list of top scorers.
Without the threat of Robin van Persie, United have looked very tame in front of goal in recent weeks, and it's easy to use Rooney and his new contract as a scapegoat. But without the England international's contributions, the club wouldn't be anywhere near the seventh spot they currently occupy in the league.
Rooney might be having a relative down year, but so is everyone else playing for the Red Devils. He'll still be a key component of Roy Hodgson's World Cup squad, and should he perform well in Brazil, his lesser performances in some of these matches late in the season will soon be forgotten.