Arsenal recorded a relatively routine 3-0 win over Hull City on Sunday, as the Gunners strengthened their bid for the Premier League's final UEFA Champions League place.
The hosts were the better team in the early stages, but a brilliant pass from Santi Cazorla set up Aaron Ramsey, and the Welshman didn't hesitate to put his team up 1-0 against the run of play after 30 minutes.
As the Tigers pushed for an equaliser before half-time, the visitors started gaining more control of the match and Lukas Podolski finished a perfectly executed counter to double the lead just before the end of the first 45 minutes.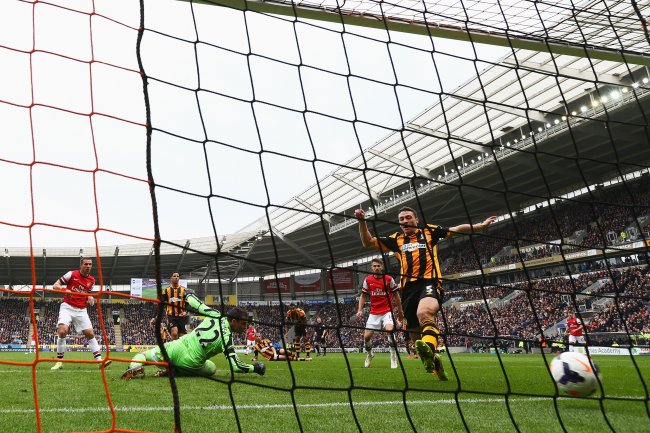 Matthew Lewis/Getty Images
The goal wasn't without controversy, as Hull could have been awarded a free-kick prior to the counter that set the German international up for his beautiful volley.
Podolski added a third goal early in the second half—his second of the afternoon—as the Gunners put the match to bed. Hull never really recovered from the goal just before half-time, and the Gunners saw through the rest of the match in a mature fashion.
As this fan pointed out, the result of today's match was far more important to the Gunners as Steve Bruce and his men would have been more concerned with figuring out how best to play Arsenal ahead of next month's FA Cup final:
Steve Bruce is proper going to analyse this match find all our weaknesses

— ~S (@TheGoonerGirl96) April 20, 2014
Arsene Wenger has been taking a lot of heat in the past few weeks, but as The Mirror's John Cross noticed, winning cures everything:
Arsenal fans chanting: "Arsene give us a wave." Wenger obliges to huge cheers. All is well and forgiven.

— John Cross (@johncrossmirror) April 20, 2014
Podolski's two goals obviously had a tremendous impact on Sunday's match, and Wenger commented on the German's style of play and how it is best to use him, per Gooner Talk's Chris Wheatley:
Wenger on Podolski: "He's popping up in the box at the right time. I think it's better to have a physical player in front of him."

— Chris Wheatley (@GoonerTalk) April 20, 2014
The French manager was also happy his team were able to press their advantage away from the Emirates Stadium, something that hasn't always been the case this season:
Wenger: "We've had a few away games this season where we were toothless. We looked dangerous today."

— Chris Wheatley (@GoonerTalk) April 20, 2014
Transfer Central quoted Wenger stating that Jack Wilshere was doing well in his recovery, and that the midfielder should be back to form in time for the World Cup:
Wenger says Wilshere is jogging now and has told Roy Hodgson he is avaliable for the World Cup. -Ash

— Transfer Central TNC (@TransferNewsCen) April 20, 2014
Per the Premier League's Twitter account, Wenger appeared very confident his team would hold on to the league's final Champions League ticket:
Wenger on the fight for fourth: "It's in our hands...We have a great desire to do it & I think we can" #HULARS

— Premier League (@premierleague) April 20, 2014
Hull's manager Bruce was none too happy with Arsenal's second goal, as shared by talkSPORT's Andrew McKenna:
Steve Bruce on 2nd goal: everyone in the ground thought it was a foul, bar one" ... Shane Long came off with a kick to the calf

— Andrew McKenna (@talksportMacca) April 20, 2014
The Yorkshire Post's Richard Sutcliffe was also able to grab a quote on some of the team's injury concerns ahead of next week's match against Fulham:
Steve Bruce: Shane Long is an early doubt for Hull at Fulham on Say with calf injury. Sone Aluko missed game with "hamstring nick" #hcafc

— Richard Sutcliffe (@RSootyYPSport) April 20, 2014
With the win, Arsenal put the pressure back on the shoulders of Everton. The gap between both teams extended to four points ahead of the Toffees' clash with Manchester United, so this was a crucial victory in that regard, with Everton running out 2-0 winners over the reigning champions.
Just three matches separate the Gunners from Champions League football, and Sunday's win over Hull marks a big step as Wenger and his troops look to fend off the challenge from Everton.