After a wild start to the 2014 NHL playoffs and an action-packed Sunday on the postseason schedule, it's time for the hockey fans across the world to check all of the updated information as they prepare for Monday's set of games.
With four marquee games on Monday's docket, including top teams like Pittsburgh, Anaheim and the epic battle between St. Louis and Chicago, even casual hockey fans are excited for the intense competition.
Here are all the first-round matchups and the updated predictions for each series. For an updated NHL playoff bracket, check out NHLPlayoffsBracket.com.
First-Round Matchups and Predictions

| | |
| --- | --- |
| Eastern Conference | |
| First-Round Matchup | Predicted Winner |
| Boston Bruins vs. Detroit Red Wings | Boston |
| Montreal Canadiens vs. Tampa Bay Lightning | Montreal |
| Pittsburgh Penguins vs. Columbus Blue Jackets | Pittsburgh |
| New York Rangers vs. Philadelphia Flyers | Philadelphia |
| Western Conference | |
| First-Round Matchup | Predicted Winner |
| Anaheim Ducks vs. Dallas Stars | Anaheim |
| San Jose Sharks vs. Los Angeles Kings | San Jose |
| Colorado Avalanche vs. Minnesota Wild | Colorado |
| St. Louis Blues vs. Chicago Blackhawks | St. Louis |
Source: NHL.com
Monday's Best Matchup: St. Louis Blues vs. Chicago Blackhawks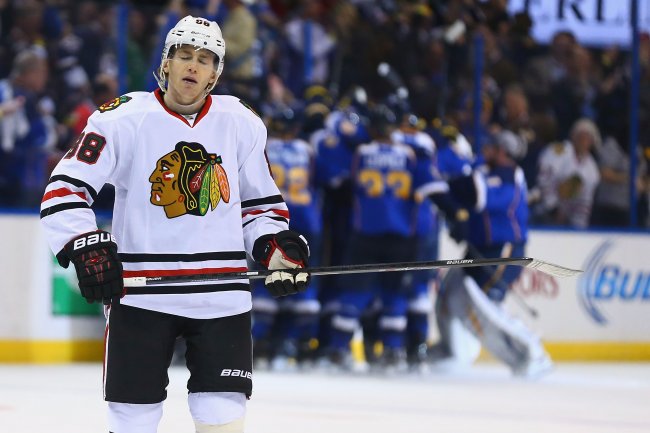 Dilip Vishwanat/Getty Images
TV Info: Monday, April 21 at 8:30 p.m. ET on CNBC
There are four exciting games on the schedule for Monday, but no series has been as entertaining as the battle between Western Conference rivals the St. Louis Blues and the Chicago Blackhawks.
After two of the most exciting games of the postseason, St. Louis leads the series 2-0.
As Sports Illustrated's Richard Deitsch pointed out, this series is already amazing, and Monday is only the third game of the battle:
This Blues-Blackhawks series has been thrilling, And it's only Game Two.

— Richard Deitsch (@richarddeitsch) April 19, 2014
Each of the first two games between these Central Division foes were forced into overtime, and the Blues were able to pull out the 4-3 victory in each matchup. While the Blackhawks have been in control at points in both games thus far, the focus and the tenacity of St. Louis has created two of the most exciting postseason matchups thus far.
Now, the series shifts to Chicago.
When asked about blowing the opportunity to win one or both games in St. Louis, Blackhawks captain Jonathan Toews told Chris Kuc of The Chicago Tribune about the team's focus on winning at home:
It's hard to think about what could have been these last two games, but what are you going to do? We have a great opportunity to go home and turn this thing around in our own building. Take that momentum and find a way to not let it go.
The task won't be easy for Chicago as the Blues have gained serious momentum and confidence over the first two games. St. Louis has been predicated on a strong defensive style this season, but the team has been forced to focus more on the offensive production against a talented Blackhawks roster full of firepower.
Game 1 featured three overtimes before the Blues finally pulled out the victory, and few fans believed Game 2 would live up to the excitement. That was until Chicago defender Brent Seabrook hit David Backes with an illegal charge in the waning moments of the third period.
From @NHLPlayerSafety last night, Seabrook will have a hearing today for interference/charging on the Blues' David Backes. #Blackhawks

— Tracey Myers (@TramyersCSN) April 20, 2014
With just seven seconds left in the game, the Blues capitalized on the power play by tying the score and sending the series into its second overtime in as many games. It was in the first overtime period this time that Barret Jackman made a name for himself by giving St. Louis the definitive series advantage.
After watching the first two games of the series, there are few that would be stunned if Game 3 also went to a thrilling overtime. Even if you aren't rooting for a team in this series, hockey fans will be glued to the television.
Game 3 Prediction: Chicago wins 3-2.
All stats and information via NHL.com.