Equipped with newly developed striking skills and hotdogging kick-ups, Fabricio "Vai Cavalo" Werdum put on a show on Saturday night at UFC on Fox 11 in Orlando, Fla.
He simply dismantled Travis "Hapa" Browne. In the process, Werdum won an easy unanimous decision and earned the next shot at UFC heavyweight champion Cain Velasquez.
Bleacher Report MMA has the numbers:
Fabricio Werdum d. Travis Browne by unanimous decision (49-46, 50-45, 50-45)

— Bleacher Report MMA (@BR_MMA) April 20, 2014
Stamina was the biggest issue.
Werdum became the first man ever to take Browne down to the mat at the end of the first round, per Fox Sports' Chiappetta. From there, it was all downhill for Hapa.
Browne was exhausted. From the beginning of the second round, his usual dangerous shots were slow and carried less of a threat.
Werdum gained so much confidence in the fight, by the third round, he pulled a Daniel Bryan-like kick-up move to jump to his feet.
It was clear Werdum was having a ball. Mike Johnston of Sportsnet.ca enjoyed his performance almost as much as the victor did:
Fabricio Werdum is having so much fun. He's like a kid in there. It's amazing to watch. #UFConFOX11

— Mike Johnston (@MikeyJ_MMA) April 20, 2014
Because of the improved striking Werdum has shown in his last two fights, his bout with Velasquez is becoming more interesting.
This was an entertaining main event that capped off a solid card.
Here's the results from every bout, a breakdown of the night and the reaction from the MMA community.
| | |
| --- | --- |
| Matchup | Method |
| Derrick Lewis def. Jack May | Round 1 KO |
| Mirsad Bektic def. Chas Skelly | Majority Decision (29-27, 29-27, 28-28) |
| Dustin Ortiz def. Ray Borg | Split Decision (29-28, 28-29, 29-28) |
| Jordan Mein def. Hernani Perpetuo | Split Decision (28-29, 29-28, 29-28) |
| Caio Magalhaes def. Luke Zachrich | Round 1 TKO |
| Alex White def. Estevan Payan | Round 1 TKO |
| Jorge Masvidal def. Pat Healy | Unanimous Decision (30-27, 30-27, 29-28) |
| Thiago Alves def. Seth Baczynski | Unanimous Decision (30-27, 30-27, 30-27) |
| Khabib Nurmagomedov def. Rafael dos Anjos | Unanimous Decision (30-27, 30-27, 30-27) |
| Yoel Romero def. Brad Tavares | Unanimous Decision (30-27, 30-27, 30-27) |
| Donald Cerrone def. Edson Barboza | Round 1 Submission |
| Miesha Tate def. Liz Carmouche | Unanimous Decision (29-28, 29-28, 29-28) |
| Fabricio Werdum def. Travis Browne | Unanimous Decision (50-45, 49-46, 50-45) |
Finishes and Good Scraps
The Beast Feasts on His Opponent
USA TODAY Sports
Derrick Lewis endured an all-out assault from Jack May early on, but "The Black Beast" (not my words) consumed his opponent. Lewis unleashed a right hand that sent May to the mat.
Lewis easily pounded May out from there.
It was a solid, quick fight from two one-dimensional fighters.
Featherweight contender Cub Swanson gave the big guys some love for their entertaining bout to begin things in Orlando:
That was some good scrambling for heaving weights! I thought Jack May had that one #UFConFOX11 #fightpass

— Cub Swanson (@CubSwanson) April 19, 2014
May appeared to have injured his knee at some point during the fight. He limped out of the cage, per Damon Martin of Fox Sports:

Looks like Jack May's left knee is jacked up. He has to be helped out by his coaches as he hops to the back on one leg. #UFC

— Damon Martin (@DamonMartin) April 19, 2014
At 6'3", Lewis could be one to watch if he can continue to win in quick, devastating fashion. After the fight, he talked about being nervous. Apparently some people are very dangerous when Bruce Buffer calls their name:
"I wasn't nervous until I heard @brucebuffer call my name. That was the sign that I finally made it" -@Thebeast_ufc pic.twitter.com/fVz4xSRYaC

— UFC (@ufc) April 19, 2014
Dustin Ortiz Outstrikes Ray Borg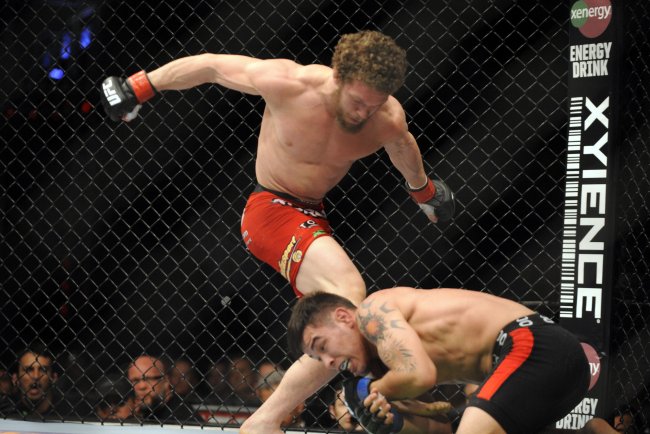 USA TODAY Sports
In what was easily the best fight of a solid Fight Pass preliminary card, Ortiz outlasted Borg in a bout that lifted both men's stock. After splitting the first two rounds, the two fighters really went at it in the third frame.
Because Ortiz enjoyed the edge in striking, he was able to ride that to victory in the final round.
Borg had his moments in the final five minutes, including a slam just before the end of the round. But Ortiz's work with his hands earned him the win.
UFC head man Dana White applauded the flyweights' efforts:
What a great fight between Borg and Ortiz!!! Amazing grappling!

— Dana White (@danawhite) April 19, 2014
Magalhaes Blitzes Zachrich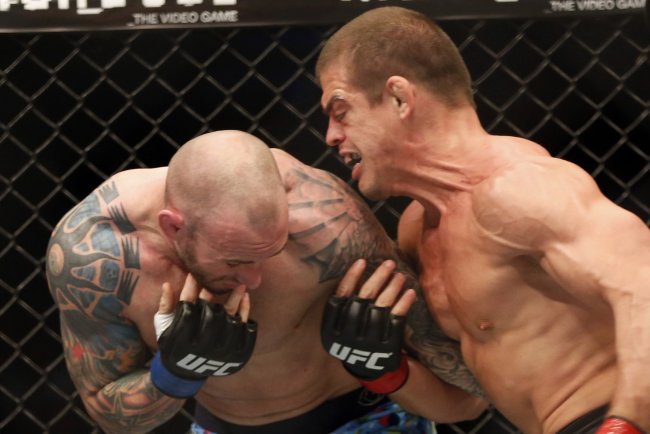 Reinhold Matay
Talk about a quick night of work. It only took 44 seconds for Caio Magalhaes to dispose of Luke Zachrich.
Zachrich didn't exactly eat a life-changing shot, but he did eat a knee hard enough to floor him. From there, Magalhaes landed enough uninterrupted shots for the fight to be stopped.
The two men were firing haymakers for as long as the bout lasted. Magalhaes was just able to land his bombs first.
Ike Vallie-Flagg talked about the very short war:
Holy wow those gents were throwing some serious heat the entire time

— Ike Vallie-Flagg (@IKEVF) April 19, 2014
Alex White Explodes on the Scene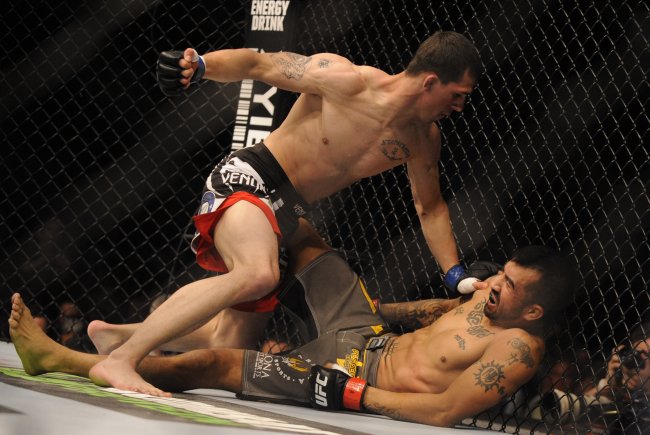 USA TODAY Sports
This young man is mean and nasty. Alex White began Estevan Payan's destruction with a hard straight left hand. Payan was taken off his feet, and White landed six straight punches flush on the downed Payan's face.
Inexplicably, Payan disputed the stoppage. If a guy gets hit in the face six times in a row while sitting on the seat of his pants, I'd say that warrants a stoppage.
B/R MMA's Twitter account speaks the truth:
Payan protests the stoppage, but man, he was out cold. Great stoppage.

— Bleacher Report MMA (@BR_MMA) April 19, 2014
White woke Payan up from his slumber with punches.

— Bleacher Report MMA (@BR_MMA) April 19, 2014
If White was nervous in his UFC debut, you couldn't tell. He was aggressive, loose and constantly moving forward en route to his domination of Payan.
The Cowboy Ropes Another One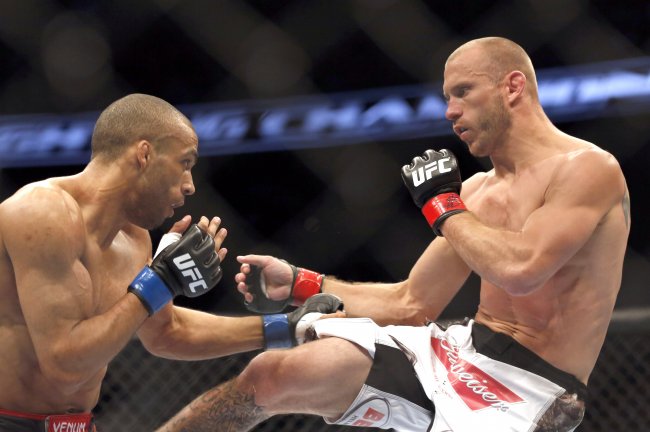 Reinhold Matay
Donald Cerrone is entertaining. There may not be a more dangerous fighter in MMA once he's been hurt.
Edson Barboza rocked Cerrone in the opening seconds of their bout, much like Melvin Guillard did when he faced Cerrone at UFC 150.
And just as "Cowboy" did against "The Young Assassin," he came back from the early shot to stop Barboza later in the round.
A stiff, well-placed jab sent Barboza to the mat. From there, Cerrone pounced on his back like a cat on a ball of yarn. The skein unraveled, and Barboza tapped out from a deep rear-naked choke.
John Morgan of MMA Junkie marveled at Cerrone's comeback:
That was absolutely incredible. Really though Cerrone was struggling to keep up with Barboza's speed, then floors him with a jab. Fun fight.

— John Morgan (@MMAjunkieJohn) April 20, 2014
Miesha Tate Wins a Close and Entertaining Affair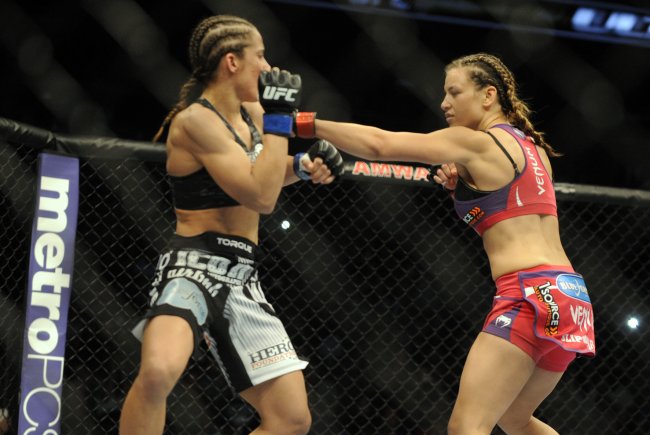 USA TODAY Sports
If the women's division were stronger, the Liz Carmouche vs. Miesha Tate bout might have been a win-or-get-released match.
Because the women's bantamweight division is still in its infancy, Carmouche will likely keep her spot on the roster.
It also doesn't hurt that both women continue to have exciting fights.
After getting off to a slow start, Tate kept Carmouche fighting off submissions for most of the last 10 minutes of the fight.
Carmouche deserves credit for escaping a choke attempt in the third round that seemed like it would be a night ender.
Bleacher Report's Jonathan Snowden lauded Tate's gritty win:
What else can you say about Miesha Tate? She knew she was down after one round and did what she had to do. Very impressive.

— Jonathan Snowden (@mmaencyclopedia) April 20, 2014
Tate's much-needed victory was her first in the UFC.
Biggest Takeaways

The Flyweight Division Has Two New Exciting Fighters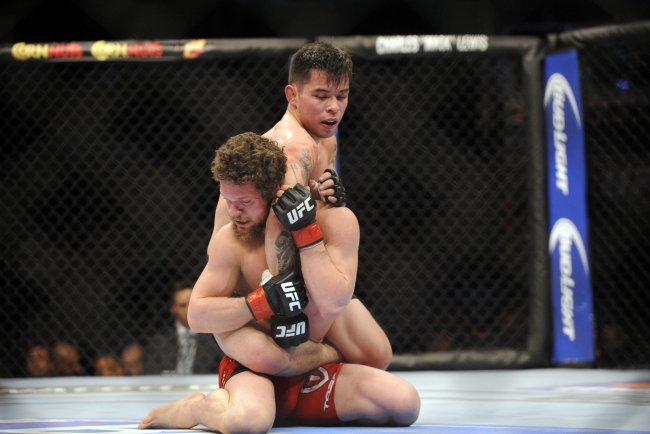 USA TODAY Sports
Anyone who watched Ortiz and Borg go at it on Fight Pass will remember both guys' names. Spirited and nonstop action like that is what gets fighters noticed.
It's also what's needed for the most overlooked division in the UFC. Ben Fowlkes of USA Today has some good advice for fans who may have missed this fight:
Good fight between Borg and Ortiz. Put this on your list of Fight Pass prelims to watch later if you're out living a life right now.

— Ben Fowlkes (@benfowlkesMMA) April 19, 2014
Alex White Might Be One to Watch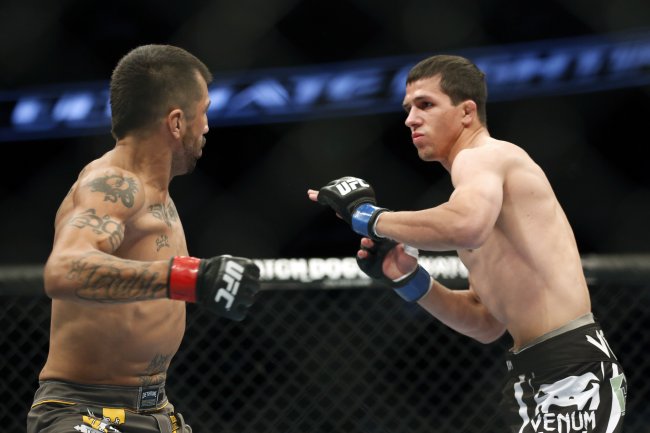 Reinhold Matay
Payan is a tough customer, and White took him out with relative ease. He moved to 10-0 in his MMA career with the win. Perhaps what is most impressive is that he also has five victories by submission.
He's looking like a very well-rounded featherweight who could rise up the rankings swiftly.
Martin sees the same qualities and potential in White:
Alex White is a kid to really keep an eye on in the future. He's got serious power and he did that on less than 2 week's notice #UFC

— Damon Martin (@DamonMartin) April 19, 2014
It didn't take White long to hit Twitter to thank his fans for support:
I won 1st rd tko I would like to thank EVERYBODY that watched n supported me for this fight

— Alex Spartan White (@Alex_White_145) April 19, 2014
Jorge Masvidal Can't Be Overlooked for Long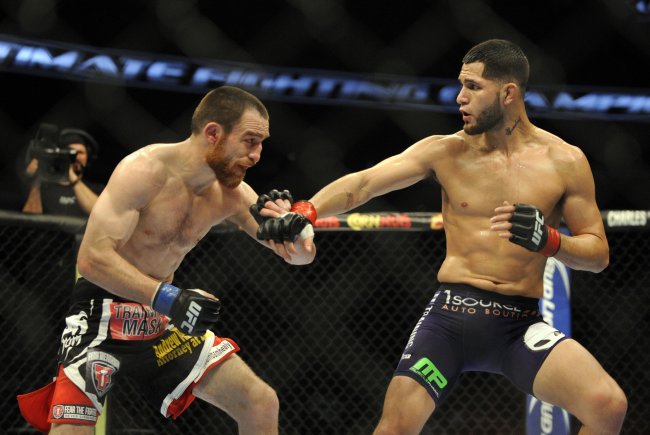 USA TODAY Sports
"Gamebred" doesn't finish many opponents, but he's like DJ Khaled—all he does is win, win, win.
Well, sort of. He did lose a decision to Rustam Khabilov at UFC Fight Night 31.
However, with the win over Pat Healy on Saturday night, Masvidal has won six of his last eight fights. Even in his losses, Masvidal has never been embarrassed by an opponent.
Here's what Fighters Only said about Masvidal's win:
Very astute performance from @GamebredFighter @UFCONFOX. @BamBamHealy is a tough unit and technically strong, but Masvidal was on point.

— Fighters Only (@FightersOnly) April 19, 2014
He doesn't get the attention he should at 155 pounds.
At some point, he deserves to get another matchup with a Top 10 opponent.
Thiago Alves Is Back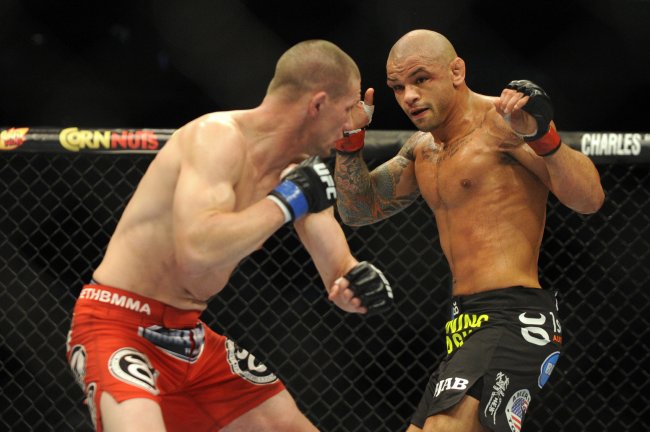 USA TODAY Sports
After a two-year absence, the "Pitbull" has returned. Alves made sure he came back in style with a demonstrative win over a game Seth Baczynski on Saturday.
He employed his signature leg kicks to soften up his opponent and also displayed some nice counterpunching skills.
How effective was Alves' attack on Baczynski's legs? Check out this stat from the UFC:
#UFCFightNight Facts: @ThiagoAlvesATT broke the UFC three-round leg kick record with 52 leg kicks landed today.

— UFC (@ufc) April 19, 2014
It's early in the comeback story, but it'll be interesting to see how dangerous Alves can be in the 170-pound division.
The Eagle Is Really Good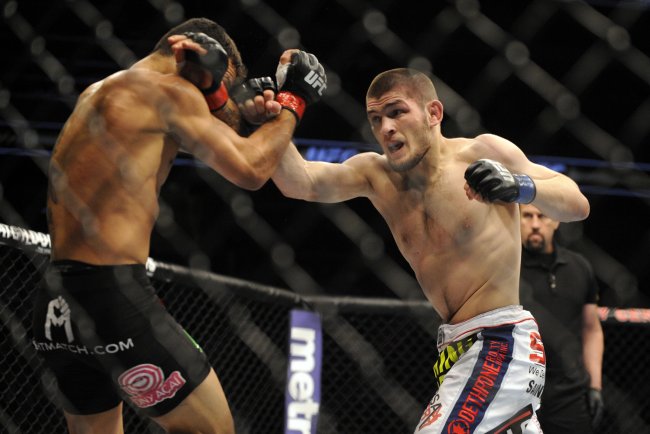 USA TODAY Sports
What's harder: saying Khabib Nurmagomedov, or preventing the sambo genius from taking you down?
"The Eagle" ran through a really good fighter in Rafael dos Anjos on Saturday. The win should vault him into the Top Five at 155 pounds.
Shaun Al-Shatti of MMA Fighting is now a believer in the Eagle:
Okay, I'm 100% sold. I'd be cool with Nurmagomedov getting Pettis/Melendez winner if it wasn't two whole TUF seasons away.

— Shaun Al-Shatti (@shaunalshatti) April 19, 2014
I can't find a fighter in the division who shouldn't be at least a little concerned if he draws Nurmagomedov in his next fight.
Yoel Romero Is a Freak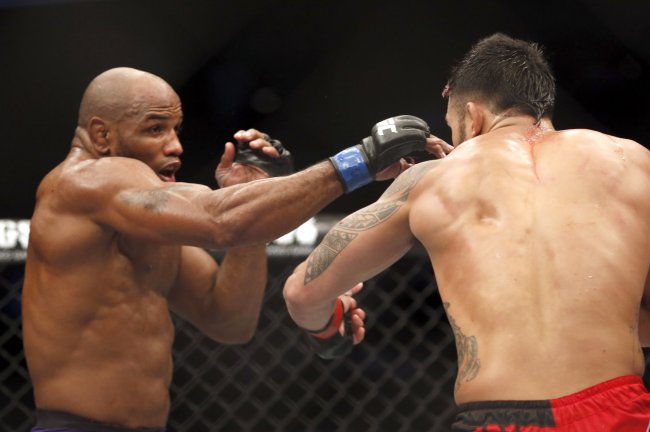 Reinhold Matay
Attention, 185-pound fighters: There is a beast in your midst. Romero is a dominant wrestler, excellent athlete and a big striker.
On Saturday, he manhandled Brad Tavares.
Romero's win was his first that didn't end in a knockout. To a degree, that was the most impressive part of the performance. Snowden admires what he sees as raw talent:
Thing about Yoel Romero that makes his win even more impressive? He doesn't really know how to fight yet. Imagine him with a coherent plan!

— Jonathan Snowden (@mmaencyclopedia) April 20, 2014
The Cowboy and The Eagle Need to Meet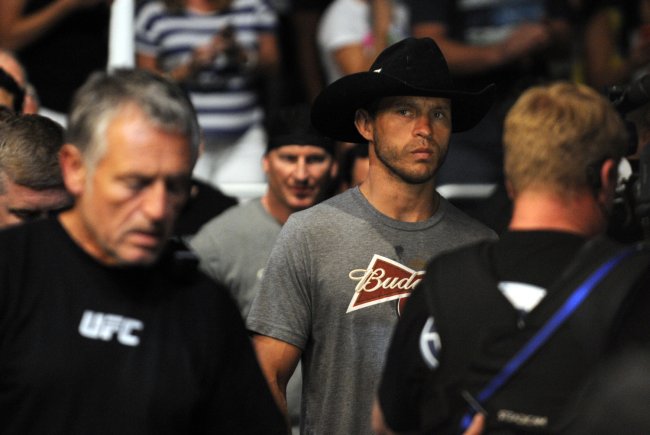 USA TODAY Sports
Nurmagomedov vs. Cerrone would be an excellent bout at a future event.
Bleacher Report's Jeremy Botter thinks so as well:

Back to Cerrone: Really, really want to see him fight Nurmagomedov now.

— Jeremy Botter (@jeremybotter) April 20, 2014
It's definitely a blend of two different styles. From what we've seen, it would appear Nurmagomedov's wrestling could dominate, but we should all know better than to doubt the Cowboy.
Werdum Is One of the Most Improved Fighters in the World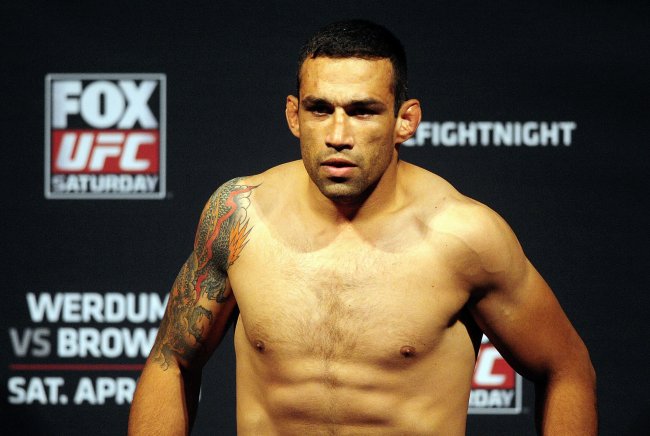 USA TODAY Sports
Almost everyone knew Werdum was a masterful submission fighter. Though it happened at the end of the legend's career, he did make Fedor Emelianenko tap out when the two met in Strikeforce.
Adding striking to Werdum's repertoire makes him a very dangerous opponent for Velasquez.
Everyone isn't as convinced. Botter tweets:
Another round from Werdum. Clean sweep on my cards. But look: he ain't beating Cain. Not by a long shot.

— Jeremy Botter (@jeremybotter) April 20, 2014
You'd have to think for a while to find another fighter who was capable of adding this level of striking so late in his career.
At one point, I called Werdum the heavyweight version of Demian Maia. That was grossly underestimating the Brazilian's growth in the stand-up game.
He is a complete fighter.
Follow me. I dig combat sports.