WBA super bantamweight champion Scott Quigg successfully defended his title against South African challenger Tshifhiwa Munyai on Saturday night at the Phones 4u Arena in Manchester by stoppage in the second round (TKO).
Munyai was a late replacement as Venezuela's Nehomar Cermeno couldn't get his visa in order, and Munyai's lack of rhythm and freshness clearly showed during the short fight.
Quigg started the fight cautiously, working his left hook but keeping his distance from the South African who clearly had the advantage in height. However, the challenger seemed timid and overwhelmed by the magnitude of the fight and the vocal crowd in Manchester, as they supported the defending champion from Bury.
A thundering left hook sent Munyai to the canvas with just 13 seconds left in the first round, but the South African was able to make the count. While his legs clearly stiffened at the knees, a flurry of punches from Quigg wasn't enough to secure a second knockdown.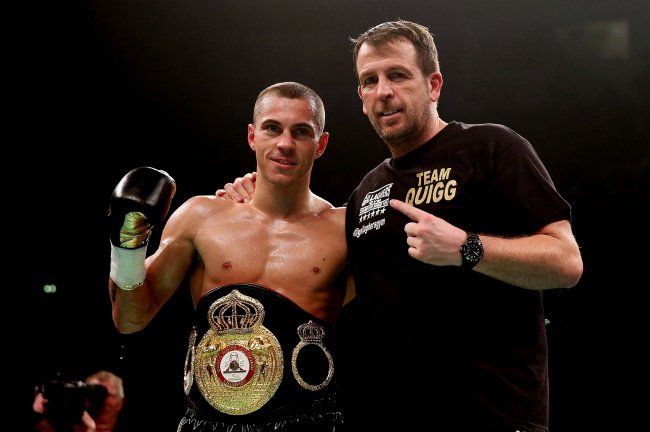 Scott Heavey/Getty Images
The scorecard from that first round gave the champion a 10-8 advantage, and it would be the last time the cards were needed on Saturday.
Munyai seemed to have recovered at the start of the second as he moved better than at the start of the fight, throwing his jab at the body of Quigg to score some points. Indeed, the South African displayed an impressive amount of patience as opposed to looking for the quick strike.
But midway through the second round, a right hook caught Munyai straight on the jaw, sending him to the floor for the second time. And while the South African recovered in time, a number of quick strikes following the count had him on the ropes again, so official Howard John Foster called the fight in favour of the champion.
12Rounder Boxing was very impressed with his performance:
That was an impressive performance by Quigg. Good stuff. #boxing

— 12ROUNDER Boxing (@12ROUNDERBOXING) April 19, 2014
So was Bristol Boxing's Jamie Sanigar, even though he still had his doubts about Quigg's title:
Really impressive from Quigg, Munyai looked weight drained to me. Still hard to justify Quigg as proper world Champ as Rigondeaux really is.

— Jamie Sanigar (@JamieSanigar) April 19, 2014
Unsurprisingly, Boxing Crew immediately mentioned what everyone is now waiting for:
Quigg very impressive tonight!! Great power.... Lets get Frampton v Quigg ON!

— BoxingCrew (@BoxingCrewKO) April 19, 2014
Everyone wants to see Quigg take on Carl Frampton at this point, with the latter looking for a world title of his own. Frampton looked fantastic against Hugo Cazares earlier this month, and as he told The Guardian's Kevin Mitchell, he's not going to wait for Quigg any longer:
I've been crying out for the Quigg fight for a long, long time. It would be a shame if that didn't happen. But look, I'm not going to wait around and call him out for the rest of my career, for a fight that might not ever happen. I have to get on with things and – and that's why we're looking at Léo Santa Cruz.
With both fighters sporting an undefeated record and this rivalry heating up quickly, fans deserve to see this fight. We can only hope we will get to see these two men in the ring together in the near future.
Frampton v quigg is a proper 50/50 fight, let frampton beat Martinez up then both put the world titles up 4 grabs#PPV!!!

— andy ward (@kinkwadze) April 19, 2014
Should Frampton successfully gain the title from Leo Santa Cruz, that's most likely what will happen, as Cuba's Guillermo Rigondeaux seems to be an opponent neither fighter would be willing to face.