Who doesn't see dollar signs when they look at Smush Parker?

Page Six's Richard Johnson reported that the former Los Angeles Lakers guard punched 16-year-old Wolfgang Novogratz during a pickup game in New York City.

Parker's manager, James Hunt, contends Novogratz's family is trying to capitalize on the situation in order to help their son's basketball career.

He told TMZ:

Smush did not punch him in the face. It wasn't no assault or anything like that. It was a hard foul. He didn't hit anybody. The kid's father is trying to use Smush's name as a stepping stone to promote his son to be recruited by these high level Division 1 colleges.
A source who spoke with Johnson intimated that Parker's actions may have been a little more premeditated and that he may have taken exception to getting shown up by the teenager:

"Wolfie scored back-to-back baskets on Smush. At the other end, Smush went up for a shot. There was a hard foul, and they both went down. Smush got up and punched Wolfie in the face."
Even dismissing that account of the incident, it's hard to not find a few problems with Hunt's argument.

The first is that the Novogratz family is somewhat well-known already. Cortney and Robert Novogratz, Wolfgang's mother and father, were featured in the Bravo reality show 9 By Design and have an interior decorating show on HGTV called Home by Novogratz.

The second bone of contention with Hunt is his case that anybody can piggyback on the career of Parker to further their basketball aspirations.

Parker did play five years in the NBA, averaging 9.0 points, 2.4 rebounds and 2.9 assists, but his biggest claim to fame is arguably being called "the worst" by Kobe Bryant back in 2012, who used Parker, Chris Mihm and Kwame Brown to characterize how bad he felt his supporting casts were in previous seasons in Los Angeles.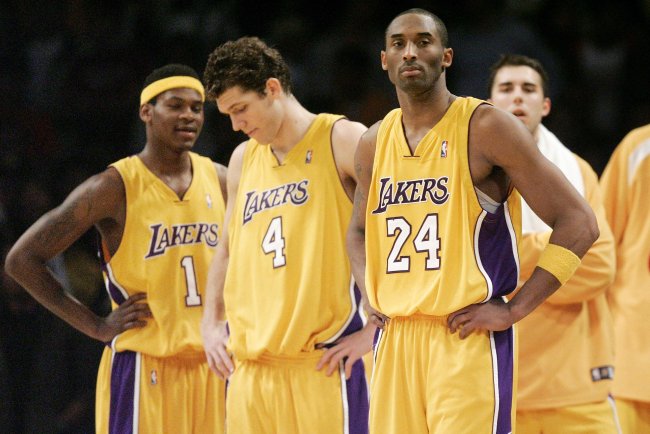 Kevork Djansezian
If one were to try to use an NBA player's fame and name recognition to increase the likelihood of getting recruited by a Division I basketball powerhouse, Parker would be far down in the pecking order.

Maybe Luke Walton and Mark Madsen were too busy.

Of course, there's always three sides to every story; there's Parker's side, Novogratz's side and the truth. Perhaps Parker did get a bit carried away, but he may have felt that it wasn't any worse than most hard fouls you see.

Novogratz didn't press charges against Parker, so there's nowhere else for this story to go, aside from becoming even more he said, he said in the press.