The Golden State Warriors stole home-court advantage from the rival Clippers on Saturday in Los Angeles, turning up the defensive pressure late en route to a pivotal 109-105 victory in Game 1 of the two teams' Western Conference first-round playoff series.
The Warriors were led by Klay Thompson on the perimeter and David Lee on the interior. Thompson finished with a team-high 22 points on 7-of-20 shooting from the floor, while Lee overcame early foul trouble to score 20 points and pull down 13 rebounds, earning the respect of polarizing ESPN pundit Skip Bayless:
Blake's foul trouble obi hurt Clips, but Iggy's hurt GS and Steph had off game. DLee played HUGE, was difference.

— Skip Bayless (@RealSkipBayless) April 19, 2014
Stephen Curry was held mostly in check in 45 minutes of action, scoring 14 points on 6-of-16 shooting from the field.
Chris Paul led the Clippers with 28 points and eight assists but turned the ball over with 18 seconds to play and missed two key free throws with L.A. trailing by three points in the waning moments.
Game 1: Warriors 109, Clippers 105

| | | | | | |
| --- | --- | --- | --- | --- | --- |
| | 1st | 2nd | 3rd | 4th | Final |
| (6) Golden State Warriors | 24 | 28 | 35 | 22 | 109 |
| (3) Los Angeles Clippers | 29 | 23 | 27 | 26 | 105 |
ESPN
Prior to Saturday's game, Clippers head coach Doc Rivers set the tone for the series by breaking out an old boxing cliche, via the Los Angeles Times' Broderick Turner:
"So it should be some tension and anxiety and some dislike, some healthy dislike. We should shake their hands. You touch gloves and then you go out and you fight."
Inspired by Rivers' words, the Clippers were energized to start on Saturday, racing out to an early 12-1 lead that was capped off by an emphatic dunk from DeAndre Jordan, per NBA on ESPN:
That Clippers' run is up to 12-1 after this DeAndre Jordan slam, and the Warriors call another timeout. #GSvsLAC pic.twitter.com/m1fwc9NTUe

— NBA on ESPN (@ESPNNBA) April 19, 2014
ESPN Stats & Info broke down Golden State's sluggish start:
Clippers out to a 12-1 lead. Warriors start off 0-8 from the field. Each of 6 Warriors in the game have missed at least one shot. #GSvsLAC

— ESPN Stats & Info (@ESPNStatsInfo) April 19, 2014
Unsurprisingly, the Warriors eventually discovered their rhythm, responding after a timeout by going on a 16-5 run to eventually tie the game, per Hoops Podcast on Twitter:
And just like that the Warriors are back. Unbelievably dangerous when the pace is this quick. #GSvsLAC

— Hoops Podcast (@HoopsPodcast) April 19, 2014
The two teams went back and forth down the final stretch of the first quarter before L.A.'s Jamal Crawford seized momentum for the Clippers with a jaw-dropping buzzer-beater from half court, per SportsCenter on Twitter:
OH! JAMAL CRAWFORD AT THE BUZZER! Buries the half-court three off the glass to give Clippers a 29-24 lead after 1 quarter.

— SportsCenter (@SportsCenter) April 19, 2014
Both teams were plagued by foul trouble and turnovers throughout the first half as stars Blake Griffin and Andre Iguodala drew early whistles.
Griffin was limited to four minutes of action in the first half, while Iguodala was able to score six points in 12 minutes despite racking up four fouls in the opening half. The veteran picked up his fifth foul just moments into the second half, forcing him to the bench for an extended stretch.
After the game, head coach Mark Jackson explained his mentality when it comes to handling players in foul trouble, via Bay Area News Group's Marcus Thompson:
Mark Jackson: "I thought coaches historically overreacted to foul trouble ... I'm not going to let the quarter dictate to me"

— Marcus Thompson (@ThompsonScribe) April 19, 2014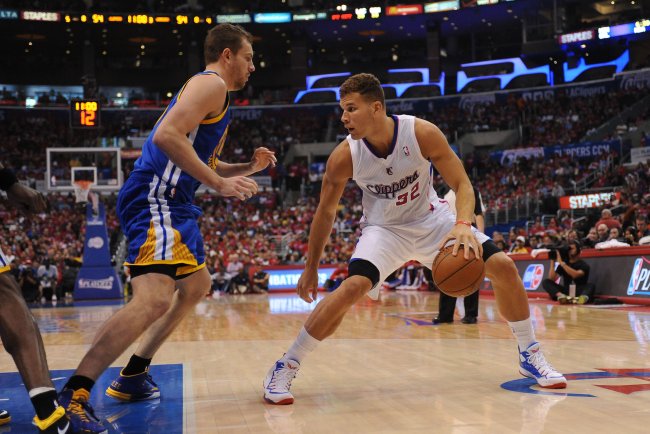 Noah Graham/Getty Images
Golden State's frontcourt was severely limited by fouls as well as David Lee and Marreese Speights combined for six personal fouls in the first half.
Despite each side's struggles, the two teams were tied 52-52 at the halftime break, leading Los Angeles Times' Bill Plaschke to point out the silver lining for L.A.:
It figures last 2 points of 1st half are free throws...game tied 52-all but Griffin has played just 4 minutes, so Clips shud be thrilled

— Bill Plaschke (@BillPlaschke) April 19, 2014
Griffin scored four of the Clippers' first seven points in the game, but he was forced to watch most of the first half from the bench after picking up two quick fouls in the first quarter and then a third just 39 seconds into the second quarter.
Griffin would finally become a factor again in the third quarter, but it was J.J. Redick who made the biggest impact for the Clippers after halftime. Redick exploded in the third quarter, scoring 12 points and sinking all five of his shot attempts for the period, per ESPN's Arash Markazi:
J.J. Redick has a game-high 20 points and is 4-for-5 from three today.

— Arash Markazi (@ArashMarkazi) April 19, 2014
If not for Redick's hot shooting, the Clippers may have been buried by the Warriors, as pointed out by NBA on ESPN:
Warriors are 9-of-10 from the field in the 3rd, but can't pull away from the Clips. 73 all with 5:10 left. #GSvsLAC pic.twitter.com/ix5LT0DPV3

— NBA on ESPN (@ESPNNBA) April 19, 2014
But Golden State eventually locked down Redick on the perimeter, stifling L.A. over the final two-and-a-half minutes of the third quarter and closing the period on an 8-0 run to lead 87-79 heading into the fourth quarter.
The hot-shooting Warriors extended their lead to 11 points early in the final quarter, spurring happy thoughts from Golden State fans on Twitter:
The #Warriors are looking like a different team. Moving the ball, making the extra pass, getting good looks. I like it. #GSvsLAC

— Eddie Martin (@WarriorEd12) April 19, 2014
But the excitement didn't last long as the Clippers used a 15-4 run to take a one-point lead with two minutes to play. Paul was huge during the impressive run, sinking two clutch threes.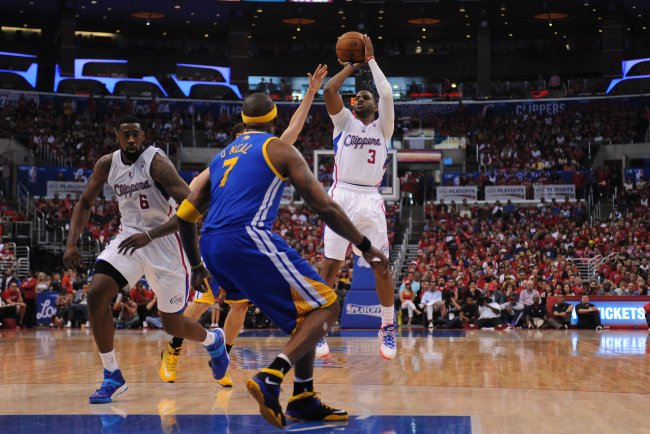 Noah Graham/Getty Images
Determined not to let the game slip away, Harrison Barnes answered with a huge three-pointer to put Golden State back in front.
Griffin tied the game with a pair of free throws on the next Clippers possession, but he fouled out with 48.3 seconds to play.
With no Griffin to help crash the boards, L.A.'s Darren Collison was forced to foul Golden State's Draymond Green moments later. Green connected on both free throws to allow the Warriors to retake the lead.
The Clippers had their chances to tie or take the lead, but were unable to overcome a stout Golden State defense when it mattered, conceding the crucial first game on their home floor.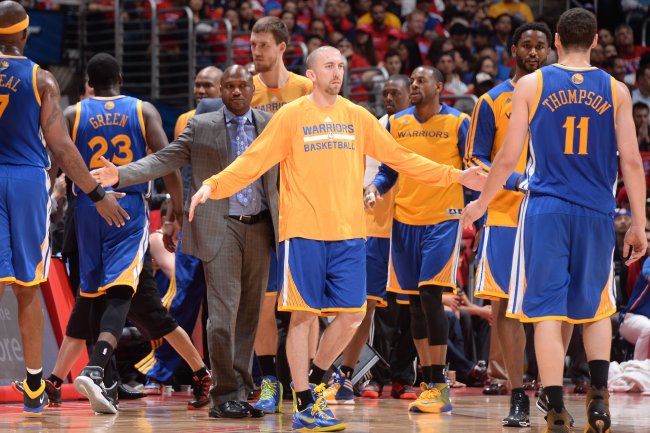 Andrew D. Bernstein/Getty Images
With Game 1 in the books, the two rivals will have two days to rest up and prepare for Game 2 on Monday night in L.A. But with the Clippers now in danger of falling into an 0-2 series hole, there's no doubt the pressure will fall on the Pacific Division champions in Game 2.
To bounce back and level the series, the Clippers will need to cut down on the turnovers and fare a lot better on the defensive glass. L.A. was out-rebounded by Golden State in Game 1 and failed to capitalize on the Warriors' 21 turnovers.
That will have to change on Monday if the Clippers hope to seize momentum in the series before heading to Oakland for Games 3 and 4.
Follow Bleacher Report Featured Columnist Patrick Clarke on Twitter.