Sunderland recorded a shock win over Chelsea at Stamford Bridge on Saturday, as a late Fabio Borini penalty gave the Black Cats three crucial points as they try to avoid relegation at the end of the 2013-14 Premier League season.
The hosts dominated the match from start to finish but couldn't find their way past the Sunderland defense for a second time after Samuel Eto'o had opened the scoring in the first half.
But Mark Schwarzer's reaction to a blast following a corner kick bounced right to Connor Wickham, who didn't hesitate from close range.
Chelsea needed all three points to keep up with league-leaders Liverpool, who will play tomorrow, but couldn't find a way to truly trouble Vito Mannone during the second half, and a late mistake by Cesar Azpilicueta led to a penalty for the Black Cats.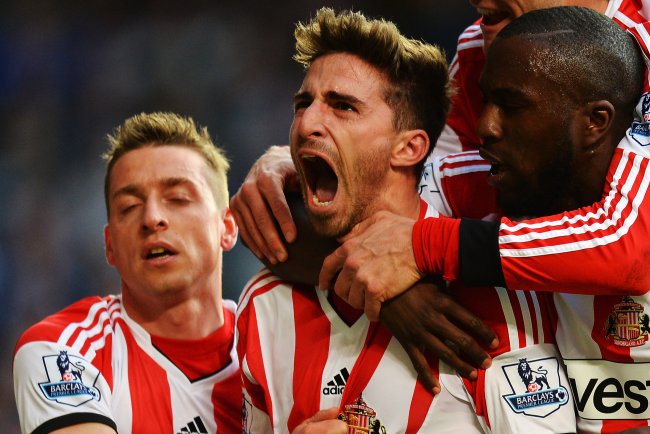 Mike Hewitt/Getty Images
The Spaniard slipped and lost the ball to Jozy Altidore, and in chasing the American, he played the man all too eagerly, bringing the substitute down in the box. While the home fans certainly didn't agree with the official's decision, the contact was certainly there, and Azpilicueta's decision to make the tackle in that situation was foolish regardless.
Borini, on loan from Liverpool, of all teams, didn't hesitate from the spot, and a late push from the Blues (including a penalty shout of their own) resulted in little danger and even fewer goals.
As shared by FOX Soccer, the loss ended a most-impressive home streak for the Blues under Jose Mourinho:
FT: Chelsea 1, Sunderland 2. Mourinho's 77-game undefeated streak at home ends in stunning fashion as Black Cats shrink Blues' title dreams.

— FOX Soccer (@FOXSoccer) April 19, 2014
Gus Poyet's Sunderland meanwhile have gained four very unexpected points in their bid to avoid the drop, as the Cats look to become only the second team to be last in the league on Christmas Day and still avoid relegation.
Unsurprisingly, spirits were high in the visitors' dressing room, as shared by SAFC Source:
Poyet: The talk in the dressing room is about taking on Real Madrid next Sunday.

— Andy (@SAFCsource) April 19, 2014
The club have suffered through a difficult season and would always be in need of some luck to topple a team as heavily favoured as Chelsea, and Poyet acknowledged his team had Lady Luck in their corner on Saturday:
Poyet: Today we got the breaks that had been going against us.

— Andy (@SAFCsource) April 19, 2014
Mourinho was less happy to talk to the press, as shared by ESPN FC:
Jose Mourinho praises his players, congratulates Sunderland, referee Mike Dean, and Mike Riley, then takes off. No questions.

— ESPN FC (@ESPNFC) April 19, 2014
ESPN's Miguel Delaney timed the Portuguese's talk:
Mourinho's 'press conference' lasted about 2 minutes, 20 seconds.

— Miguel Delaney (@MiguelDelaney) April 19, 2014
Get West London's Dan Levene was able to obtain some actual quotes:
Jose Mourinho: "I will not wait for your questions.I can say everything I want to say..."

— Dan Levene (@BluesChronicle) April 19, 2014
Not willing to wait for questions, Mourinho instead made all of the congratulations he deemed necessary:
Mourinho: "First I congratulate my players. Secondly congratulations to Sunderland - it doesn't matter how or why they won, but they won."

— Dan Levene (@BluesChronicle) April 19, 2014
Mourinho: "Thirdly I want to congratulate Mike Dean. Fantastic performance. And finally congratulations to Mike Riley - the referees boss."

— Dan Levene (@BluesChronicle) April 19, 2014
Visibly upset with the way the end of the match played out, Mourinho decided that was enough for the assembled media as he left things at that, but as Leven pointed out, the Chelsea boss probably couldn't have voiced his displeasure in a better way:
The most curious press conference ever. But know this: nobody ever got fined for calling someone 'fantastic' or 'unbelievable'.

— Dan Levene (@BluesChronicle) April 19, 2014
As shared by the Premier League's official Twitter account, Poyet and his team are more than ready for these final few weeks that will ultimately determine who will be playing Premier League football next season:
Sunderland boss Gus Poyet: "I think with us, anything can happen"

— Premier League (@premierleague) April 19, 2014
And when asked who would win the league at the end of the season, Total LFC heard the manager say this:
Reporter: Who will win the Premier League? Poyet: "My friend Luis Suárez"

— Total LFC (@TheTotalLFC) April 19, 2014
Liverpool will play at Norwich City on Sunday, and a win there would give the Reds a five-point lead over the Blues going into their vital fixture next week.
Was the official's verdict of a penalty the correct decision?
With just two matches left after that key meeting, a win against the Canaries would set the title race firmly in the hands of Liverpool, as both the Blues and Manchester City would need some help from other teams in order to have any chance at winning the league for themselves.
Sunderland suddenly trail Norwich by just three points with a game in hand, so the Black Cats will have four chances at avoiding the drop, a scenario that would have seemed beyond unlikely just one week ago.
Beating Chelsea and holding City to a draw will give Poyet and his men ample confidence as they prepare for their most important run of matches of the season, and with the way the team is playing, there's no reason not to believe they could complete a most remarkable comeback.