Is Montee Ball Ready to Become an NFL Workhorse?
April 19, 2014

Getty Images
The classic NFL workhorse that carries the ball 20 times per game is a dying breed. In fact, no qualifying running back averaged 20 carries per game in the NFL in 2013 for the first time since 1990.
Therefore, it's about time the definition of a workhorse in the NFL changed. No longer are running backs just a blunt instrument intended to batter and bruise a defense. The new breed of workhorse running back has to be a weapon in the passing game, good in pass protection and effective running the ball to stay on the field.
This new breed of running back has to be able to produce in pass-heavy offenses run by quarterbacks like Peyton Manning and Drew Brees, who are now attempting well over 400 passes every year. Not only that, but running backs are the disposable razor of the NFL—easily replaced and better new.
Montee Ball has a chance to become this type of workhorse for the Denver Broncos, but he'll have to improve as a receiver. The pressure is on him to produce because the Broncos are light on alternatives.
The Running Game
As a runner, Ball is ready to become a workhorse. He averaged 4.7 yards per carry on 120 attempts last season, and his workload will more than double without Knowshon Moreno on the roster.
In 2013, Ball finished seventh among qualifying running backs in yards per carry. Even if his efficiency goes down as the result of more attempts, odds are good that he will continue to produce at a high level in the running game.
One of the finest examples of how dangerous Ball can be on the ground was in a Week 14 game against the Tennessee Titans. This game was notable because the Titans allowed a respectable 4.0 yards per carry on the season and it was a frigid home game with temperatures in the teens.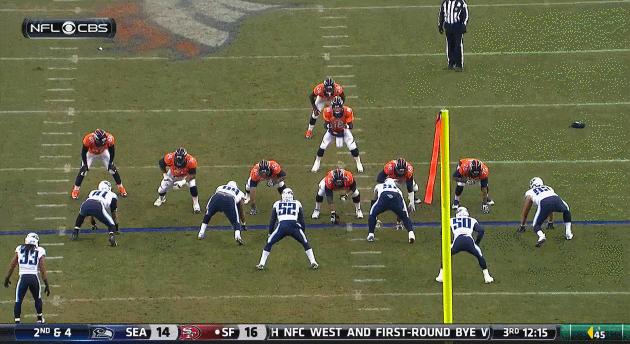 Game Rewind
Two things jump out immediately upon watching Ball in this game. The first thing you notice is how comfortable he is in the zone-blocking scheme. He has the great vision and the cutback ability to thrive in this scheme.
Game Rewind
With the Broncos up by just one score in the second half, Ball was at his best.
The second thing you notice is that Ball runs through arm tackles. The whole idea behind the zone-blocking scheme is to get the running back to the second and third level without contact, but once there it's up to him to make the most of it.
According to Pro Football Focus (subscription required), Ball averaged 2.55 yards per carry after contact. Among running backs that qualified at the same level, he ranked 12th in the entire league in yards per carry after contact, just ahead of Marshawn Lynch.
Lynch forced the most missed tackles in the entire league last year in the running game per Pro Football Focus. The Seattle Seahawks also use the zone-blocking scheme, and Lynch and Ball are roughly the same size, both weighing about 215 pounds.
One of the better-run defenses the Broncos played last season was actually the Oakland Raiders. In those games, Ball averaged 6.3 yards per carry and forced eight missed tackles, as noted by Pro Football Focus.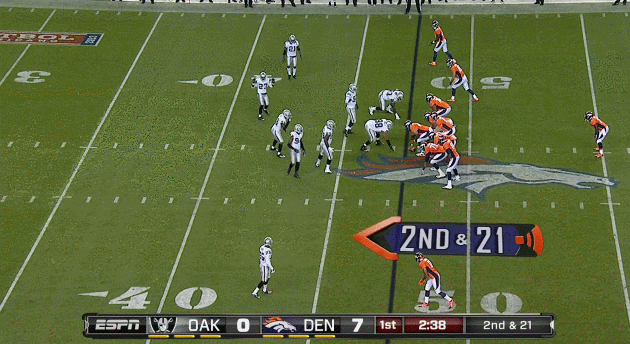 Game Rewind
Ball keeps his legs pumping after contact and routinely falls forward. As a runner, there's really not much to worry about with him, save an overblown fumbling issue.
In total, Ball fumbled three times last season, but only two fumbles came when running the ball. Those came in Weeks 3 and 4, and he carried the ball 117 times thereafter without fumbling once. The fumble issue just looked worse because he didn't get a ton of opportunities.
The Passing Game
If there is an area where Ball needs to improve, it's in the passing game. This is where Moreno thrived for the Broncos, as he had 60 receptions for 548 yards on 74 targets in 2013.
Moreno was one of 10 running backs to have over 500 yards receiving last season, so there is a lot of potential for Ball to produce in the passing game. Unfortunately, Ball didn't show nearly the aptitude in the passing game as he did in the running game.
On just 27 targets, Ball caught just 20 passes for 145 yards. Part of the problem was that he had four drops, per Pro Football Focus. Only a handful of running backs had more as a percentage of their targets.
If there is good news for Ball, it's that he was actually more elusive in the passing game than Moreno even though Moreno averaged more yards and yards-after-catch per reception. Like the fumbling, there are indications that the drops issue will no longer be a huge problem.
Ball vs. Moreno in the Passing Game
Player
Targets
Yards/Rec.
YAC/Rec
Yards Per Route
Missed Tackles
Drops
Moreno
72
9.1
8.1
1.6
14
5
Ball
27
7.3
7.3
1.19
5
4
ProFootballFocus.com
Ball dropped three passes on five targets through eight weeks of the season, but just one on 29 targets thereafter including the playoffs, according to Pro Football Focus. His problem with drops appears to have just been an early hiccup, like his fumbling issue.
Ball is going to see an expanded role in the passing game, and his production will be a vital part of the offense. Manning frequently dumped the ball off to Moreno and relied on him to get first downs to keep the chains moving.
In fact, Moreno was second only to Danny Woodhead in first downs by way of reception. This role will be even more important to the Broncos after losing wide receiver Eric Decker in free agency.
Of Decker's 87 receptions, 63 were first downs or 72.4 percent. Emmanuel Sanders is a good replacement, but only 55.2 percent of his catches were first downs. You might think Manning has a lot to do with these numbers, but 66 percent of Decker's catches were first downs prior to his arrival.
The Broncos will have to hope that with expanded opportunities, Ball is just as effective as Moreno. He ran just 122 pass routes to Moreno's 342 last year, per Pro Football Focus, so there are a significant number of different situations that Ball likely hasn't seen yet.
Even considering this difference, Moreno produced 1.60 yards per route run to Ball's 1.19 yards per route run. Some of this could be Manning, but the fact remains that Moreno did more with it when he caught a pass than Ball.  
Pass Protection
Protecting Manning is the most important thing for the Broncos. Every aspect of the team is impacted if he gets hurt or knocked around by an opposing defense.
Thus why pass protection for the Broncos running backs than it is for a team with a mobile quarterback. Manning has other ways of compensating for bad protection, but most of them involve a sacrifice of some kind.
According to Pro Football Focus, Moreno allowed a sack, three hits and three hurries on 80 snaps in pass protection, while Ball allowed five hurries on 41 snaps in pass protection. In terms of efficiency, Ball needs to be better.
Ball vs. Moreno vs. Forte in Pass Protection
Player
Snaps
Total Pressures
Pressure Percentage
Moreno
80
7
8.8%
Ball
41
5
12.2%
Forte (Worst)
146
17
11.6%
Jones-Drew (Best)
110
0
0%
ProFootballFocus.com
Of the running backs that played 50 percent of pass-block snaps (mostly starting running backs), only Matt Forte's efficiency was worse than Ball's. If we assume Ball stays in to block 136 times in 2014 (the same number of times the Broncos kept a running back in the pass block in 2013), he would allow 17 total pressures at his 2013 efficiency rate.
Matt Forte had 17 pressures allowed last year to lead the league. It's too many pressures to allow for a team that rely on the passing game like the Broncos.
Unlike the drop and fumble issues, Ball's shortcomings in the passing game didn't really improve as the season progressed. In fact, two of the pressures he allowed came in Week 17 against the Raiders.
The good news is that even a little improvement from Ball in pass protection should be enough to keep him on the field. Ultimately, pass-blocking isn't that vital.
The Broncos kept a running back in to block just about eight times per game last year, so even at Ball's pressure rate it adds up to about one pressure on Manning per game as the result of the running back. That total should be tolerable enough for the Broncos, who more than offset it with the value Ball adds in the running game.
Conclusion
With more opportunities in 2013, Ball is more than capable of being a workhorse back. He still has some growth to do in the passing game, but he demonstrated an ability to improve last year.
It speaks volumes that the Broncos didn't try harder to bring back Moreno or hedge their bet on Ball by bringing in another free agent to compete. As long as Ball doesn't regress, he's going to be a key contributor for the Broncos in 2014.
Ball will be a workhorse, just not in the traditional sense of the term.