When it comes to the NFL draft, it's never too early to look ahead.
With a brand new season on the way and another star-studded class of prospects set to put the finishing touches on their college careers next fall, it's time we look into the crystal ball.
Here are my predictions for the first round of next year's NFL draft.
*2015 draft order based on teams' regular-season records since 2011.
2015 NFL Draft Projected 1st Round

| | | |
| --- | --- | --- |
| Selection | Team | Player |
| No. 1 | Jacksonville Jaguars | Jameis Winston, QB, Florida State |
| No. 2 | Cleveland Browns | Randy Gregory, DE/OLB, Nebraska |
| No. 3 | Tampa Bay Buccaneers | Marcus Mariota, QB, Oregon |
| No. 4 | Oakland Raiders | Amari Cooper, WR, Alabama |
| No. 5 | St. Louis Rams | P.J. Williams, CB, Florida State |
| No. 6 | Washington Redskins | Cedric Ogbuehi, OT, Texas A&M |
| No. 7 | Buffalo Bills | Shilique Calhoun, DE, Michigan State |
| No. 8 | Minnesota Vikings | Andrus Peat, OT, Stanford |
| No. 9 | Kansas City Chiefs | Devonte Fields, DE/OLB, TCU |
| No. 10 | Detroit Lions | Dante Fowler, DE, Florida |
| No. 11 | Miami Dolphins | Ty Montgomery, WR, Stanford |
| No. 12 | Tennessee Titans | Bryce Petty, QB, Baylor |
| No. 13 | New York Jets | Landon Collins, S, Alabama |
| No. 14 | Philadelphia Eagles | Ifo Ekpre-Olomu, CB, Oregon |
| No. 15 | Arizona Cardinals | Cameron Erving, OT, Florida State |
| No. 16 | Houston Texans | Jabari Hunt-Days, ILB, Georgia Tech |
| No. 17 | Dallas Cowboys | Vic Beasley, DE/OLB, Clemson |
| No. 18 | San Diego Chargers | Jalen Collins, CB, LSU |
| No. 19 | Indianapolis Colts | La'El Collins, OT/G, LSU |
| No. 20 | New York Giants | Noah Spence, DE, Ohio State |
| No. 21 | Carolina Panthers | Jaelen Strong, WR, Arizona State |
| No. 22 | Chicago Bears | Alex Carter, CB, Stanford |
| No. 23 | Atlanta Falcons | Leonard Williams, DE/DT, USC |
| No. 24 | Pittsburgh Steelers | Ronald Darby, CB, Florida State |
| No. 25 | Cincinnati Bengals | Landon Turner, G, North Carolina |
| No. 26 | Baltimore Ravens | Derron Smith, S, Fresno State |
| No. 27 | New Orleans Saints | Rashad Greene, WR, Florida State |
| No. 28 | Seattle Seahawks | Devin Funchess, TE, Michigan |
| No. 29 | Denver Broncos | Todd Gurley, RB, Georgia |
| No. 30 | Green Bay Packers | Trae Waynes, CB, Michigan State |
| No. 31 | San Francisco 49ers | Jordan Jenkins, LB, Georgia |
| No. 32 | New England Patriots | Antwan Goodley, WR, Baylor |
---
First-Round Prospects to Watch
Ty Montgomery, WR, Stanford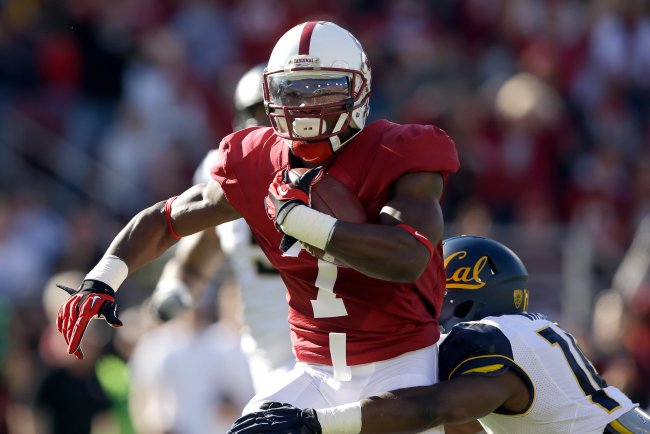 Ezra Shaw/Getty Images
Stanford's Ty Montgomery is another topflight prospect worth watching closely in 2014. At 6'2", 215 pounds, the explosive wide receiver has developed into a lethal playmaker with the ball in his hands—that includes on special teams as a return man.
Montgomery averaged 30-plus yards per kickoff return in 2013 and scored two kickoff return touchdowns.
More importantly, Montgomery led Stanford in receiving as a junior last season, catching 61 passes for 958 yards and 10 touchdowns. Therefore, watch for Montgomery to continue to be a focal point in the Cardinal passing attack next season.
Like every other top 2015 prospect, staying healthy will be the biggest key of all, as pointed out by former NFL scout John Middlekauff:
If he stays healthy, should be one of the top WRs in the country @Mjoedgaard: what are your thoughts on Ty Montgomery?"

— John Middlekauff (@JohnMiddlekauff) April 12, 2014
While Alabama's Amari Cooper and Florida State's Rashad Greene are two other names to watch for, Montgomery's size, strength and explosiveness will make him a coveted prospect in 2015.
Don't be surprised if a team in need of some burst on the edge makes a move on Montgomery. One of those teams could be the Miami Dolphins, who project to pick somewhere outside the top 10.
Prediction: Miami Dolphins (No. 11 overall)
Bryce Petty, QB, Baylor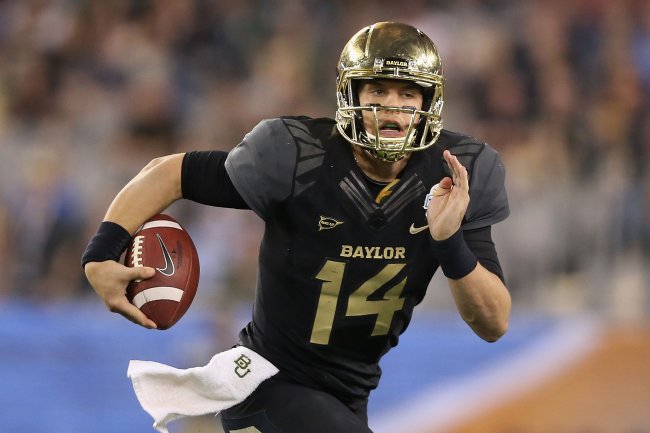 Christian Petersen/Getty Images
While a handful of potent passers are set to enter the 2015 NFL draft next spring, Baylor's Bryce Petty is one to keep an eye on over the next year.
Petty won the Big 12 Offensive Player of the Year Award as a junior in 2013, ranking fourth in the nation with 4,200 yards passing and recording 32 touchdowns to just three interceptions. And at 6'3", 230 pounds, NFL scouts and coaches are sure to fall in love with Petty's ideal blend of size, accuracy and arm strength.
Although he's extremely biased, Baylor head coach Art Briles wasn't shy about expressing his confidence in Petty last December, via NFL.com's Dan Greenspan.
"Now we have a good feel how Bryce functions, what he can do, and next year I think he'll be phenomenal. I think he'll be a top-five pick in 2015, no question."
Despite his proximity to Petty, Briles' opinion is worth considering given the fact he coached former No. 2 overall pick Robert Griffin III at Baylor.
Like Griffin, Petty projects to be in the mix for the Heisman Trophy next season. But regardless of whether he wins the award, a team in need of a franchise quarterback, much like the Tennessee Titans, are likely to pursue the talented passer in Round 1.
Prediction: Tennessee Titans (No. 12 overall)
Ifo Ekpre-Olomu, CB, Oregon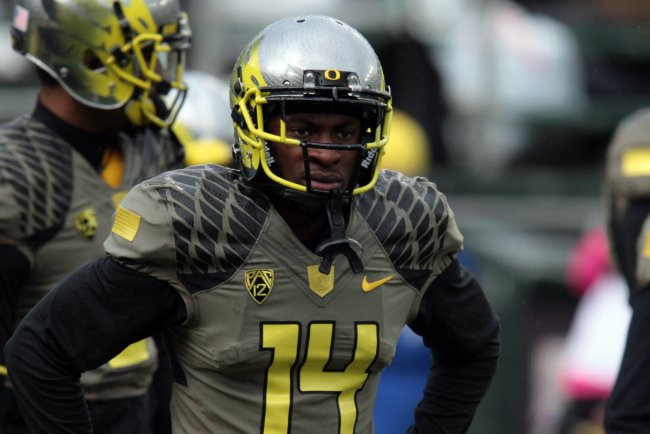 USA TODAY Sports
In today's pass-happy NFL, possessing depth in the secondary, specifically at the cornerback spot, is critical to success.
Therefore, Oregon's Ifo Ekpre-Olomu is a prospect to watch for in 2014. The Ducks senior could have left early for the 2014 NFL draft, but opted to return to school for his final year of eligibility. He explained several reasons for his decision back in January, via CBSSports.com college football writer Tom Fornelli:
The two main factors related to my decision to return were my continued progression as a person and a player, and I felt Oregon was my best option to achieve those goals and improve my situation for next year...I should be able to finish my degree by next fall, possibly by the end of the summer. Football is only one phase of who I am; my degree will be forever. Secondly was my ability to make an impact and become a top [draft] pick, and I felt staying one more year would only help me.
Ekpre-Olomu broke up half a dozen passes last season as a junior and has recorded seven interceptions over the past two seasons in Eugene.
But the top-tier cornerback can also help out in run support. He recorded 84 tackles, including five tackles for a loss, last season as a junior and should only improve in that area with another season in college.
If Ekpre-Olomu can stay healthy next season, he's likely to hear his name called in Round 1. The Philadelphia Eagles could be in the market for a cornerback this time next year and, plus, there's the Chip Kelly-Oregon connection to keep in mind.
Prediction: Philadelphia Eagles (No. 14 overall)
Follow Bleacher Report Featured Columnist Patrick Clarke on Twitter.