The Los Angeles Lakers could use a hug, preferably from someone with an NBA body and off-the-bus shooting range.
Fresh off their worst season since moving to the Pacific Coast in 1960 (27-55), this once-proud franchise limps into the summer with far more questions than answers. Head coach Mike D'Antoni and general manager Mitch Kupchak fielded many of those inquiries at their season-ending press conferences.
Even with L.A.'s almost empty slate of a roster and its presumably high lottery pick, there are no bigger questions than those surrounding D'Antoni's future. He has two years left on his current deal (one guaranteed, one a team option), but he's presumably spent his entire Hollywood tenure on the hot seat.
Jae C. Hong
It's unclear when those flames will stop burning, but he's safe through the Easter weekend:
D'Antoni said he will take an Easter holiday before discussing any job status further with Lakers management going forward.

— KEVIN DING (@KevinDing) April 18, 2014
Incumbent superstar Kobe Bryant, who missed all but six games this season due to injury (torn Achilles rehab, fractured knee), reportedly has "no interest" in spending another year under D'Antoni, sources told Sporting News' Sean Deveney.
Controlling a locker room without the support of the team's No. 1 option is tough. Particularly when, as Kupchak made clear, that star will be sticking around for a while:
Mitch Kupchak says that he could envision Kobe continuing his career beyond the 2 years remaining on his contract.

— Dave McMenamin (@mcten) April 18, 2014
D'Antoni, apparently as honest as he could be, made no illusion of an olive branch extending from him to his best player. They don't have to be friends to succeed, of course, which is just as well because that's not how the coach described the relationship:
Mike D'Antoni was asked to describe his relationship with Kobe right now: "Professional"

— Dave McMenamin (@mcten) April 18, 2014
D'Antoni on his "professional" relationship with Kobe: "Sometimes it does butt heads a little bit, but nothing out of the ordinary"

— KEVIN DING (@KevinDing) April 18, 2014
If Bryant is in fact on the fence about his coach, free-agent-to-be Pau Gasol might be in the next yard. As a post player in a perimeter-oriented system, the big man predictably hasn't always seen eye-to-eye with D'Antoni.
That's not exactly music to the coach's ears. Not when the GM sounds determined to at least attempt to keep Gasol draped in purple-and-gold next season:
Kupchak says Pau Gasol is "absolutely" a priority in free agency.

— Serena Winters (@SerenaWinters) April 18, 2014
Then again, it's not exactly a sure sign of D'Antoni's demise. At this point, one simply does not exist:
D'Antoni asked if he's optimistic to return: "Yeah. I've got 1 or 2 years left, depending on how you look at it. And I'm their coach."

— Dave McMenamin (@mcten) April 18, 2014
Mitch Kupchak on Mike D'Antoni: "Mike is under contract for the next two years, if anything changes, we'll let you know"

— Dave McMenamin (@mcten) April 18, 2014
Overseeing one of the worst seasons in the organization's history might seem like a fireable offense. It's important to note, however, how the Lakers got to this point.
D'Antoni inherited a roster not built for his uptempo system. If that wasn't bad enough, his rotation was constantly wracked by injuries.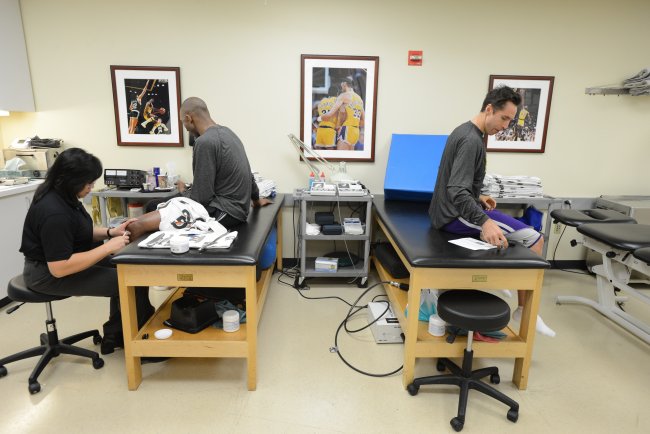 Andrew D. Bernstein/Getty Images
Under a big-picture lens, it's quite possible the coach did far better than the numbers would indicate:
Kupchak: "Under the circumstances I'm not sure anyone could have done a better job than he (Mike) did."

— Serena Winters (@SerenaWinters) April 18, 2014
Perhaps equally important to who will be coaching this team, though, is exactly what team that person will be coaching. With all of three players holding guaranteed contracts for next season (Bryant, Steve Nash and Robert Sacre), that picture is as clear as mud.
It won't likely get much clearer until the summer, but a few early indications did come out of the presser.
For Nick Young supporters, there's no guarantee Swaggy P will be back with the Lakers. He said during an appearance on 710 ESPN Radio he "pretty much" plans to opt out of his $1.2 million player option, via Mark Medina of the Los Angeles Daily News, and Kupchak said he expects a crowded group of pursuers:
Mitch Kupchak said Nick Young's got a savvy representative and he's going to have offers from other teams. Doesn't know what will happen.

— Serena Winters (@SerenaWinters) April 18, 2014
A Hollywood future sounds more certain for point guard Kendall Marshall, whose $0.9 million deal for next season is non-guaranteed:
"We are optimistic on Kendall Marshall (@KButter5) going forward." - Mitch Kupchak

— Serena Winters (@SerenaWinters) April 18, 2014
I'm told Lakers plan to keep Marshall. Pretty cheap team option (around $915,000)

— Mark Medina (@MarkG_Medina) April 18, 2014
As for finding external assistance to help on the road back to relevance, the GM touched on several avenues available to the franchise.
The Lakers are lined up to receive the No. 6 selection in the upcoming draft, but they do have a 21.5 percent chance of landing a top-three pick, per Tankathon.com. That pick might not necessarily be used on a prospect, though, if the trade market offers a superior alternative:
Mitch Kupchak said there is a "a possibility" he would use the draft pick in a trade

— Mark Medina (@MarkG_Medina) April 18, 2014
Going the free-agent route is another option if the right player is available.
The Lakers have cap space to use, but Kupchak made it clear that the money is not burning in their pockets:
Kupchak on being "wise" about long-awaited cap space: "There is a degree of patience here. ... If we can use it wisely right away, we will."

— KEVIN DING (@KevinDing) April 18, 2014
Mitch: ""It's not like we spent four years creating financial flexibility to use it all on June 8. We have to use it wisely"

— Mark Medina (@MarkG_Medina) April 18, 2014
Given the prizes potentially available in the 2015 free-agent crop (LeBron James, Kevin Love, LaMarcus Aldridge, Rajon Rondo, Marc Gasol), the Lakers could have a reason to wait. That reason, Kupchak notes, may not be lost on any players they pursue this offseason:
Revealing statement by Kupchak, putting himself in shoes of a free agent, saying about Lakers: "I know you're saving money for next year..."

— KEVIN DING (@KevinDing) April 18, 2014
The Lakers sound a lot like what they are: a team in transition.
They could make a summer splash, but they won't dive in without first checking the water. They could make a coaching move, but their hands certainly aren't tied in that regard.
Patience isn't so much virtue as it is a necessity. They'd like to get back in the championship race as soon as possible, but they won't blindly blaze a path with no sense of direction.
For Laker Nation, the franchise is simply asking for your support during these troubling times. If you happen to posses a lethal jump shot, it would take that too.
If not, a hug might do the trick. As bad as these treacherous waters look from the outside, imagine how they feel for the people trying to traverse them.