Chad Johnson will once again play professional football, but it will not be in the United States. In all likelihood, he will never play in the NFL again.
The former Cincinnati Bengals star recently signed a two-year deal with the Montreal Alouettes of the Canadian Football League after a successful workout with the club, according to ESPN. The team's general manager, Jim Popp, had nothing but good things to say about the receiver:
Chad Johnson did an outstanding job the last three days. As we added him into the mix, it was to see how he communicated with the players, how he held himself, the way he physically held up, his true interest in coming to the CFL.

It was a total evaluation so that it's a good fit. He was very happy and very excited to be on the field again, and we are happy to welcome him to the Alouettes.
Jason La Canfora of CBS Sports noted that Johnson has been working hard with Hall of Famer Cris Carter:
Montreal (CFL) is taking upcoming workout with Chad Johnson seriously. He's been training hard w/Cris Carter, whose son plays for Montreal

— Jason La Canfora (@JasonLaCanfora) April 12, 2014
As you can see from the video released on his Instagram page, he showed good quickness with the ability to get a good release off the line of scrimmage:
While this hard work is certain to combine with his experience to make him a quality receiver in the CFL, this is likely as far as he will go with his football career. If he is looking to use this to start a comeback in the NFL, he is sadly mistaken.
At one point, Johnson was one of the best receivers in football. From 2003 to 2007, the Bengals star averaged 92 receptions and 1,374 yards per season while being named to five Pro Bowls. He was named first-team All-Pro twice in that stretch.
On the other hand, Cincinnati also had to put up with numerous antics on and off the field that distracted the team. From overblown celebrations to bizarre press conferences to changing his name to Ochocinco, the receiver was a constant burden for the rest of the roster.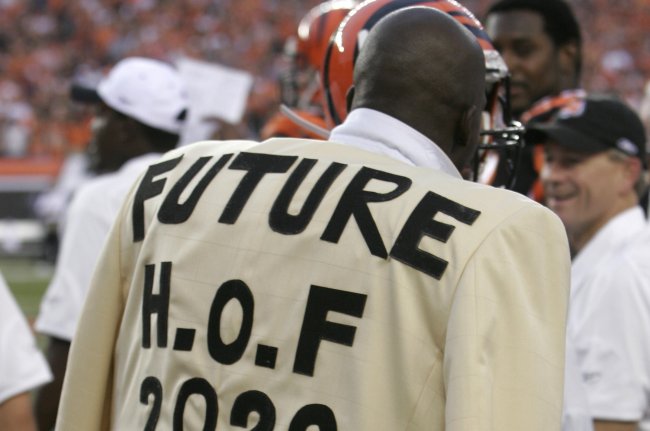 David Kohl
The only thing keeping him in the league was his elite talent, which started to go away with age. After playing his last season with the Bengals in 2010, he went to the New England Patriots and made little impact. He then threw away his last chance, a stint with the Miami Dolphins, due to legal troubles.
In June of 2013, Johnson was sentenced to 30 days in jail for probation stemming from a domestic abuse case. While he did not serve the full time in jail, the situation still proved that he was not worth the trouble for any NFL team.
Will Chad Johnson ever play in the NFL again?
At the time, James Walker of ESPN.com explained that Johnson could "kiss any last chance at the NFL goodbye. ... It would be surprising if we see Johnson in the NFL again after this latest incident."
If no teams were taking a look at the receiver then, there is even less of a chance of getting a deal now. There are few organizations in the market for 36-year-old players who have been out of the league since training camp in 2012.
Any squad that needs a receiver could find a plethora of available players either in the draft or among current free agents. Most of them would be better fits for a team and are less likely to provide any sort of distraction.
The good news is that Johnson seems like he will be satisfied with just playing for its own sake. According to the Associated Press (via the New York Daily News), the receiver explained:
A dream of mine since I was 4 years old was taken from me, rightfully so, by my wrongdoings and I just want to get back to doing something that I love to do, regardless of where it is. Montreal, flag football, back in the street the way I grew up. I just want to play football.

If playing for the love of the game is all Johnson is looking for, this appears like the perfect scenario. He can get onto the field and put up decent numbers against inferior competition and work to win a Grey Cup.
However, he should know that this is the highest level he will climb for the remainder of his career.
Follow Rob Goldberg on Twitter for the latest breaking news and analysis.