One of the biggest reasons the NFL draft is so popular among fans is that it represents a new birth for each franchise. Just a few great picks, and a team can go from worst to first.
In the last two drafts, the teams with the No. 1 overall pick made the playoffs the next season. While you can question how much of a difference Eric Fisher made with the Kansas City Chiefs, there is no denying that Andrew Luck was a key factor in turning around the Indianapolis Colts.
Every team in this year's draft will hope to find a few players who can either get it to the playoffs or over the top into the Super Bowl. Fortunately, there are a number of organizations that are in good position to improve.
Here is a look at the teams that will be instantly better by the end of the draft.
Houston Texans
Scott Halleran/Getty Images
Anyone with the first overall pick should be able to improve, but the Texans are in great position by utilizing one of two options.
The most likely scenario at this time is that they will draft Jadeveon Clowney out of South Carolina. The defensive end has the size, speed and athleticism to become one of the most dominant defenders in the NFL. Of course, the Texans already have the current most dominant player in the league in J.J. Watt.
Pairing them together could turn a defense that was ranked No. 7 in yards allowed last season into the best in the league.
He also provided a frightening message for the team in case it passes on him, via Tania Ganguli of ESPN.com:
Asked how miserable he'd make #Texans if they passed on him & the Jags drafted him, Clowney says, smiling, "I have to make them miserable."

— Tania Ganguli (@taniaganguli) April 2, 2014
In this situation, the squad can draft a quarterback in the later rounds and develop him to become a starter over time. It will certainly be easier for any rookie to come in and win games with an elite defense and good talent around him on offense.
On the other hand, Houston can make the decision to draft whoever it considers to be the best quarterback in the class. Omar Kelly of the Sun-Sentinel reports that this could be Blake Bortles out of UCF:
In my opinion (and based on what I'm told) the Texans will either select Blake Bortles or Clowney No.1. Not sure what I'd do personally.

— Omar Kelly (@OmarKelly) April 3, 2014
If not Bortles, Johnny Manziel or even Teddy Bridgewater would still be solid options.
Houston has a Pro Bowl running back in Arian Foster and what could become a great receiving duo between Andre Johnson and DeAndre Hopkins. Adding an NFL-ready quarterback to this unit to go with an already solid defense would help get the team back into the playoffs.
The reality is that the Texans were not as bad as their 2-14 record last season, but a league-worst minus-20 in the turnover ratio doomed them. By improving in a few key areas—including anyone at quarterback—this will almost certainly be a playoff team next season.
St. Louis Rams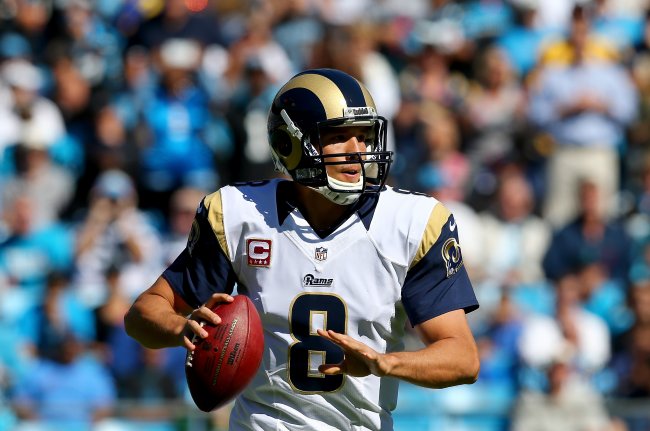 Streeter Lecka/Getty Images
The Rams are extremely dangerous this year with two first-round picks that could turn into even more on draft day. Depending on what the Texans do with the first selection, the Rams' No. 2 pick could be an extremely valuable trade piece.
While head coach Jeff Fisher explained that no trade discussion has gone on, he did note why he would love extra picks, via Nick Wagoner of ESPN.com:
This draft is unique in that I think you're going to get players in the middle part of the third round that potentially could start, and start very early for you. It really depends on the positions, but there will be a lot of teams excited about who they have acquired in the first couple rounds because it's such a deep draft.
What makes this situation so appealing is that the Rams do not have many needs. Looking at the roster, a few upgrades in key areas could make them a playoff team.
This is obviously good news even if they keep the picks. With the No. 2 and No. 13 selections, St. Louis will have an option of getting help on the offensive line, safety or even wide receiver in the right situation.
That means the squad has a good chance of bringing in any two of Greg Robinson, Jake Matthews, Taylor Lewan, Sammy Watkins, Mike Evans, Ha Ha Clinton-Dix or Calvin Pryor. Frank Cusumano of KSDK Sports thinks drafting Watkins with the first pick is the best way to help Sam Bradford:
Greg Cosell says that Sammy Watkins is best WR in draft since Julio Jones and AJ Green in 2011. #Rams draft the guy and make Sam better.

— Frank Cusumano (@Frank_Cusumano) April 16, 2014
In this situation, the Rams could potentially still upgrade the offensive line or solidify the defense with the second first-round pick.
The NFC West has become arguably the toughest division in football, but St. Louis can compete with this group next season with some smart picks in the draft.
San Francisco 49ers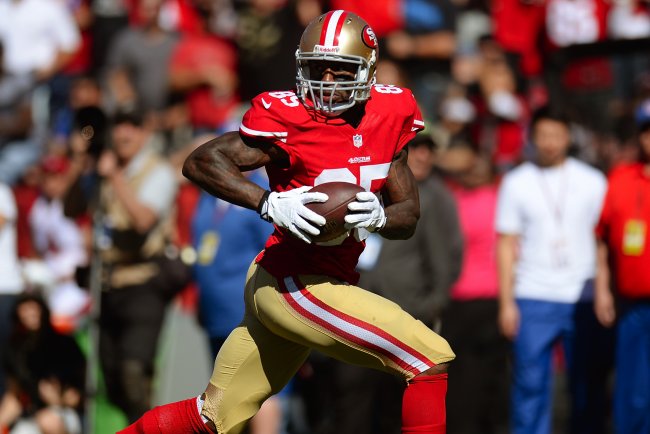 Thearon W. Henderson/Getty Images
Unlike the first two teams on this list, the 49ers are already a perennial playoff contender. However, they are looking to get over the top and win a Super Bowl, and this draft can get them there.
San Francisco is not slated to make its first pick until No. 30, but it also owns two picks in the second round and three in the third. While these could be used to fill up a roster, Bleacher Report's Matt Miller sees a more likely scenario:
Thanks to comp picks, #49ers own six of top 100 picks. There's not room for six rookies on the roster. Expect them to trade up.

— Matt Miller (@nfldraftscout) March 24, 2014
A trade would allow the team to fill the biggest needs with elite players instead of waiting around for lesser talent.
Bleacher Report's Chris Simms hears that a trade up for wide receiver Mike Evans would be a possibility, as well as either Odell Beckham Jr. or Brandin Cooks:
Any of these players would represents a great complement to the current corps of Michael Crabtree and Anquan Boldin, either as a slot that would stretch the field or a true red-zone target in Evans.
With the additional picks, the squad could upgrade in the secondary or possibly add some more pass-rushers as needed.
There are few holes in the starting lineup right now, but an aggressive draft could make this one of the most complete teams in the NFL.
Follow Rob Goldberg on Twitter for the latest breaking news and analysis.