The announcement of the nominees for the 2014 PFA Player and Young Player of the Year awards has people talking. A six-man shortlist has been drawn up for each award, confirmed by Oliver Kay of The Times:
PFA confirm Player of the Year contenders: Gerrard, Hazard, Lallana, Sturridge, Suarez, Toure.

— Oliver Kay (@OliverKayTimes) April 18, 2014
PFA confirm the Young Player of the Year contenders: Barkley, Hazard, Ramsey, Shaw, Sterling, Sturridge. Some notable omissions. Great year.

— Oliver Kay (@OliverKayTimes) April 18, 2014
Twitter reaction has gone into overdrive as the footballing world has its say on the selected dozen and, of course, those who can be considered major omissions.
John Terry tops the pile of those who can count themselves unlucky to not be included. The Chelsea centre-back has enjoyed a stellar season at the heart of Jose Mourinho's defence and is a key component in the Blues' title challenge.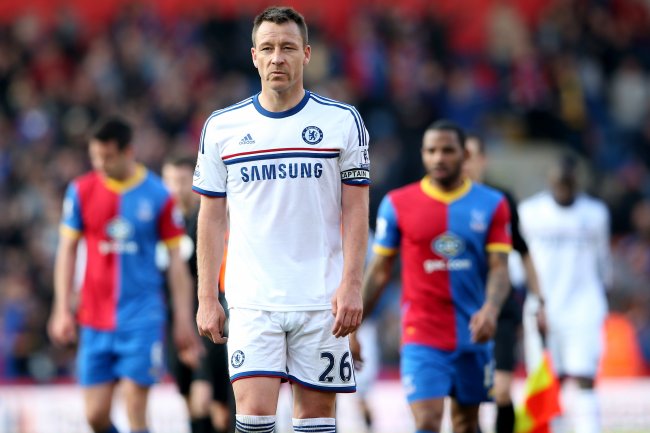 Scott Heavey/Getty Images
Kay led the charge of support for the former England captain:
Only just noticed John Terry isn't on Player of the Year list. He'd be high on my list this season. He's been excellent.

— Oliver Kay (@OliverKayTimes) April 18, 2014
Steve Holland, Chelsea assistant first-team coach, acknowledged Terry's achievements across the season, while the club's official Twitter account also congratulated Eden Hazard on his double nomination:
Holland: 'John Terry has had an outstanding season. We have the best defensive record in the league & he's a major part of that.' #CFC

— Chelsea FC (@chelseafc) April 18, 2014
Congratulations to @hazardeden10 on the double PFA nomination! #CFC pic.twitter.com/AJvKjmkzXK

— Chelsea FC (@chelseafc) April 18, 2014
The two Chelsea stars face fierce competition with Liverpool in the title race. It's the Reds' top players who are most likely to nab an individual prize, as Luis Suarez, Daniel Sturridge, Steven Gerrard and Raheem Sterling have received nominations after emphatic campaigns.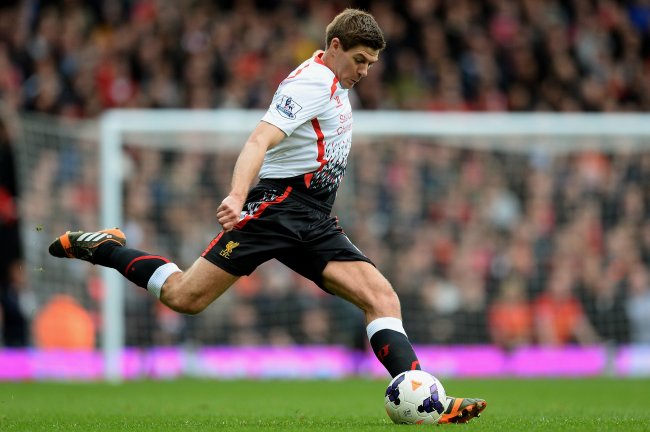 Mike Hewitt/Getty Images
John Cross of the Mirror suggests Suarez and Gerrard should be considered the top candidates:
Luis Suarez is such a runaway winner as PFA Player of the Year it's ridiculous. He's been the best by a mile.

— John Cross (@johncrossmirror) April 18, 2014
If we want to talk about Footballer (all round good egg rather than purely on a playing level) then I'd go Steven Gerrard. #sentimental

— John Cross (@johncrossmirror) April 18, 2014
Steven Gerrard is a fabulous player and if there's one player I'd like to see win the league then it's him. So much admiration for him.

— John Cross (@johncrossmirror) April 18, 2014
Tancredi Palmeri of beIN Sport suggested Gerrard could finish ahead of his Uruguayan teammate if votes are to be counted on overall behaviour:
.@kesedibi Suarez really is, although politically the choice could be Gerrard

— Tancredi Palmeri (@tancredipalmeri) April 18, 2014
Sturridge's selection as a Young Player of the Year nominee has many questioning the award's guidelines. Individuals must be 23 at the start of the season to be considered, but Sturridge pushed the rule close by turning 24 on September 1.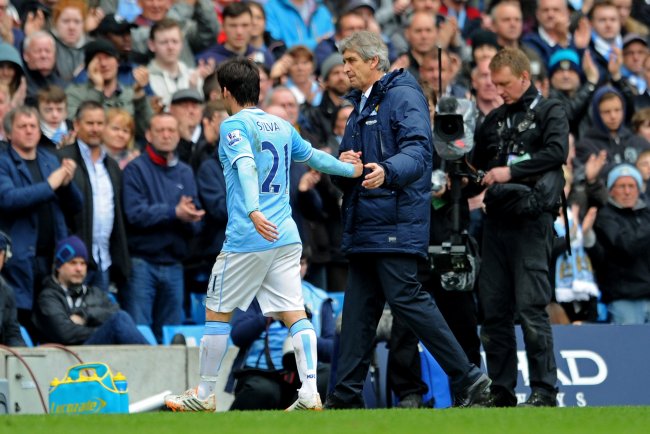 Chris Brunskill/Getty Images
Squawka's James McManus laughed at the situation before the website highlighted Sturridge's importance with an impressive stat:
Lol at Daniel Sturridge being on the PFA Young Player of the Year award list. He's 24.

— James McManus (@JamesMcManus1) April 18, 2014
@GKgcisse I know. My point is that's not young. Hazard and Ramsey shouldn't really be on there either.

— James McManus (@JamesMcManus1) April 18, 2014
Liverpool have lost 37.5% of their Premier League games this season when Daniel Sturridge hasn't played, compared to just 7.6% when he has.

— Squawka Football (@Squawka) April 18, 2014
Notable omissions from this year's senior list include David Silva and Seamus Coleman. Silva has scored seven goals and produced nine assists during the campaign, per WhoScored.com, and could have easily found himself on the final list.
David Hytner of The Guardian shared his surprise:
No PFA nomination for David Silva? Wow #mcfc

— David Hytner (@DaveHytner) April 18, 2014
Many Twitter users were confused about why Coleman wasn't nominated for the Young Player of the Year award. Daniel McDonnell, football correspondent for the Irish Independent, explained that the full-back is older than some think:
The reason Seamus Coleman didn't get nominated for PFA Young Player of the Year is that he's overage for the award. It's fairly simple.

— Daniel McDonnell (@McDonnellDan) April 18, 2014
The likes of Jon Flanagan, Jordan Henderson and Romelu Lukaku must have been close to receiving nominations for the younger award, but, alas, it wasn't to be.
Alex Livesey/Getty Images
If this year's list proves anything, it's that the Premier League has been doused with individual talent throughout the campaign. The reaction to those who aren't included drums home this point, underlining the notion that English fans are privy to some of the world's best on a weekly basis.
Right now, Suarez and Hazard should be considered favourites for the awards. Both have played excellently on a consistent basis without any real fluctuations in form, unlike individuals such as Sturridge and Ross Barkley.
Should Suarez topple 30 goals (he's currently on 29 with four games remaining) and send Liverpool to the title, you can bet Brendan Rodgers' key striker will capture the prize that has previously been won by the likes of Cristiano Ronaldo, Wayne Rooney and Gareth Bale.