The NFL's pushback of the draft to May has been a wretch for fans and prognosticators alike. The same stories have been hashed, rehashed, buried, resurrected and now sit before you in zombified form just waiting to be put out of their misery.
When it gets to the point those paid to mock draft are mocking the entire process, you know you have a problem. Such is also the case when it comes to discussing trades before the draft.
Predicting which two teams will trade with one another is a ridiculous notion that makes mock drafting look sane. We can talk in theory until our lungs can no longer create carbon dioxide, but until we see how the draft board actually shakes out, it's all wild speculation. We're working in likelihoods based on a combination of logic, self-sourcing and other reports.
And there's a good chance the speculation winds up all for naught. Who saw the Dolphins ascending all the way to No. 3—and to take Dion Jordan, no less? Or what about the 49ers parlaying their loads of picks into, well, OK, that one was kind of predictable, though their trade partner (Dallas) less so.
The point: Sometimes logic wins out. Sometimes it doesn't. We won't know for sure until draft night. But since we're edging closer to May 8, we at least have the necessary wherewithal to take our best shot at assessing the likeliest teams to make a move from the outside looking in.
St. Louis Rams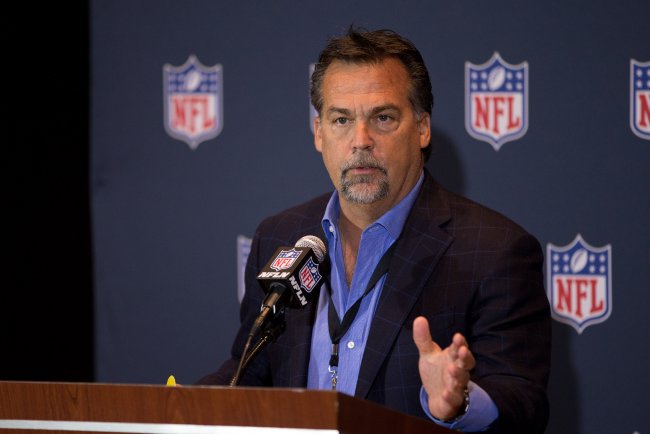 USA TODAY Sports
The Rams' market for the No. 2 pick depends a great deal on where Houston lands. If the pick is South Carolina defensive end Jadeveon Clowney—the odds-on favorite at the moment—then interest is going to drop like Facebook stock. I'd expect the Rams in that case just to cut their losses, take Auburn offensive tackle Greg Robinson or Clemson wide receiver Sammy Watkins and move on with their day.
Not that doing so is necessarily a bad thing. Watkins and Robinson fill needs and grade out as All-Pro talents at their respective positions. Depending on the haul, I might advise taking the one higher on their draft board regardless.
If Houston goes quarterback? All bets are off.
Clowney is the best player in this draft and is coveted around the league. The Atlanta Falcons, Jacksonville Jaguars and Oakland Raiders all have a glaring need at defensive end and would probably give up a decent haul to move up a few spots—something that would net St. Louis more assets while possibly still landing it Watkins or Robinson.
The presence of Robert Quinn and Chris Long on the defensive line make Clowney superfluous, but simply grabbing him and holding his rights ransom for one of those teams is another possibility.
"We've proven in the last (two) years we can get pressure on the quarterback specifically with a four-man rush," coach Jeff Fisher told reporters at the combine. "And we've gotten pressure and effective rush from our backups. You can't get enough guys that can (rush)."
Fisher's quote largely strikes me as conjecture there. The Seahawks proved that having a never-ending supply of solid defensive linemen is a straight shot to contention in today's NFL, but they were dealing largely with veterans. Quinn is a superstar. Long is only 29 and a pretty dang good player in his own right. Clowney is The Chosen One.
Finding an amenable timeshare there isn't the same as convincing Red Bryant to take a few plays off. Look out for another blockbuster move out of the No. 2 spot if Houston doesn't take Clowney.
Cleveland Browns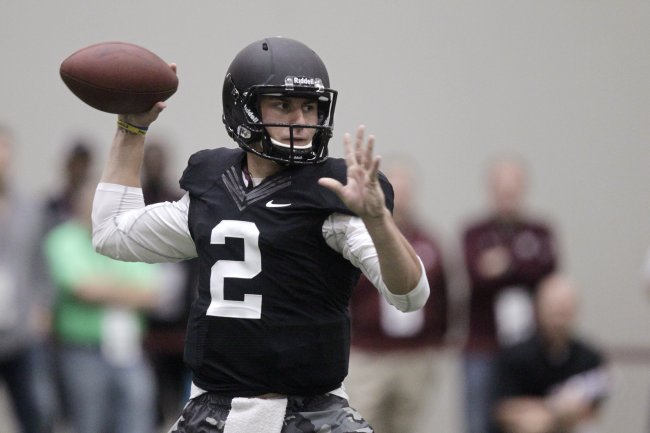 Patric Schneider
This has far more to do with the No. 26 selection than No. 4. I fully expect the Browns to stick with their top-five pick unless another team swoops in with an absolute no-brainer. Cleveland has too much of a need for elite talent to take a market-value offer.
The Browns' willingness to trade their second first-round pick depends on two pretty big factors: What they do at No. 4 and who is there at No. 26.
The topic of discussion in both areas surrounds quarterback. Cleveland currently has one of the worst quarterback situations in football, which is akin to saying it has cold winters. Residents know. Brian Hoyer is the de facto starter at this point after looking competent while playing parts of three games before an ACL tear. Alex Tanney has never thrown an NFL pass.
Moral of the story: The Browns are drafting a quarterback with one of these two picks. Blake Bortles and Johnny Manziel are the likeliest options at No. 4. Bortles could go as high as No. 1 to Houston. His ascent to the top of draft boards has been remarkable considering his anonymity a year ago, and even if he's a bit raw, Bortles' huge arm could be a perfect match for Josh Gordon. Manziel is the bigger name and the wild-card choice; he could give Cleveland its biggest sports celebrity since LeBron James left.
Grabbing a quarterback at No. 4 may also allow the Browns to take advantage of a desperate team hoping to loop back into the end of Round 1. Teddy Bridgewater's strange, precipitous fall from No. 1 pick consideration to holding onto a first-round grade for dear life leaves open the possibility he's still on the board at No. 26.
Six of the top-10 teams need long-term solutions at quarterback. Not all of them are going to get them with their first selection. Bridgewater dropping to No. 26 creates a natural trade where Cleveland could add another high second-round pick and maybe a first or second next year from one of those teams to move back. Fresno State's Derek Carr is also getting a ton of first-round buzz and could be another option if Bridgewater is already taken.
Of course, if Cleveland doesn't go quarterback at No. 4, expect the Browns to shun trading altogether and select the leftover of Bortles, Manziel, Bridgewater and Carr. Because it worked out so well the last two times Cleveland took a late first-round quarterback.
New England Patriots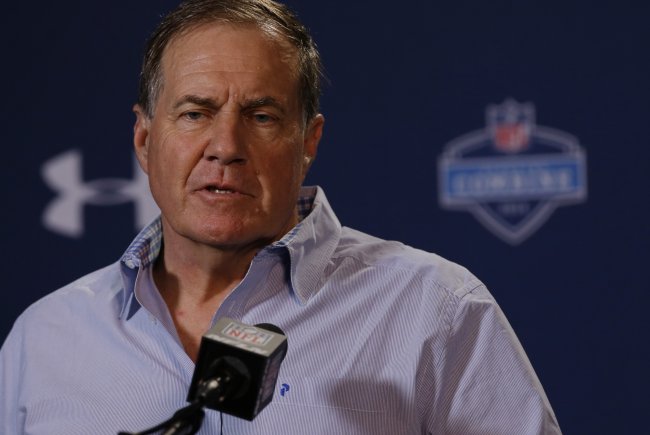 Michael Conroy
Because what's a draft year without the Patriots wheeling and dealing on the first night? Bill Belichick has created a cottage industry of analysts discussing his penchant for trading at the top of the draft.
Fun fact: The last time the Patriots didn't make a deal in the first round was 2006. Every year since they've either traded up, down or out of the first round entirely. Last season, they allowed Minnesota to scoop up Cordarrelle Patterson at No. 29 and wound up with linebacker Jamie Collins and wideout Aaron Dobson.
The Hoodie would probably change that if he could go back. Patterson showed real flashes of promise as a rookie, while the jury is still out on Collins and Dobson. Tom Brady damn sure would rather be throwing to Patterson than Dobson in 2014. But, hey, they can't all be winners.
New England isn't going to be involved in an earth-shattering deal, either. Belichick will scoop up an extra mid-round pick to help the Patriots' depth, while most close to Boston bemoan the fact he won't ever just go for it. All hell would break loose if Belichick discarded his asset-collecting strategies and made a blockbuster push for Sammy Watkins or Mike Evans. Both would more than alleviate the sour taste left in Brady's mouth after throwing to whatever it was the Patriots called a receiving corps in 2013.
That, unfortunately for those of us who like great and unexpected things, will not happen. The Patriots are creatures of habit. They'll find some team—perhaps one that doesn't trade with Cleveland—with a desperate need at a position where a player fell, listen to an offer, counter it with amenable terms and move on about their day.
Other than a few rare exceptions, the Patriots trading might be one of the few things we're guaranteed on draft night. I just wish I were more excited to see what they were about to do.
Follow Tyler Conway on Twitter: