Hate Beyond Words: The Five CFB Rivalries That Need To Be Taken More Seriously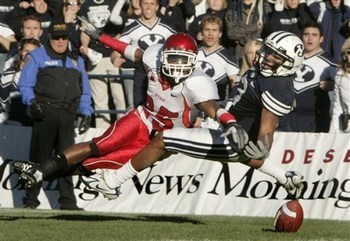 College Football is packed with passion. Passion for one's school, for the team's, for the tradition.
Another thing College Football is packed with is hatred.
College Football has arguably the most hatred of any sport; hatred for another school, for another coach, for another player.
Some of these hatreds are well known, like Ohio State and Michigan, or The Iron Bowl between Alabama and Auburn, but some aren't—and in this slide show I would like to shed light on rivalries I feel need to get a little more publicity.
The Rocky Mountain Showdown: Colorado vs. Colorado State
Quick Facts
Teams

The Colorado Buffaloes and the Colorado State Rams
First Meeting and result
02-10-1893 in Fort Collins, Colorado
70-6 Colorado win
All Time Series Record
59-20-2 in favor of Colorado
Summary
Before last year, the only real thoughts I had about this game were "Why do they play the first week?" Well, once I watched it I didn't care any more.
This rivalry is as intense as they come. Invesco Field is split right down the middle with thousands upon thousands of screaming Buff's and Ram's fans in front of what are consistently the largest crowds in Colorado to watch a college sports event.
Both team's fans and players make it their life mission to beat each other, and the passion displayed on the field is equal to that in the stands. The hate is just electric, and if you are supporting the wrong team in the wrong section then you are in for a long and unpleasant day.
Although Colorado State rarely comes out on top, this rivalry is still taken very seriously by their fans and players, and is the best intra-conference rivalry in America.
Too Country a Rivalry: Auburn vs. Tennessee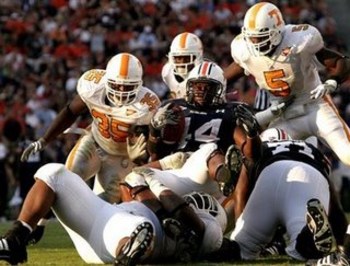 Quick Facts
The Teams
The Auburn Tigers and The Tennessee Volunteers
First meeting and result
11-10-1900 in Birmingham, Alabama
23-0 Auburn win
All Time Series Record
26-21-3 in favor of Auburn
Summary
"I've heard some people up there talk about how country Auburn is. If there's any place more country than Tennessee, I'd like to see it."
—Former Auburn Coach Shug Jordan
Tennessee once didn't really want to play Auburn, saying it was "too country" of a place. That comment spurred on Auburn to demolish Tennessee 21-0 in 1974, their first meeting.
I guess if this were still an annual game then it could be taken more seriously, but it seems like when they do play (last year Auburn pulled out a victory over the Vols) no one really cares about it.
Truth is, this is probably just as hate-filled as all of the other Tennessee rivalries.
The only things keeping this rivalry from getting more talk is that it isn't played annually, and that there are other rivalries Tennessee and Auburn have that people will always take more seriously.
From Berkeley to Eugene: California vs. Oregon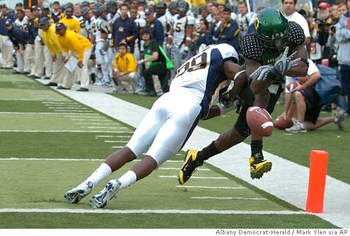 Quick Facts
The Teams
The California Golden Bears and the Oregon Ducks
First meeting and result
11-18-1899 in Berkeley, California
12-0 California win
All Time Series Record
40-29-2 in favor of California
Summary
One of my fondest memories from watching football came on September 29, 2007. The day of the No. 6 California at No. 11 Oregon game.
With 22 seconds left in the game and Oregon down by a Touchdown, Dennis Dixon passed to teammate Colvin, who fumbled the ball at the one, thus securing a Cal victory.
The California vs. Oregon rivalry is one that has to be taken more seriously. These two teams are easily the best in the Pac-10, behind USC since the decade began, and each year this game goes a long way as to who is going to finish second in the conference. Which gains a berth in the Holliday Bowl.
At this point, I would put it ahead of all other Pac-10 rivalries in terms of what's on the line every time these two play.
The Battle for the Palmetto State: South Carolina vs. Clemson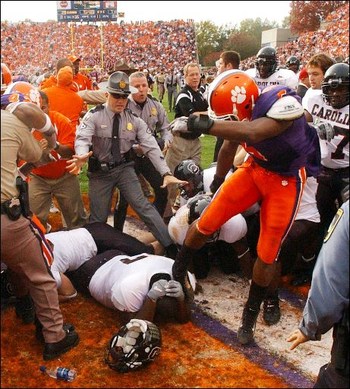 Quick Facts
The Teams
The South Carolina Gamecocks and the Clemson Tigers
First Meeting and result
11-12-1896 in Columbia, South Carolina
12-6 South Carolina Win
All Time Series Record
65-37-4 in favor of Clemson
Summary
The Clemson-South Carolina rivalry is one of the most heated in all of college sports; one that provoked an all out state fight for political power, one that shaped how reconstruction was done, and all of this before these two had athletic departments.
Make no mistake about it, this is THE RIVALRY on the east coast, so why isn't it looked at as that?
The image above is really a manifestation of how the school boards, the students, the fans, and the players all feel about each other. It is, in my opinion, the most genuine hate-filled rivalry in College football.
Now why doesn't this get the exposure or of a Michigan-Ohio State rivalry?
One quick example of the hate
In 1902 South Carolina students made a poster defaming the Clemson Tiger, and in response an all out brawl took place that left many people needing medical assistance.
If this isn't hate, I don't know what is.
The Holy War: Brigham Young vs. Utah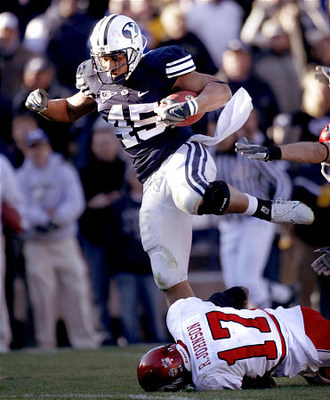 Quick Facts
The Teams
The Brigham Young Cougars and the Utah Utes
First meeting and result
10-14-1922
49-0 in favor of Utah
All Time Series Record
50-30-4 in favor of Utah
Summary
All those (Utes) think that's all there is to life, But when I'm making $50,000 to $60,000 a year, they'll be pumping my gas. They're low-class losers."
—Lenny Gomes, BYU Cougars Lineman, 1993
Yeah, I know this isn't really an obscure rivalry, but this isn't about obscure rivalries, it's about ones that aren't taken seriously.
And the fact that this was a play in game for the BCS last year, and wasn't on national TV, speaks wonders about how few people care.
The rivalry is called the "Holy War" because of the large number of LDS students attending both schools and because the hate is hatred of biblical proportions.
Neither schools can agree when the series started. Utah claims the first game was played in 1896, while BYU claims 1922. The rivalry was pretty lopsided (39-5 in favor of the Utes) until 1973 when BYU went on a 19-2 tear.
This is a rivalry that pits the two best mid major teams historically against each other; and is essentially the "Iron Bowl" of mid major football as it tears families, friends, and a whole state in two with no love for each other.
Keep Reading

Utah Utes Football: Like this team?