The worst season in Los Angeles Lakers history has finally come to a close, and with the finality comes the dawn of an offseason where general manager Mitch Kupchak has to rebuild the franchise and juggle names like Kobe Bryant and Steve Nash.
Easier said than done.
The Lakers news has already started to pour in, whether it's the health of veterans, the likelihood familiar names return or the future moves open to the franchise in both free agency and the draft.
Luckily for fans, the worst part is over and some semblance of hope and excitement can reinvigorate the faithful. Here's the latest.
Kobe Bryant on the Road to Recovery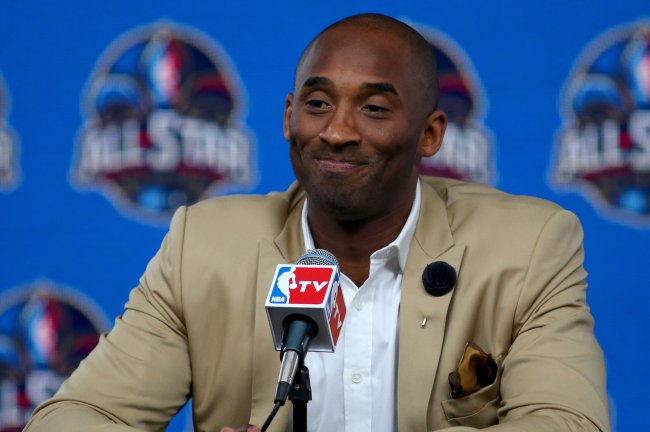 Ronald Martinez/Getty Images
Like fans, Bryant is ready to move on from the putrid season:
S*** season. Flush it. Forget it #amnesia Next Season will be epic #blackout #bussfam

— Kobe Bryant (@kobebryant) April 16, 2014
Understandably so on an individual level. Bryant worked his way back from an Achilles injury to succumb to a knee issue that cost him all but six games. He turns 36 years old in August, so the focal point of his offseason will be health.
According to ESPN's Ramona Shelburne, Bryant is currently in France with his family and will return to the United States soon to begin treatment. His six-month program is intended to have him ready for the start of next season:
"Bryant is due back in Los Angeles this weekend and will begin intense training designed to have him fully recovered by the start of training camp in October, according to sources. The trip is a short anniversary getaway."
Count Pau Gasol as one who believes the process will work and that Bryant's health in tandem with other moves will be the key to a righted ship, per Mark Medina of the L.A. Daily News:
Pau said he's optimistic about Kobe's recovery. Pau says add pieces to that and things could go Lakers' way

— Mark Medina (@MarkG_Medina) April 17, 2014
A healthy Bryant is of the utmost importance next season for the Lakers, especially considering his cap hit will be about $23.5 million, per Spotrac. Expect weekly updates on his status at a minimum.
Steve Nash Will Collect Pay Checks Next Season If Allowed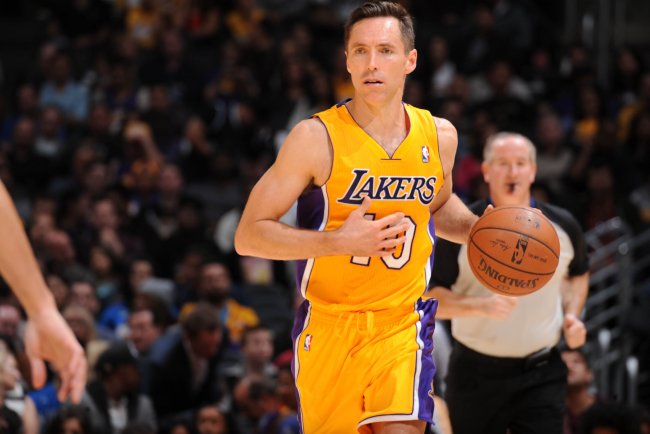 Andrew D. Bernstein/Getty Images
Ditto for Nash, who is slated to make about $9.7 million next year, per Spotrac.
If the team keeps him around.
It's hard to say at this juncture if a rebuilding roster will let a player who turns 41 next season and only appeared in 15 games last year make that much cash. For his part, Nash wants to be back in some capacity, per Medina and Serena Winters of Lakers Nation:
Steve Nash said "it would be great" to play even if it was just 18-20 minutes next season off the bench

— Mark Medina (@MarkG_Medina) April 17, 2014
Steve Nash: "I think I proved to myself that I can still play at a high level, it's just how minutes and how often?"

— Serena Winters (@SerenaWinters) April 17, 2014
But he was also brutally honest about what he brings to the table next year, via ESPN:
RT @mcten: Steve Nash: "They can't rely on me, frankly ... They don't know what I can bring (next season)"

— NBA on ESPN (@ESPNNBA) April 17, 2014
Even in a mentor role off the bench, Nash has plenty to offer a young roster. He can still contribute a savvy double-double with enough playing time but also provides a veteran's presence to guide what should be a youthful bunch sans he and Bryant.
Like Bryant, it all comes down to health. According to Eric Pincus of The Los Angeles Times, Nash expects to be healthy in three or four weeks. Keep an eye on his progress.
The Many Avenues of Roster Building
Who stays? Who goes? Draft or free agency?
Don't place bets on one thing or another in regards to how Kupchak builds his new-look roster, but understand that the opportunities are vast. As Mike Trudell of the Lakers' website points out, free agency is certainly an appealing option:
The Lakers can have two max free agency slots in 2014-15 and 2015-16 (or two in 2015-16 if they don't use one for next season).

— Mike Trudell (@LakersReporter) April 17, 2014
As is retaining their own. There's Jodie Meeks, who surprisingly averaged 15.7 points per game last season. Who could forget "Swaggy P," otherwise known as Nick Young, who did even better at 17.9 points per game.
Bleacher Report's Kevin Ding says to expect Young back, although Meeks may have been more important:
Meeks was Lakers' MVP this season. Really impressive. I'd say all things considered, Young is more likely to be back with Lakers than Meeks.

— KEVIN DING (@KevinDing) April 17, 2014
There's also Pau Gasol, who says he will surely listen to what Kupchak and Co. have to say, per Mike Bresnahan of The Los Angeles Times:
Pau Gasol on free agency: "I'm still going to listen closely to what the Lakers have to offer and say about the team's situation."

— Mike Bresnahan (@Mike_Bresnahan) April 17, 2014
The options are wild. A mix of old and new should be expected. Free agency has the most intriguing possibilities thanks to guys like Lance Stephenson, Dirk Nowitzki and possibly Carmelo Anthony hitting the market, to name a few.
Kupchak's job doesn't appear to be something that can be accomplished in just one offseason, but if he and the front office play the cards right, the Lakers will be back in contention sooner rather than later.