Just four matches separate Liverpool from their first league title in 24 years, and Norwich will be the first team blocking the Reds' path when the two face off on Sunday.
Speaking to the press on Thursday, manager Brendan Rodgers stressed that his team must be wary of the threat the Canaries will pose:
Rodgers outlined how Norwich have changed their tactics in recent weeks, and how the competitiveness of the English Premier League makes every single match a challenging one, as shared by The Liverpool Echo's James Pearce:
Rodgers: "Norwich have changed their shape - they played a diamond last weekend. We don't under-estimate them. We know they're a threat."

— James Pearce (@JamesPearceEcho) April 17, 2014
Rodgers: "This is the most competitive league in European football. Norwich need to win and they will see their home games as being vital."

— James Pearce (@JamesPearceEcho) April 17, 2014
He also made the comparison with Manchester City's shocking 2-2 draw against bottom-feeders Sunderland on Wednesday, the result providing further evidence that there are no guarantees in this league:
Rodgers: "The Man City v Sunderland result was a warning sign to everyone that nothing is guaranteed. You have to do your own job."

— James Pearce (@JamesPearceEcho) April 17, 2014
But with his team now favourites to win the title following last week's win against the Citizens, Rodgers is confident that role will not bring any more pressure than was already there, per The London Evening Standard's Eleanor Crooks:
"We'll deal with it the same as we have from the very first game of the season. There's no added pressure than what we had then."
He also further elaborated on the progress his team has made over the course of the last few months and how his players have dealt with the pressure so far:
Rodgers: "Look at our team, we've been asked a lot of questions over these past few months. Players have responded magnificently to that."

— James Pearce (@JamesPearceEcho) April 17, 2014
That pressure was also very much there for a brief spell during last Sunday's game, as the pure quality of City's squad lived up to its price tag. This Is Anfield.com quoted the manager:
We've had other games where we've had pressure. We had to stand up and be counted. We came back, that's what great teams do. We showed that resilience and ultimately the quality that we have.

When you have the biggest wage bill in sport you have to perform well at some stage.

Our response was sensational. It was a brilliant team game and win.
Following the emotional win over City, the Reds celebrated extensively in the centre of the pitch, with captain Steven Gerrard even calling a huddle and speaking to his teammates.
According to Rodgers, that huddle was simply an extension of the kind of person and player Gerrard is, as the skipper made his manager proud, per This Is Anfield: "He really is a selfless player. He's a wonderful ambassador for this club. His message for the team is the one I've had all season."
Daniel Sturridge was forced to leave the pitch against the Blues with an apparent hamstring injury, and his availability for this match has been in doubt. Rodgers wouldn't give a definitive answer when asked whether the England international would be able to play against Norwich, via Liverpool's official website:
It's not too serious and won't keep him out for too many weeks, but he may be out for the weekend.

We'll assess it more over the next couple of days, but that's how we're looking at it at the moment.

He may well make a real good recovery over the next few days and be ready for the weekend.
Sturridge has scored an exceptional 20 goals in 26 total appearances, per WhoScored.com. The youngster's scoring prowess has been one of the driving forces behind the Reds' title challenge.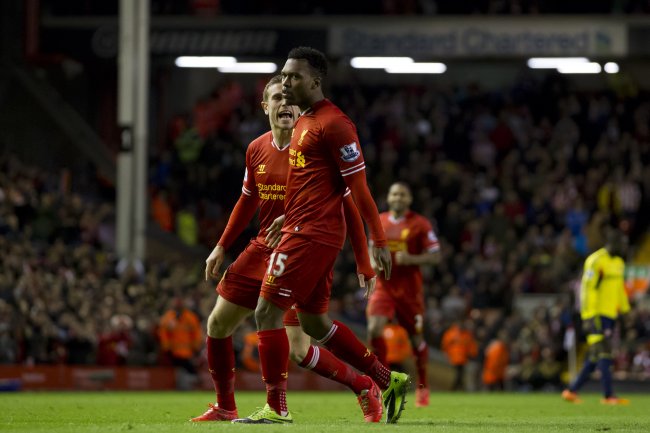 Jon Super
But his partner in the attacking third, Luis Suarez, has enjoyed much success when going up against Norwich, as shared by Squawka:
Luis Suarez has scored as many Premier League goals vs Norwich (11) as the Canaries have vs Liverpool in their entire top flight history.

— Squawka Football (@Squawka) December 5, 2013
Norwich have lost three straight matches, failing to score a single goal in the process. While every opponent demands respect, the Canaries should be no match for Liverpool on paper.
Rodgers' tone during this pregame presser was a careful one, however, as the Reds' manager knows all too well what's at stake. With the expectations at an all-time high from a tortured fanbase that has endured a 24-year wait for another league title, Liverpool simply can't afford to make any mistakes during these final weeks.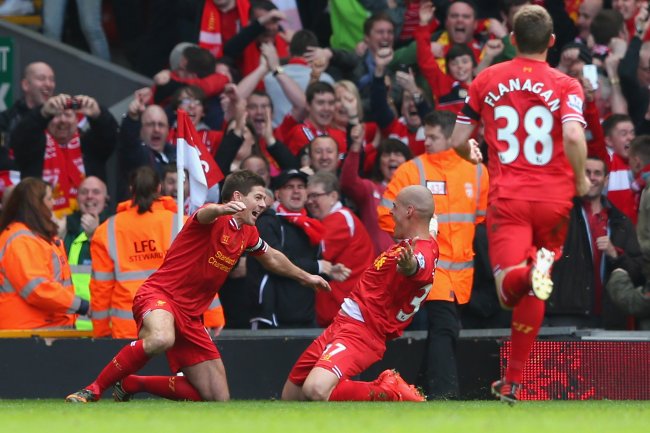 Alex Livesey/Getty Images
And with a potential championship-decider against Chelsea next on the schedule, it would be easy for his team to overlook Norwich. In light of what happened with City on Wednesday, a similar scenario is one the Reds must avoid at all cost.
Liverpool need to approach these last four weeks one step at a time. Rodgers acknowledged as much when he was asked about the end of the season:
Rodgers: "The finish line is still a wee bit out. We just need to focus and keep showing the character we have done."

— James Pearce (@JamesPearceEcho) April 17, 2014
Maintaining focus will be key for the team. As ESPN's Tommy Smyth points out, Liverpool's path to the title is fairly straightforward:
Liverpool really in the driving seat. They can draw with Chelsea win all other and its their title.

— Tommy Smyth (@TommySmythESPN) April 17, 2014
The Reds should be able to overcome the potential loss of Sturridge against an overmatched opponent like Norwich. As long as the team don't approach this fixture with complacency or more than one eye on Chelsea, a win on Sunday will bring the club one step closer to a trophy that has eluded them for so long.
If Rodgers' pregame presser is any indication, that's exactly what the club plans to do.