The Houston Rockets have drawn the Portland Trail Blazers in Round 1 of the 2014 NBA playoffs, but Clutch City has bigger goals in mind than getting past Rip City in the Western Conference quarterfinals.
For the first time this season, Rockets championship trophies were on display in locker room. Run to titles began on homecourt vs. Portland.

— Jonathan Feigen (@Jonathan_Feigen) April 15, 2014
Since acquiring Dwight Howard, this franchise has had a championship on its mind. Houston hasn't seen the second round since the 2008-09 season, and while ending that drought is important, it's only the first step.
The San Antonio Spurs and Oklahoma City Thunder are the favorites out West, but the Rockets are championship sleepers. This is an offense that can go off against anyone, and consistency will be important if a deep run is on the horizon.
Final Regular Season Record: 54-28
Playoff Seed: Fourth in Western Conference
First Round Opponent: Portland Trail Blazers (54-28), fifth Place in Western Conference
Top Three Storylines Going into NBA Playoffs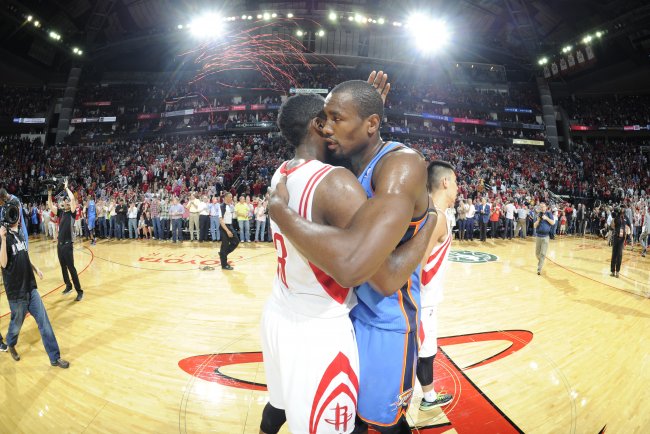 Bill Baptist/Getty Images
Entering the 2014 postseason, there are four consensus contenders. Out West, it's the Spurs and Thunder. Out East, it's the Miami Heat and Indiana Pacers (despite neither playing their best basketball).
The "Big Four" has a lot to prove this time of year, but if anyone is going to spoil their party, it could be the high-scoring, always-entertaining Rockets.
Jeff Van Gundy predicts that the Houston Rockets will win the NBA Championship.

— NBA Central (@TheNBACentral) April 18, 2014
At this point, we have a not-so-classic matchup of offense versus offense in Round 1. The Rockets have the second-best points-per-game average at 107.7 points per contest, while the Blazers own the fourth-best mark at 106.7.
Stopping the Blazers attack is going to be a recurring theme, but if we're being forthright, this series comes down to who can outscore whom.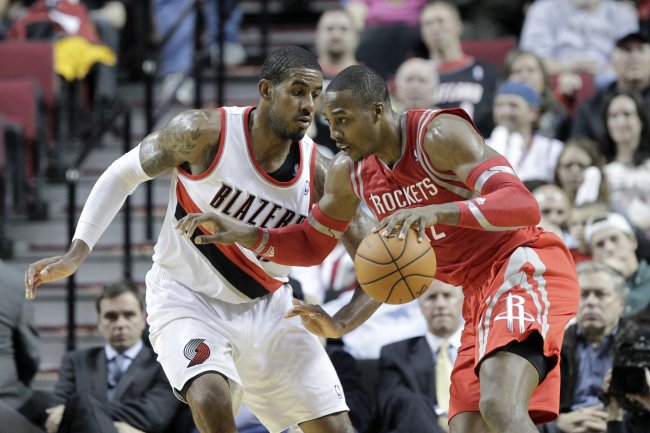 Don Ryan
Both teams will look to push the tempo, and both will shoot from behind the arc. These offenses, however, can only thrive if they remain healthy. For Portland, that means LaMarcus Aldridge, who was injured after the All-Star break, and Joel Freeland, who missed 30 games with a right knee injury.
Portland's biggest health concerns are presumably forgotten, while the Rockets aren't as far removed when it comes to core injuries. Dwight Howard and Patrick Beverley are both back in the lineup, but both gave the team a scare late in the regular season.
Injury Report
Houston
N/A
Portland
N/A
Key First Round Matchup to Watch
Houston's series with Portland will be beyond entertaining. Aldridge and Howard will do work on the block (although Aldridge will mostly look to dominate the mid-range). James Harden and Wesley Matthews will go back and forth from possession to possession. And Chandler Parsons and Nicolas Batum will square off in a showcase of do-it-all swingmen.
Every position on the floor becomes more important during the playoffs, but in this matchup, look to the floor generals for the most crucial individual battle.
Damian Lilliard is one of the best scoring point guards in the game, and Patrick Beverley will take that as a challenge. It will be imperative for Portland that Lillard gets going early, making it even more important that Beverley is as obnoxious as ever on the defensive end.
While most people are pointing to three-point shooting and fast-paced offenses as the themes in this one—and rightfully so—this series has the potential to be more physical than some anticipate. Lillard and Beverley have already skirmished once this year, and if the Rockets guard can continue to be a pest, Lillard's game could be thrown off.
X-Factor
In all honesty, Howard is likely the biggest X-factor Houston has—especially in later rounds. His lighthearted charisma has led some to question whether or not he can lead a championship team, but now is his chance to show he has the gravitas to be a winner in his seventh postseason appearance.
All that said, we're going to hold Howard to his status as a superstar and forgo the title of "X-factor"—a title that belongs to Chandler Parsons.
As Grantland's Bill Simmons put it, Parsons can win a game by himself. "And then you can get the Chandler Parsons 10-three-pointer game," Simmons said. And while 10 three-pointers may be a bit extreme, his performance against an offense-oriented Batum will help sway the series one way or the other.
2013-14 Stats: Chandler Parsons vs. Nicolas Batum

| | | | | | | | |
| --- | --- | --- | --- | --- | --- | --- | --- |
| | PPG | RPG | APG | PER | Offensive Win Shares | Defensive Win Shares | Overall Win Shares |
| Chandler Parsons | 16.6 | 5.5 | 4.0 | 15.90 | 5.1 | 2.5 | 7.6 |
| Nicolas Batum | 13.0 | 7.5 | 5.1 | 15.86 | 4.8 | 3.1 | 7.9 |
| | | | | | | | |
ESPN.com and Basketball-Reference.com
Keys to a First-Round Houston Victory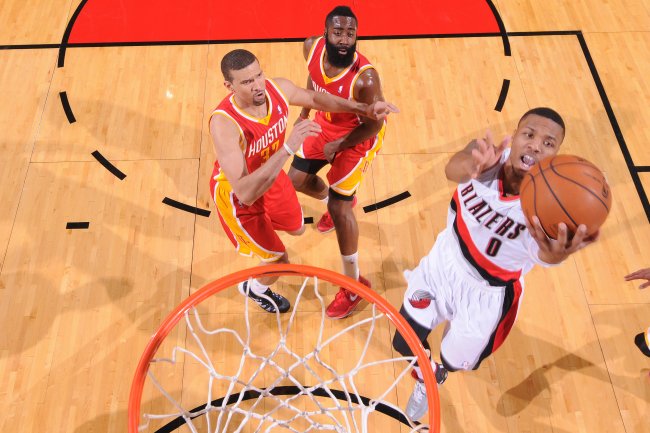 Sam Forencich/Getty Images
As we've already touched on, Beverley must negate the offensive prowess of Lillard. Each team has two offensive stars, and while the Rockets have seemingly no answer for Aldridge, it's Lillard's struggles that aided in Houston winning three of the four games this season.
On the other end of the floor, Houston must attack the rim. The Blazers give up 45.6 points per game in the post—the fourth-worst number in the league, according to TeamRankings.com—while the Rockets are averaging the second-best mark in low-post points per game, also via TeamRankings.com.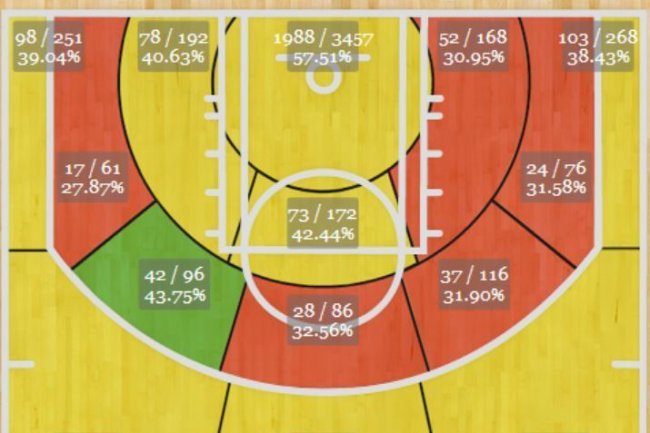 NBA.com/Stats
Then, of course, the Rockets must be efficient from the three-point line in every sense. They finished first this season in both three-pointers attempted and three-pointers made, but they drop to 15th when looking at three-point percentage.
Defensive efficiency is important as well, as they're a top-10 three-point defense going up against a top-10 three-point offense.
Playoffs Outlook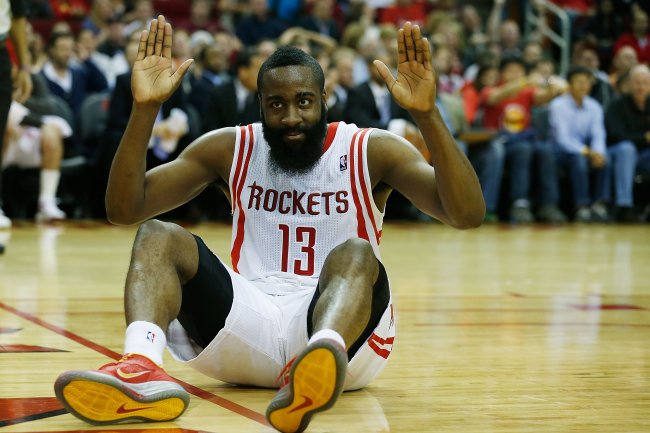 Scott Halleran/Getty Images
At this point, consider Houston a poor man's favorite out West. The true contenders are the top two seeds, but if you ask Harden if the Rockets are the best team in the NBA, he'd likely answer the same way he did back in March.
"Yes. Yes. We are," Harden said, courtesy of NBA.com's Fran Blinenury.
As mentioned earlier, the Rockets haven't been to the second round since 2009. The team they beat to make it to the conference semifinals that year? That would be the Trail Blazers.
How Far Can The Houston Rockets Go This Postseason?
As B/R's Dan Favale points out, Houston has the advantage over Portland in Round 1. Favale talks about defense, home-court advantage and individual matchups in his analysis, stating, "Houston has the decisive edge, perhaps more than any Western Conference team will have over another first-round foe."
If all that holds true, the Rockets will indeed advance. Portland won't make it an easy series, but six or seven games should allow Houston to get the job done.
The question then becomes: What are the Rockets able to do against the conference-leading Spurs, assuming San Antonio finds success against the Dallas Mavericks in Round 1?
Luckily for Houston, it went 4-0 against San Antonio during the regular season. It's fair to say that you can't hold stock in much that happened before the playoffs, except the fact that the Spurs struggled against elite competition much of the year.
Give a second-round win to the Rockets, matching Harden up against former teammates Kevin Durant and Russell Westbrook in Round 3, assuming OKC does what it's supposed to do up to that point.
Unfortunately for Clutch City, this is where the team meets its match. Houston went just 1-3 against OKC in the regular season, and a seven-game series in the playoffs would be nearly impossible to escape, considering how effective the Thunder have been.
To say the Rockets are "championship or bust" is unfair at this point. A Western Conference finals appearance would be an extreme success this season, but a title is just on the outskirts of what should be expected.
No one should be shocked if Houston lands itself in the conference championship, but a finals appearance may be another year away considering the level of competition in a brutal Western Conference.