Everyone's busy talking about the college stars entering the 2014 NBA draft, but we can't forget the best prospects the D-League has to offer.
Many current D-Leaguers aren't NBA draft eligible, because they've already been drafted by an NBA club or signed via free agency. However, a small handful of NBADL newbies (such as undrafted college players or overseas players who get picked up via D-League Draft) will test the NBA draft waters in June.
Who are the biggest standouts poised to get picked, and what kind of impact will they make once they enter the league?
We focus on P.J. Hairston of the Texas Legends and Thanasis Antetokounmpo of the Delaware 87ers. Neither team made the NBADL playoffs, so their minor league auditions for the NBA are complete.
P.J. Hairston, Texas Legends SG
Vitals: 21 years old , 6'5.5", 227 lbs., 6'9.5" wingspan
2013-14 Stats: 32.3 MPG, 21.8 PPG, 1.5 SPG, 45% FG, 36% 3-PT
Sergio Hentschel/Getty Images
What He Brings to the Table
After an impressive sophomore campaign at North Carolina in 2012-13, P.J. Hairston's collegiate career ended in regrettable fashion. Offseason troubles included arrests for driving without a license, reckless driving and marijuana possession, and he was ruled ineligible at UNC this winter.
Hairston moved on to the D-League and seemed to make the most of the situation both on and off the court. He owned up to his mistakes and exploded as an offensive weapon.
The one major takeaway from his time with the Texas Legends? He'll splash jumpers at the next level.
His confident approach and fluid, fundamental delivery fueled some huge scoring nights, as he hit 2.8 of 7.8 threes per game (36 percent) and averaged 21.8 points per game. Hairston drilled as many as seven triples in a single game, and he routinely sank two to four per contest.
Not only is he superb at finding catch-and-shoot chances in transition, but he's also adept at firing off the bounce. He wasn't the most efficient wing in 2013-14, due to his high volume of shots, but when he catches fire, he can light up the scoreboard in a hurry.
NBADLeague.com's Brian Kotloff noted that Hairston thrived in the D-League's high-possession style of play: "He's taking advantage of the NBA D-League's wide-open brand of basketball. ...The style of play has been perfect for an athletic shooter like Hairston, helping make an already lethal scorer even more lethal."
When he's not connecting from the outside, Hairston mixes in a few drives. He's not the most advanced ball-handler or an acrobatic leaper, but he pulls off simple slashes due to his size and soft touch around the rim.
A sturdy 227 pounds with a standing reach of 8'6", Hairston can bruise past pesky guards and absorb contact from forwards once he gets into the paint. When the team's ball movement affords him lanes to attack, he takes advantage.
Sergio Hentschel/Getty Images
Defensively, he probably won't shine at the NBA level, but he's got a lot of great tools to work with.
DraftExpress video analyst Mike Schmitz believes Hairston will do a great job against swingmen, particularly small forwards, as he gave us stretches of impressive execution with the Legends: "Showed promise defensively when his effort was there. Improved lateral quickness, gets over the top of screens. Best defending small forwards because of his strength and length...wingspan forces turnovers: 1.9 steals per 40 minutes."
Hairston's two-way contributions make him an attractive option, but there are some downsides to his game.
The overarching issue is consistency, and there are three factors that make him an inconsistent player: decision-making skills, effort lapses and inability to create off the dribble.
"NBA teams [are] more concerned with P.J. Hairston's consistency than anything that happened at UNC," said Sports Illustrated's Chris Mannix.

His NBA coach will have to live with things such as underwhelming shot-creation skills, unimpressive athleticism and subpar passing instincts. However, his coach won't be pleased if Hairston continues his intermittent lackadaisical spells and suffers as a help defender. Hairston also presents some risk offensively, as his shot selection isn't always wise.
Draft Outlook and NBA Role
What is P.J. Hairston's NBA role?
Due to his shooting range and ideal size at the shooting guard position, Hairston is pretty much a lock to get selected in the first round. Teams understand his value as a rotational scorer and an NBA-ready asset, so he'll get looks in the teens and probably land somewhere between No. 15 and No. 25.
Once he enters the Association, his club can plug him in as a swingman off the bench. In most cases, he won't be a defensive liability, so that won't hurt his playing time.
He'll be able to stretch defenses as a shooting threat and open up lanes for his teammates. Don't be surprised to see him earn 20 minutes and eight to 10 points per game—and potentially more during his prime.
Hairston told Nate Taylor of The New York Times that he's on a mission: "I feel I have a lot to prove to show that I'm a way better person than what's put out in June. That's my point—to show everybody I'm P. J. the basketball player, nothing else."
Thanasis Antetokounmpo, Delaware 87ers SF
Vitals: 21 years old, 6'7", 210 lbs.
2013-14 Stats: 29.3 MPG, 12.0 PPG, 4.3 RPG, 2.1 APG, 47% FG, 31% 3-PT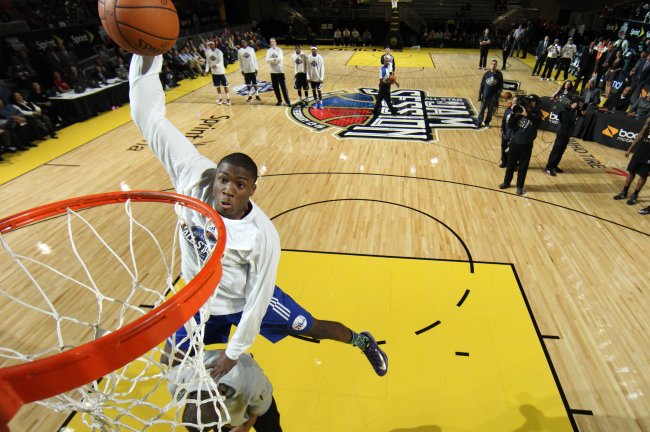 Joe Murphy/Getty Images
What He Brings to the Table
Much like his younger brother Giannis, Thanasis Antetokounmpo's NBA appeal is based on his physical tools, instincts and upside.
He's not quite as tall as his "Greek Freak" brother, but at 6'7", Thanasis has plenty of size to play on the wing in the NBA. His wingspan appears to be in the 7-foot range, although it isn't officially documented.
Pair that length with abundant quickness and athleticism, and you've got the makings of an exciting energy guy off the bench.
Antetokounmpo can elevate and compete in the air with anyone, which means he'll be able to finish above the rim in the NBA and rebound well for his position. He covers a ton of ground going end to end, and he's got effective foot speed in the half court.
Most of his scoring happens in fast-break or secondary-break situations, where he takes advantage of open space to slash around opponents and trampoline to the bucket. He relentlessly attacked the rim to notch 28 points in his final game against the Springfield Armor.
His outside shooting percentage was ugly, but he shows potential as a shooter nonetheless. Over the course of the season, his form and fundamentals—most notably his balance—noticeably improved, and he consequently improved his efficiency late in the campaign.
You can tell he lacks extensive experience playing at a high level. His ball-handling skills are still raw, and his shot selection is poor (at times much worse than Hairston's). When he settles for jump shots rather than attacking the rim, he has off nights, delivering the kind of inconsistency that makes him a risky pick.
Antetokounmpo's shaky handle and lack of basketball acumen result in rashes of turnovers via pass or dribble. He's still got a bunch to learn, even though he's already 21.
While his knowledge of the game and his execution leave something to be desired, there's hope. He possesses decent instincts. He became more comfortable as a passer during the season and started to impressively distribute the ball. He dished six assists on back-to-back nights, and his last two games featured 10 assists and seven assists, respectively.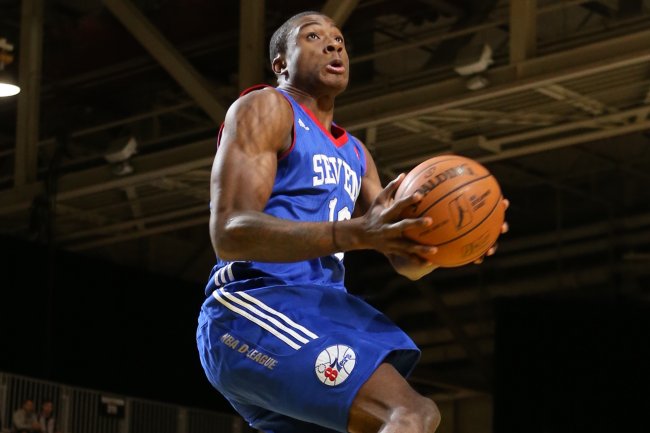 Joe Murphy/Getty Images
Defensively, Antetokounmpo has promise due to those physical blessings. His long wingspan and lateral quickness enable him to stymie opponents and frequently post several multi-steal and multi-block games. Unfortunately, he also struggles with things such as failed weak-side assignments and biting on pump fakes.
With training, he could become a useful reserve defensive weapon.
Draft Outlook and NBA Role
Antetokounmpo's draft status sits squarely in the second round due to his rawness and riskiness as a prospect. His ceiling is high, but there's a considerable chance he won't reach it. And unlike his brother, he's already 21 years old, which hurts his value compared to other risk/reward players.
What is Thanasis Antetokounmpo's NBA role?
Someone should definitely take a chance on him in the range of No. 40 to No. 55, though. His baseline-to-baseline activity and two-way potential could give the squad a nice boost off the bench.
Drew Corrigan of Dime Magazine acknowledged Antetokounmpo's need for refinement, but he sees a bright future: "Obviously, his offensive game needs a lot of work, but Thanasis is a diamond in the rough that needs some polishing."
If he fails to develop, he may struggle to find minutes or even a long-term roster spot. An optimistic outlook would project him to be a seventh or eighth man off the bench, seeing 15-25 minutes per night in his prime.
Dan O'Brien covers the NBA Draft for Bleacher Report
Follow him on Twitter: @DanielO_BR