Top Dawgs With Something To Prove In 2009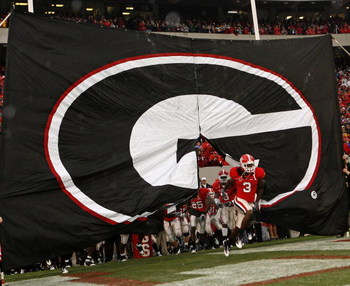 The 2008 Bulldog Football Season cast a shadow over Athens and the Bulldog Nation that still lingers today. What looked like a championship team on paper never really materialized on the field.
Whether injuries or lack of leadership were to blame, the reality is that the 2009 Georgia Bulldogs must pick up the pieces.
Gone are the likes of Matthew Stafford, Knowshon Moreno, and Mohammad Massaquoi, the players that jolted the Dawgs to a preseason No. 1 only one year ago.
Left standing are players that are yet to be proven. Someone has to answer, someone has to step onto the turf with mad determination and help this team, this nation rise from the ashes.
This 2009 team not only has to prove themselves worthy to the media and their fans but they also face a brutal schedule, one of, if not the toughest schedule in the nation. This isn't a year for rebuilding, there isn't time for rebuilding in the SEC. This is a year that coaches must put on their game faces and players must grow from boys to men over night.
Though each player on the team is as important as any other, there are certain players and coaches that have a lot on the line this year. The erie silence of what this team is made of is almost maddening. I can never remember in recent history things being this quiet. Who are the players and coaches that must redeem themselves and awaken a Nation of Red and Black?
No. 5 Top Dawg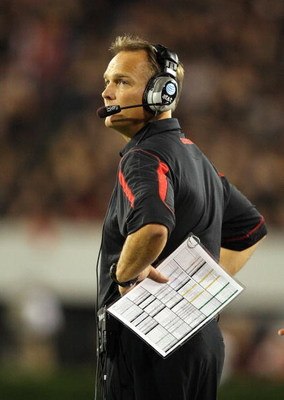 Mark Richt's accomplishments since landing in Athens, Georgia in 2001 have raised expectation levels for Bulldawg Fans and the sports media alike.
After eight years on the job in Athens, he is one of only seven other NCAA coaches to be inducted in to the "80 IN 8" Club and one of only five coaches in SEC history to have four straight 10-win seasons.
He is highly praised in the football community as a man of great character, fans of rival teams hold a great respect for him and you would be hard pressed to find a georgia bulldog fan that wasn't proud to call him our leader.
With respect come expectations and the bulldog nation is chanting for and craving the one thing he hasn't given them yet.
This football team is blessed to call this man coach, but I do think the fans need him to push this team to play hard every down and leave blood, sweat and tears on the field. I believe that the bulldog nation can't settle for a rebuilding year, and that Coach Richt needs to have these guys ready for a life or death fight week after week.
Does this mean his job is on the line? Not even close. I think to lose him would be to lose the heart and soul of what is quickly becoming one of the greatest decades ever of Georgia Football.
I just think, if he could turn what looks to be a season of mediocrity into something magical, he could hush the chants of the fans who so badly want to bring the trophey back home.
Do we go to the National Championship this year? Probably not, but I think he could have us in the spotlight before its over with.
My vote is that the Top Dawg will prove he is worthy.
4. Reshad Jones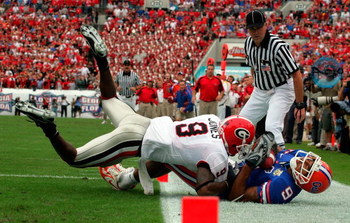 In January, Jones led sports media and bulldog message boards on a wild goose chase as his decision to stay in Athens or go to the NFL was hanging in the balance.
Jones, a saftey, led the bulldogs last year with interceptions, five, and also was the runner up for most tackles. As a returning member of the 2008 football team, Jones must prove he is willing to step up his game to help improve on last year and also that he is returning to Athens because he is hungry to win and not just that he didn't hear what he wanted to from the NFL.
My Vote? He has a lot to prove to the bulldog nation, but we are glad he is back.
3. Caleb King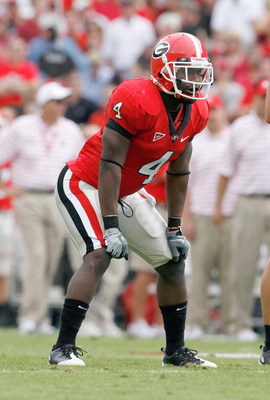 Oh what big shoes he has to fill. I bet Mr. King feels like the weight of the world is laying on his shoulders being the heir to King Knowshon's thrown. Caleb, a highly touted back out of Greater Atlanta Christian came to Athens with high expectations.
To date, he has yet to wow any one or put up huge numbers but that could be due to the fact that his playing time didn't come regularly.
Caleb has to step his game up this year if he expects any time on the playing field. WIth plenty of competition, including Carlton Thomas, Reshirt Freshman, Richard Samuel, Sophmore and incoming recruit Washaun Ealy, King has to know that the starting job won't be easy to keep.
The team will need to gain significant yards this year, with Cox getting into rhythm and AJ grabbing plenty of double teams, so if Caleb wants to be on the field, he needs to prove himself worthy.
My vote? With Knowshon gone, Caleb will be able to find his rhythm and have a breakout season.
2. Joe Cox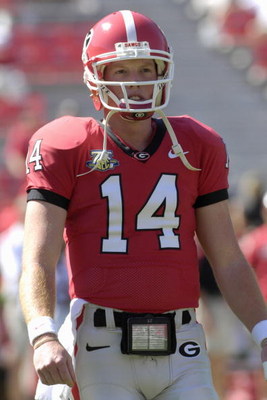 Joe Cox must step into the leader role, a year removed from one of the most dissappointing seasons in UGA football history. A guy that has most Georgia fans wondering if he has what it takes to lead the Dogs to victory week after week in a brutal SEC battle.
Not only is this fiery red head inheriting a team that need to prove themselves but he is also taking on one of the toughest schedules in college football.
He doesn't possess the arm strength of Matthew Stafford, and ESPN isn't talking him up to be a first rounder in next years draft or to even go. What does he possess? Accuracy, deadly accuracy, and he will have the luxury of possibly the best offensive line in the Richt era.
Georgia Fans are hoping his greatest moment at UGA hasn't been written in the history books yet. He has had his moments, like that Saturday of his redshirt freshman season, UGA versus Colorado.
It was the fourth quarter and Georgia and Matthew Stafford weren't able to get ahead. In fact they trailed 13-0. Mark Richt put Joe Cox in the game to see if he could work a miracle. He did. He led the dawgs to victory.
My Vote? Joe Cox has the mad determination, accuracy, and leadership skills to pull of something spectacular.
I think with a few Logan packages mixed in, and the talent in the backfield, Cox will lead the Dawgs to victory more often than not.
1. Willie Martinez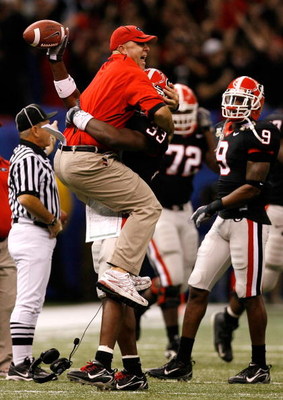 If you visited UGA football message boards last fall then you know why Willie Martinez has claimed the number one spot on my list of who needs to prove themselves.
A lot of what went wrong last year can be put on a defense that never seemed to click. Regardless of the injury plagued line or the players failing to follow through on tackles, a large number of Georgia faithful were calling for Willie M's job.
What must Willie do this year to secure a spot a UGA? His defense must come out with a fury and take back the respect that it lost last year. His time at UGA hasn't always been so bad as he has often finished the season with his defense ranked in the top 10 scoring defenses in the country. Maybe that is why the fans expect more and will only accept the best.
With an a lot of young talent on the offensive side of the ball and a possible drop in production on that side of the ball, the defense must step it up if Georgia will have a chance to survive conference and non conference play.
My Vote? Georgia has a tough start to the season away at Oklahoma St. for the first game and consecutive games against South Carolina, Arkansas and Arizona State.
We will find out quickly if Willie will endear himself to the Bulldog Nation or find a one way ticket out.
Keep Reading

Georgia Bulldogs Football: Like this team?