For the second straight season the fourth-seeded Chicago Bulls enter the playoffs wondering how much different their outlook would be if Derrick Rose was healthy. The superstar point guard remains out following another serious knee injury that forced him to miss all but 10 games.
The other members of the Bulls have shown how effective they can be over the past couple years, guiding the team to the postseason even without Rose. But his absence becomes even more noticeable during the playoffs, which limits expectations, even in the weaker Eastern Conference.
While playing without Rose doesn't mean the Bulls can't advance at least one round, the chances of going the distance are very much diminished. So let's check out the schedule for their opening series against the No. 5 seed Washington Wizards followed by some predictions.
1st-Round Schedule
Chicago Bulls vs. Washington Wizards

| | | | | |
| --- | --- | --- | --- | --- |
| Game | Date | Matchup | Time (ET) | TV |
| 1 | 4/20 | (5) Wizards vs. (4) Bulls | 7 p.m. | TNT |
| 2 | 4/22 | (5) Wizards vs. (4) Bulls | 9:30 p.m. | TNT |
| 3 | 4/25 | (4) Bulls vs. (5) Wizards | 8 p.m. | ESPN |
| 4 | 4/27 | (4) Bulls vs. (5) Wizards | 1 p.m. | ABC |
| 5* | 4/29 | (5) Wizards vs. (4) Bulls | TBD | TBD |
| 6* | 5/1 | (4) Bulls vs. (5) Wizards | TBD | TBD |
| 7* | 5/3 | (5) Wizards vs. (4) Bulls | TBD | TBD |
NBA.com; * denotes if necessary
Series Prediction: Bulls Defeat Wizards in 6 Games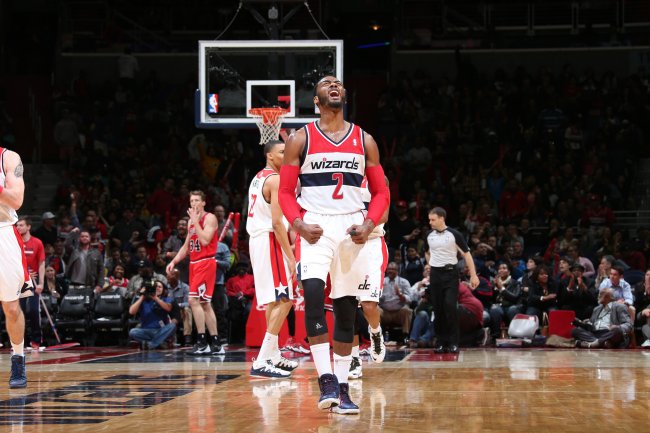 Ned Dishman/Getty Images
Even though it probably won't generate a ton of hype, this should be one of the most intriguing series of the opening round. On one side, you have a battle-tested group of veterans on the Bulls. On the other, a Wizards squad on the rise thanks to John Wall and Bradley Beal.
Washington won two of the three regular-season meetings, although Chicago got the last laugh by winning the final matchup in early April by 18 points. It's a clash of conflicting styles, and whichever side is able to play the series at their pace is going to come out on top.
Since the Bulls are the higher seed and have home-court advantage, they have been fielding a lot of questions about potential matchups on the horizon. Nick Friedell of ESPNChicago.com passed along comments from Taj Gibson about that talk:
We really can't look forward to the future. You've got to look at who's in front of you. Because any kind of little thing teams can feed off of, they'll use it against you. We don't want to give anybody any kind of extra confidence, any kind of extra juices. We're just focused on ourselves, just getting ready to play some tough-nosed, (rugged) basketball. We understand the stakes. We understand what it's about.
The Wizards are a perimeter-oriented team with Wall, Beal and Trevor Ariza leading the offensive attack. The trio combines to average more than 50 points per contest, with Nene Hilario and Marcin Gortat picking up the slack on the interior.
Chicago is the opposite. It leans heavily on Carlos Boozer, Joakim Noah and Taj Gibson to control the offense from the post. What makes the Bulls dangerous is their defense, however, as they lead the league by allowing less than 92 points per game.
Washington is definitely trending in the right direction, and the future should be bright if they can keep the core together. That said, Chicago has more experience in these situations and was the better team during the regular season. It should find a way to advance after an extended series.
Series MVP Prediction: Joakim Noah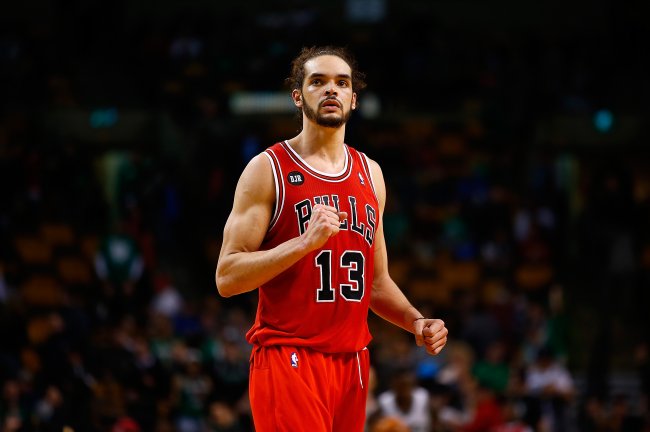 Jared Wickerham/Getty Images
No player is more essential to the Bulls' success than Noah. He doesn't lead the team in scoring, but his across-the-board production is the driving force behind the team's success at both ends of the floor. That must continue for Chicago to make any noise in the playoffs.
The veteran center averaged a double-double during the regular season at a shade under 13 points and 11 rebounds per contest. He also chipped in more than five assists, a block and a steal while shooting 47.6 percent from the floor.
ESPN Stats and Info also provided an interesting triple-double note:
Joakim Noah's 4 triple doubles are most in season by Bulls player since Michael Jordan and Scottie Pippen had 4 in 1992-1993

— ESPN Stats & Info (@ESPNStatsInfo) April 10, 2014
Perhaps the most impressive thing has been Noah's development as a distributor from the post. When he entered the league, everybody knew he could defend and rebound, using the latter skill to generate extra chances at the offensive end.
Now, however, he's a far more complete player, as he's learned to draw extra defenders and kick the ball out to open shooters. It's led to a more efficient Bulls offense, and that's exactly what Chicago will need to reach the second round and, potentially, beyond.