Real Madrid and Barcelona face off in the Copa del Rey final at Valencia's Mestalla Stadium on Wednesday, both looking for domestic glory that will likely be denied them in La Liga.
Both clubs currently trail Atletico Madrid in the league, and Diego Simeone's side are looking good to be the first to break the Real-Barca duopoly since Valencia's triumph in 2004, per ESPN FC:
Updated La Liga Table: 1) Atletico Madrid - 82 points 2) Real Madrid - 79 points 3) Barcelona - 78 points pic.twitter.com/GcgM4jGlr7

— ESPN FC (@ESPNFC) April 13, 2014
Spanish newspaper AS provides the clubs' respective routes to this year's final:
How they got here. Barça and Madrid's routes to the final. pic.twitter.com/NxLgdIk8oX

— AS English (@English_AS) April 16, 2014
It is a repeat of the 2011 Copa del Rey final which was also in Valencia. On that occasion, Madrid eventually won 1-0 with Cristiano Ronaldo bagging the winner in extra time, per Jonny Singer of The Independent.
The most recent El Clasico saw Barcelona run out 4-3 winners in La Liga thanks to a Lionel Messi hat-trick back in March.
Date: Wednesday, April 16
Time: 8:30 p.m. BST/3:30 p.m. ET
TV: SkySports 1/ESPN (US)
Live Stream: Sky Go/ESPN Player (US)
Madrid good enough even without Ronaldo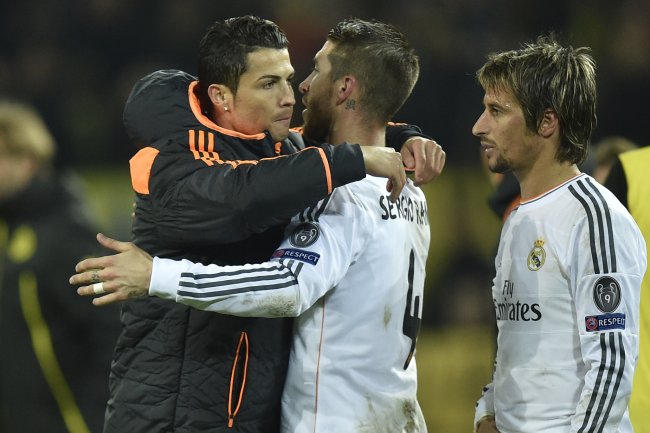 Martin Meissner
The biggest pre-match news has been the confirmation from Carlo Ancelotti that Ronaldo will not be available for selection due to a thigh injury, as reported by BBC Sport on Tuesday:
Carlo Ancelotti rules out Cristiano Ronaldo appearing in Real Madrid's Copa del Rey final. http://t.co/CIkCgPXIsh pic.twitter.com/x1GHUoZa4q

— BBC Sport (@BBCSport) April 15, 2014
He joins the likes of Alvaro Arbeloa, Marcelo, Sami Khedira and Jese Rodriguez, each of whom will also play no part in Valencia through injury.
But as reported by Dermot Corrigan of ESPN FC, Madrid captain Iker Casillas still believes his side are good enough to win the match:
It is not just Ronaldo, but all the players who aren't available: Jese, Arbeloa, Marcelo, Cristiano. But it is not worth thinking about those who cannot play. It is now more about talking about who is there, and the coach putting out the best team to win the trophy. [...]

We know it will not be easy, it will a vibrant game with great players. But we trust in our chances that we can win this Copa del Rey.
However, the injured players still travelled to support their team and were photographed with Real president Florentino Perez, via the club's official Twitter feed:
Khedira, Arbeloa, @Cristiano, @12MarceloV and president Florentino arrive in Valencia. Via @aarbeloa17 #FinalCopa pic.twitter.com/aXLMmG03Ln

— Real Madrid C.F. (@realmadriden) April 16, 2014
Madrid come into the game in winning form, having beaten Almeria 4-0 in La Liga on Saturday.
They also made it through to the semi-finals of the Champions League last week, despite losing their quarter-final second leg 2-0 to Borussia Dortmund, and will now face Bayern Munich.
Spain coach Vicente del Bosque is hoping there will not be a repeat of the 2011 Copa del Rey final when tempers flared, with Angel Di Maria eventually sent off, per Singer.
Corrigan's article reports him saying:
"There will be tension. But I would like there to be no conflict. Anyone who does anything will be picked out [by the cameras]. My big hope is that it is a good game of football."
Del Bosque's hopes may be in vain though, as when the two sides last met in March, Sergio Ramos was sent off and seven others picked up yellow cards, per BBC Sport.
No doubts over Messi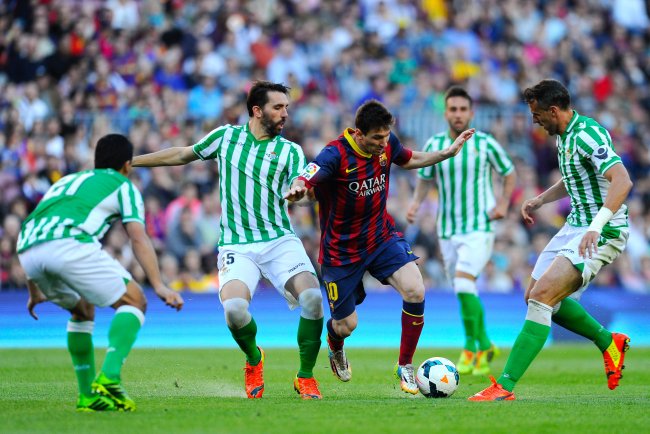 David Ramos/Getty Images
If Barcelona do not win on Wednesday, they will, in all likelihood, end the season without any silverware.
Having been dumped out of the Champions League by Atletico last week at the quarter-final stage, they proceeded to lose 1-0 to Granada on Saturday, leaving their La Liga hopes hanging by a thread.
Along with these setbacks, some rare criticism of Messi has arisen, especially after a perceived lack of effort against Atletico, per BT Sport:
#NEWS Lionel Messi has been heavily criticised for running just 1.5km more than goalkeeper Pinto last night. pic.twitter.com/cTTKbaoXf9

— BT Sports Panel (@BTSP) April 10, 2014
However, as Bleacher Report UK's Twitter feed points out, this lambasting may be undeserved:
Messi in crisis? Yeah, right. http://t.co/AaHMd7Tka5 pic.twitter.com/G61iuwqPWK

— Bleacher Report UK (@br_uk) April 15, 2014
Certainly, his team-mates are showing him support, with Andres Iniesta saying he has no doubts over Messi, as reported by Corrigan:
There are no doubts about Leo. I cannot say anything else, nothing else comes to mind. In no moment would I ever doubt or be worried about him. He always tries to resolve games, to decide them. The bar has been set so high that it seems if he does not score twice he has not played well. But he is fundamental for us, and in a team game it is a question of everyone.
Barcelona may struggle defensively as they have some injuries at the back with Gerard Pique, Marc Bartra and Carles Puyol all serious doubts, per BBC Sport.
It may be the case that, as in March, Barcelona will simply have to outscore Madrid if they want to triumph, as they may have problems preventing Ancelotti's side registering a goal or two.
Even without Ronaldo on the pitch, the footballing behemoths on display in Valencia will be testament to the continuing quality of these two clubs.
El Clasico rarely disappoints, and with silverware on the line, there is every possibility of a classic encounter on Wednesday.