On Tuesday, the University of Michigan Athletic Department announced that Nik Stauskas and Glenn Robinson III had declared for the 2014 NBA draft. Many basketball analysts believe Stauskas will be drafted in the middle of the first round, while Robinson is thought to be an early second-round selection.
Head coach John Beilein had this to say to his players at the school's press conference:
They both understand that they will need to continue to work even harder in the years to come to accomplish their goals in the NBA.

We will continue to do whatever we can to assist and guide them as they take this next step in their basketball careers. We are excited for Glenn and Nik as they pursue this next stage of their life and begin their professional careers.
Robinson's athleticism is off the charts, which is a trait well-suited for the uptempo nature of the NBA. He has decent size at 6'6", but will likely play small forward in the NBA, a position with players ranging from 6'6" to 6'10" in height. Robinson is a lean 220 pounds, so extra time in the weight room to add a little bulk would pay dividends when competing at the next level.
Robinson does have some experience guarding against bigger and stronger players. He mostly played power forward in college because it was considered a wing position in Michigan's offense (via USA Today Sports' Mark Snyder).
However, to succeed in the NBA, Robinson needs to become a more consistent shooter, something Stauskas excelled at, hitting at a 44.2 percent clip from three-point range.
What does Robinson's future hold in the NBA?
The Michigan sophomore and son of former Purdue All-American Glenn Robinson was the team's second-leading scorer and averaged over 13 points per game. He is by no means a poor shooter, as Robinson shot 52.5 percent from the field during his two-year collegiate career. However, a deeper look shows his shooting percentage dramatically declined from his first season to his second. In 2013, Robinson converted on 57.2 percent of his shots, but only hit 48.8 percent of them in 2014.
While Robinson has shown he can attack the rim with authority, as well as hit a mid-range jumper, he hasn't shown the ability to consistently hit three-pointers. He is a career 31.3 percent shooter from behind the arc, and he made only 33 of 108 attempts (.306) this season.
"Robinson III started the season as a potential lottery pick but has watched his stock fade while struggling to prove to scouts that he can hit enough perimeter shots to play the 3 in the NBA," according to ESPN's Chad Ford (via Mark Snyder in the Detroit Free Press).
Some of the top small forwards in this year's draft class include Wichita State's Cleanthony Early, Duke's Rodney Hood, Clemson's K.J. McDaniels, UCLA's Kyle Anderson, N.C. State's T.J. Warren, Kentucky's James Young, Duke's Jabari Parker (if he declares) and Kansas' Andrew Wiggins. Every player has a higher career three-point percentage than Robinson, and only McDaniels and Warren shot less than 34 percent from deep last season (via DraftExpress).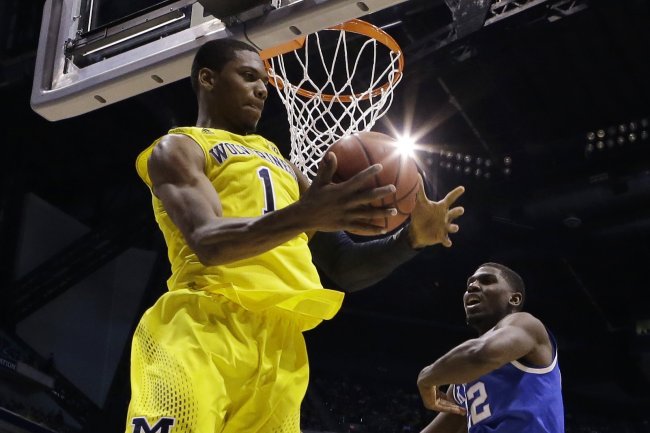 Michael Conroy
Snyder adds that Robinson can impress teams with his athleticism and improved shooting in workouts to improve his draft stock.
Perhaps Robinson can draw on his late-season success. According to The Michigan Daily's Neal Rothschild, Robinson shot 41 percent from deep in the month of March, compared to just 27 percent earlier in the year.
Robinson is currently projected to be taken 36th overall—the sixth pick in the second round—by the Milwaukee Bucks, according to the current DraftExpress mock draft. Following his freshman season, Robinson was projected to be a lottery pick. However, the terrific depth of the 2014 draft class has more to do with his drop in draft stock than any kind of decline in performance.
Follow Jesse Clark on Twitter: