This year's edition of the NHL draft lottery was somewhat anticlimactic.
While the potential existed for something crazy—Toronto takes the first overall pick!—to happen, TSN's live broadcast of the event revealed a mundane transition: Florida moved to first overall with Buffalo falling to second. Ho-hum.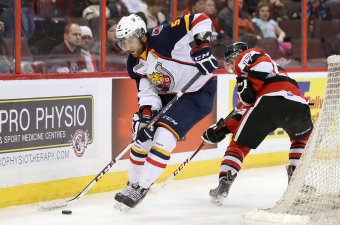 Jana Chytilova/Freestyle Photo/Getty Images
What makes the transition more interesting, though, is that the two teams switching places have very different needs. Further, this is one of those years where there simply isn't a clear-cut, no-questions-asked presumptive first overall pick.
Barrie Colts defenceman Aaron Ekblad is the player who is most commonly cited as the top prospect for the 2014 draft, but TSN.ca makes it clear that there is no unanimity among top scouts:
In a survey of 12 NHL team scouts by TSN Hockey Insider Bob McKenzie, Ekblad garnered seven first-place votes, ahead of the three cast for second-ranked Kootenay Ice centre Sam Reinhart. Kingston Frontenacs centre Sam Bennett had two votes, putting him in third.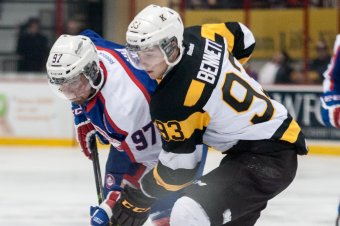 Dennis Pajot/Getty Images
Bennett, the third-place choice in McKenzie's straw poll, was the choice of the NHL's Central Scouting Service as the top prospect in 2014. CSS Director Dan Marr told Mike Morreale of the league's official website why:
There are guys who elevate their game when it matters most, and you're looking to project which players will do that consistently at the next level. The guys we have at the top all are in that mold, but when we look at Sam Bennett we see a guy who could potentially have a Jonathan Toews type of career.
The point here is that any of Ekblad, Reinhart or Bennett is a plausible choice in the top slot, and so Tuesday's elevation of the Florida Panthers to the pinnacle of the draft board certainly may change the identity of the player selected.
That's particularly true when one looks at team need.
Very few teams are going to admit to drafting based on franchise need, but in a year with three plausible candidates, it's the kind of factor that might make all the difference.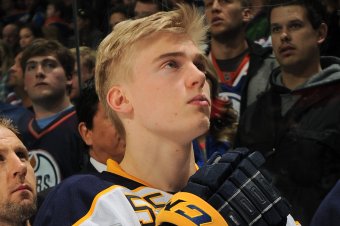 Andy Devlin/Getty Images
That's why the fall of the Buffalo Sabres to the No. 2 slot is probably good news for Aaron Ekblad.
Buffalo has a ridiculously deep set of prospects—Bleacher Report ranked the Sabres first in the NHL in this regard in our post-trade-deadline look at the 30 member clubs—but the team is especially impressive on the back end.
The Sabres spent the No. 8 and No. 16 picks last year on Rasmus Ristolainen and Nikita Zadorov, respectively, and the two promising defenders joined a group that already boasted players like 2010 first-round selection Mark Pysyk and impressive prospect Jake McCabe.
Florida doesn't exactly have a barren cupboard defensively, but as ESPN prospect expert Corey Pronman notes, much of that talent plays on the left side, leaving open a right-side slot for a player like Aaron Ekblad:
No team picking #1 team really looks at "need", but given how Gudbranson hasn't developed as expected, RH D needed on FLA's depth chart.

— Corey Pronman (@coreypronman) April 16, 2014
Petrovic is a nice RHD prospect too for FLA, but he hasn't become a regular yet. Matheson and McCoshen both LHD. Campbell LH, Gilbert RH.

— Corey Pronman (@coreypronman) April 16, 2014
Tuesday's draft lottery isn't earth-shattering, but it does tend to confirm Ekblad's status as the presumptive first overall pick. He's been at the top of each of McKenzie's last three draft lists, which makes him the likely choice of the majority of NHL teams.
Now, with a team that has a clear need for his services at the top of the draft board, the biggest impediment between him and the No. 1 overall slot appears to be gone.