Monday marks a life-changing event for some of women's college basketball superstars as they take their talents to the next level via the 2014 WNBA draft.
Opportunities are ripe for the young women to land and stick with a new team as the WNBA continues to grow in popularity. There are 12 teams that tout 12-player rosters, but don't think this means things come easy.
As Mechelle Voepel of ESPNW helps to illustrate, the process behind the WNBA draft has grown more complex over the years to mirror what leagues such as the NFL do in preparation:
While seemingly everything from how fast they run the 40 to how long they take to brush their teeth is measured for NFL draft prospects, the WNBA evaluation process isn't that exhaustive. But it has gotten quite a bit more refined as the league has aged. The expertise level has risen among the coaches/management in the WNBA as far as what to look for and how to project the way a player might progress as a professional.
This makes the process all the more entertaining for fans and more competitive for the players involved. It all comes to a head on Monday.
When: Monday, April 14
Time: 8 p.m. ET
TV Info: ESPN2
Live Stream: WatchESPN
Last year was predictable. Brittney Griner, Elena Delle Donne and Skylar Diggins were the superstars.
Easy.
This year? Not so much.
Stanford's Chiney Ogwumike is most often cited as the No. 1 player available and figures to come off the board first to the Connecticut Sun. For what it's worth, she sounds more than ready for a change of scenery:
"@DishNSwish: .@Chiney321 Thoughts on possibly being on the east coast." <= I have family and friends out here! New environments = growth!

— Chiney Ogwumike (@Chiney321) April 14, 2014
Things get blurry after Ogwumike.
Close behind figures to be Baylor's Odyssey Sims, a two-time AP All-American who averaged 28 points last season and became just the second player to surpass the 1,000-point threshold in NCAA Division I history, according to Jason Orts of the Waco Tribune-Herald. Voepel offered kind words about the Baylor product:
I feel lucky to have watched Odyssey Sims for 4 seasons and covered so many of her games. Nobody played harder. Eager to see her in WNBA.

— Mechelle Voepel (@MechelleV) April 1, 2014
Some, such as Brian Davis of the Austin American-Statesman, believe Sims is the best player in Big 12 history—surpassing the likes of Griner:
In my book, #Baylor star Odyssey Sims goes down as the best player in Big 12 women's history. Ahead of Dales, Wecker, Paris and Griner.

— Brian Davis (@BDavisAAS) April 1, 2014
But again, nothing is a guarantee after No. 1.
Players like UConn's Stefanie Dolson, Notre Dame's Kayla McBride and Maryland's Alyssa Thomas could all steal the No. 2 spot and knock others down the board.
McBride is a bit of a late riser after impressively hoisting the Fighting Irish to the title game despite the absence of Natalie Achonwa.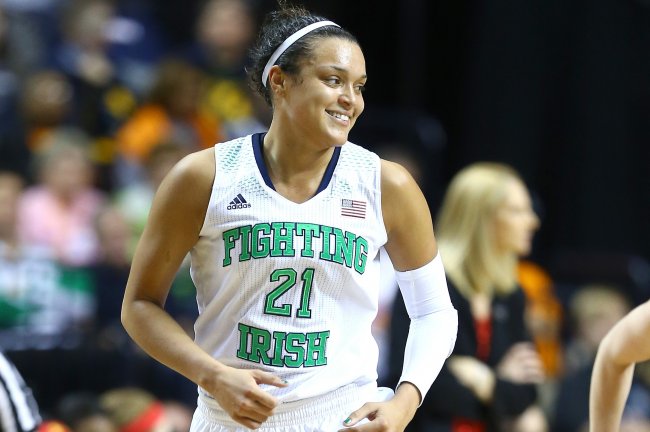 Andy Lyons/Getty Images
There are few players in college who could guard Dolson down low. Her stat line in the NCAA title game—17 points, 16 rebounds, seven assists and three blocks—is more of a normal thing than an anomaly.
Thomas also happens to be a pure scorer who can change the fate of a franchise rather quickly. Oh, and the aforementioned Achonwa? She's recovering from a knee injury and may slide down the board, but has the skill set to not only succeed at the next level, but develop into one of the league's best.
The 2014 class may not have the star power of last year's, but the overall depth means it will likely be one of the most important classes of the last decade. Don't miss out on Monday night.